Back to selection
"TRIGGER MAN"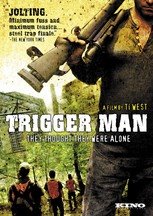 Inspired by true events, director Ti West (The Roost) throws out the typical elements and traps of the horror genre to create what he calls an "experimental horror." Shot with one HD camera, West uses sparse dialogue, long takes and a haunting score to tell the story of three friends who travel from New York City to the woods of Delaware to hunt deer. Similar to films like Deliverance, The Decent or Open Water — ordinary people thrust into extraordinary circumstances — the hunters become the hunted when a sniper begins to shoot them down one by one. But instead of focusing on the horrific event, West directs our attention on the inner struggle of the final hunter, Reggie (Reggie Cunningham), who rather than hauling ass out of the woods has a breakdown, which then leads to others getting killed when he searches for help. Reggie finally realizes he must hunt the sniper to get his life back.
Produced by Larry Fessenden, who also has a cameo, West creates a low budget psychologicall horror that if you stay with it has a payoff in the end.
Extras include a Q&A from the LA Film Festival. The main highlight is West explaining why a no budget movie with guns is a bad combination.
Kino releases the DVD tomorrow for $24.95.
[AMAZONPRODUCT=B001152TK2]
[AMAZONPRODUCT=B002S8NSDI]