Back to selection
Cinematographers Jimmy Chin and Renan Ozturk on Shooting the Sundance-Winning Doc, Meru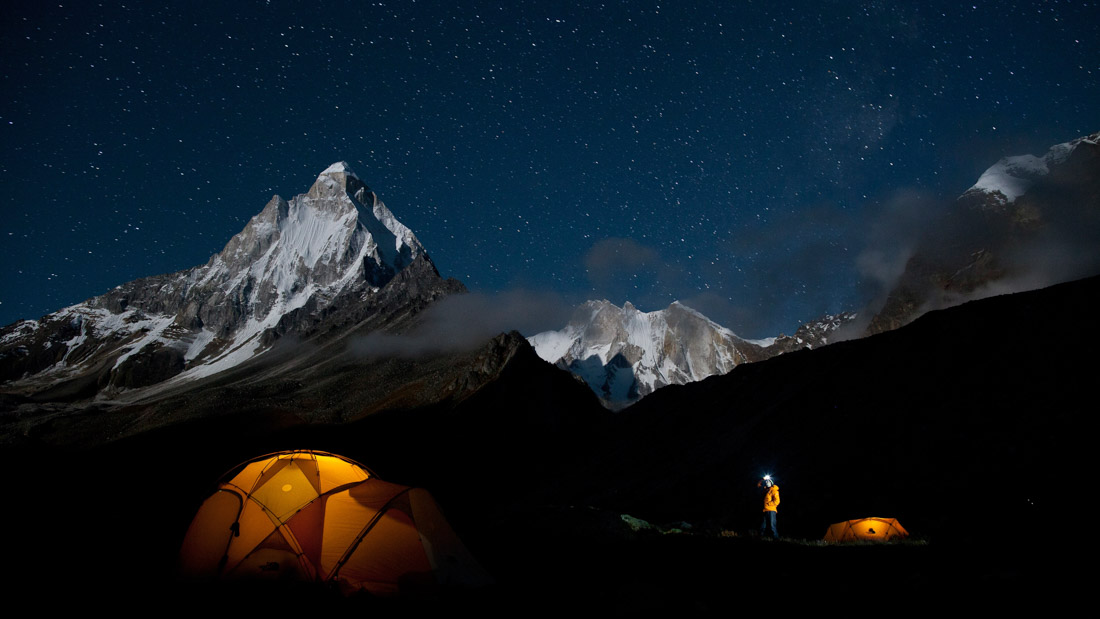 Meru
Over a period of years, three climbers — Conrad Anker, Jimmy Chin, and Renan Ozturk — make repeated efforts to scale a 21,000 foot peak in Northern India, Mount Meru. Jimmy Chin and Elizabeth Chai Vasarhelyi's Meru is the chronicle of that quest, a story of not just mountain-climbing athleticism but also friendship and camaraderie. The winner of the U.S. Documentary Audience Award at the Sundance Film Festival, Meru, strikingly, was lensed by two of the film's three climbers, with one of them suffering severe injuries on the climb — an accident that is part of the film's story. Below, cinematographers Jimmy Chin and Renan Ozturk talk about the shooting on multiple formats over the years, working in the extreme cold and Ozturk's frightening accident.
Filmmaker: How and why did you wind up being the cinematographers of your film? What were the factors and attributes that led to your being hired for this job?
Chin: I had been climbing and filming with Conrad Anker for almost ten years on multiple expeditions by the time we embarked on our 2008 trip to Meru. We are very good friends and enjoy a great working relationship having filmed together on several projects around the world, including a feature film on Everest the year before called The Wildest Dream. Filming and shooting with Conrad was always a natural extension of our climbing partnership. I was excited about filming Meru since it was a much more personal project than some of the other projects we had worked on together.
Ozturk: Being a cinematographer for Meru was a function of Conrad and Jimmy inviting me to join the team. Conrad and Jimmy had been doing expeditions together around the globe for over 10 years and Jimmy was one of the only people who could perform on the mountain as well as document the adventure at a high level with photo/video. Even though I was more a landscape painter at the time, I think Conrad saw this athlete/creative potential in me and how Jimmy and I would creatively feed off each other on the climb while also getting us up the mountain. Honestly I didn't know quite how big of an adventure I was in for, but it certainly changed me as a climber and shaped my cinematography to this day!
Filmmaker: What were your artistic goals on this film, and how did you realize them? How did you want your cinematography to enhance the film's storytelling and treatment of its characters?
Chin: Our principal artistic goals were to show the beauty and scale of the mountains and the difficulty and exposure of the climbing. We wanted people to have a visceral experience on the climb and feel the vertigo of hanging in space on a remote big wall in the Himalayas. We also tried to keep the camera rolling in difficult situations on the climb and to capture the most trying moments as they unfolded. It was definitely survival, run-and-gun style shooting on the climb. During the travel and around base camp, we had a few toys with us like a slider and a small jib, but in general we didn't have the time or the bandwidth to get too fancy. It was a fine balance between trying to get nice camera moves when possible and not holding up the expedition. We've shot bigger productions on expeditions, which often ends up being the tail wagging the dog.
Filmmaker: What were the biggest challenges posed by production to those goals?
Ozturk: The type of Himalayan climbing on Meru is very different from that of an Everest ascent. On Everest you have Sherpa support to help carry equipment up the mountain. Our biggest challenge on Meru was weight, because we had to carry everything we needed ourselves. We counted every ounce we brought up on the mountain. This included sleeping bags for conditions that were -20 degrees at night, so we were forced to strip down to absolute essentials for camera gear. While we wanted to roll camera constantly we only had a few batteries that needed to be conserved for crucial moments. Just getting the camera on with a working battery with no fog or ice on the lens took significant effort up there!
Filmmaker: What camera did you shoot on? Why did you choose the camera that you did? What lenses did you use?
Ozturk: Over the course of the entire production from 2008-2014 we shot on everything from first generation point-and-shoot cameras with SD quality video to the RED Epic for off-the-mountain interviews. The progression of camera technology during between 2008 and 2011 played a huge role in what we were able to capture on the 2008 expedition compared to the 2011 expedition. On the 2008 expedition we had a Panasonic Lumix LX1 point-and-shoot and a consumer pocket Canon HF10 camcorder that shot an interlaced "HD" image. Even though by today's standards these aren't much, at the time, it allowed us capture that type of climbing like never before.
Between 2008 and 2011 we saw the rise of DSLR cinematography, which had a significant impact on how we began to shoot on difficult mountain objectives. On the 2011 climb Jimmy and I shared two cameras: a Canon 5D Mark II (with a 24-105 f4 and a 24mm 1.4 L series lenses) to be shared for stills and video and a pocket Panasonic TM900 camcorder that could be turned on quickly to capture moments. It doesn't seem like much but taking the 5D with that extra lens was a big decision to carry up such a difficult climb. Being able to shoot in lower light and have a bit more control of depth of field, gave us a whole new creative palette for the 2011 climb. We also carried a lightweight Kessler Crane, slider and oracle motion controller to basecamp to shoot time-lapse and other b-roll.
Filmmaker: Describe your approach to lighting.
Ozturk: Other than the studio interviews shot on the RED EPIC everything was natural light. When you are strapped to the wall, hanging in space you don't have a lot of options to move around your subjects so it really came down to paying attention to the light during the climb and breaking out the camera when it was good no matter how cold and uncomfortable we were. The short period of pre-dawn and post-sunset light in the high Himayala was some of the most beautiful light that we tried to shoot during each day.
Filmmaker: What was the most difficult scene to realize and why? And how did you do it?
Chin: Besides the challenges of filming the technical climbing action while we were half starved and managing those same physical tasks of climbing, the most difficult scene to shoot and realize was probably Renan after his accident. Based on his injuries, I thought Renan was going to die in my arms. Filming him was the last thing on my mind. I had just spent a few hours carrying him out of the Wyoming backcountry, trying to stabilize his broken neck (I didn't shoot anything then for obvious reasons.) I was devastated and simultaneously trying to take in the avalanche of medical information, manage communications with his family and friends. There was this moment when I was standing next to him holding his hand in the ER when he looked over at me and said, "You should be filming this." I didn't think it was a good idea, and it was pretty hard to point the camera at first but eventually it actually helped calm me down. I started filming the life flight, hospital transfers and the time before and after his surgeries never thinking the footage would see the light of day.
Filmmaker: Finally, describe the finishing of the film. How much of your look was "baked in" versus realized in the DI.
Chin: Besides the interviews, we shot the film with natural light. We wanted the film to look as authentic and real as possible we weren't interested in stylization. The coloring of the film was used to try and match reality. It's one of the trademarks of the film that there are no recreations. All the climbing footage, and the accident footage is verite. However using 3D mapping we were able to use my original photographic stills to create the big mountain reveals. Marty Blumen from Remote VFX and the guys at Helio Collective did an incredible job helping us realize these camera moves.