Back to selection
"LIBERTY KID"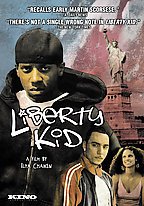 An intimate portrait of a pair of friends' struggle to get by in a post-9/11 New York, Ilya Chaiken's sophomore effort (her previous feature was Margarita Happy Hour) has an authentic feel of urban life and an impressive story arch that surpasses its low-budget expectations.
The film opens with Derrick (Al Thompson) and Tico (Kareem Saviñon) working on Liberty Island during the day and partying up at night. Though Derrick is more goal oriented than Tico, they both are stuck in the same rut when the Towers come down as they lose their jobs and struggle to find work. Though Derrick continues to stay optimistic about his goal to get out of Brooklyn and go to college, cash is running out and having to provide for his twins he teams with Tico to deal drugs.
The petty drug dealing angle soon runs out and when they get involved in other shady schemes for money the two part ways when Derrick goes to war and Tico goes to prison.
This is often where films in the urban drama genre end, with a message of the streets eating its youth, but Chaiken goes a step further with a surprising third act where the focus is put on Tico, who tries to reunite with Derrick, now back from Iraq with a thousand yard stare and stern outlook on life.
With top notch performances by its leads, especially Thompson who is a raw talent that deserves a break, Chaiken creates a deeply poignant film that leaves a lasting impression.
Out this week on DVD by Kino, features include audio commentary by Chaiken, Thompson and Saviñon, deleted scenes and conversations with Iraq War vets.
[AMAZONPRODUCT=B001E1821S]