Back to selection
"W."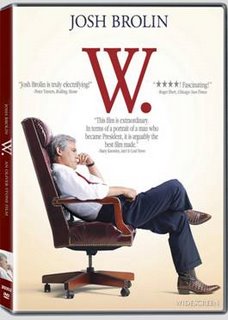 Oliver Stone is no stranger to mixing presidents and controversy, so his look at the 43rd president in his latest film, W., comes to no one as a surprise.
But unlike JFK or Nixon, decades have not passed in Stone's look at George W. Bush. As time has judged the actions and events depicted in those films long before Stone made them, the wealth of information on Bush's decisions in office and our addiction to have everything instantly has lead to the making of a film that was released while its subject was still in office, and is probably its biggest flaw.
W. is in no way as stylized or provoking as Stone's earlier work (neither have returned to his films since 1999's Any Given Sunday), but with a tour-de-force performance by Josh Brolin as Bush Jr., Stone has arguably created one of his most engaging characters. A study of an underachiever who through tenacity (and a little help from the family name) reaches the heights no one every thought he could achieve, Brolin gives Bush an every-man likability (he is either eating or drinking in almost every scene, showing him as a common man) as opposed to his portrayal in the public-eye as a bully. Brolin is also able to play him convincingly from college to president.
Stone hits all the major moments in Bush's presidency (even some small ones, like the pretzel incident) but what's most engaging is not the heated discussions leading up to the Iraq War — where Stone portrays Jeffrey Wright's Colin Powell as the voice of reason and Richard Dreyfuss's Dick Cheney as the tyrannical war hawk out to stamp the U.S. as the lone superpower — but Bush's alcohol-fulled past, that's filled with stints in lock up, falling in and out of jobs and his emotional conflict with his father.
Bush's obsession with his father (played by James Cromwell) is the main interest for Stone. Bush Sr. has his middle son, Jeb, primed for the presidency, leaving George, the black sheep in the family, bitter and determined to make something of his life. (Similar in some ways to the Kennedy family.) Stone surmises this as the reason for Bush's blind stubbornness to go to Iraq — to win the war his father couldn't and to get the man (Saddam Hussein) his father didn't.
Though there is a filmmaker's research and annotations guide in the special features, in the director commentary Stone admits that some of the events depicted in the film didn't happen exactly the way they are shown. He also simplified and condensed many of the key scenes. Regardless of the poetic license (which isn't new to Stone), the director puts the film best in the commentary during the closing credits: "It's got a feel for Bush, it may not be the real George Bush — who knows who he is — but it feels like him."
The W. DVD hits stores today through Lionsgate.
[AMAZONPRODUCT=B001MVWFAO]
[AMAZONPRODUCT=B001MVWFAY]
[AMAZONPRODUCT=B001TUP3RA]