Back to selection
"THE WHOLE SHOOTIN' MATCH"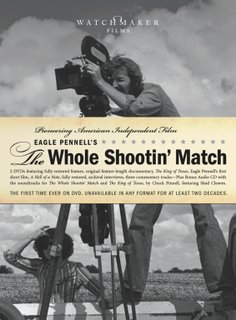 Unavailable for at least two decades, Eagle Pennell's landmark film has been lost in the conversation of influential American independent films. But with its low-budget filming, engaging yet hapless characters and Pennell's semi-doc handheld shooting of Central Texas, The Whole Shootin' Match is a precursor to almost any indie made today.
The film, shot on B&W 16mm, follows two slacker cowboys who spend their time chasing women and getting drunk while trying to cook up get-rich-quick schemes.
Legend has it when Pennell screened the film at the U.S. Film Festival in 1978, where it won the Audience Award, Robert Redford was so taken by what he saw he founded the Sundance Institute, which then took over the festival, renamed it and, well, you know the rest.
New Line Cinema distributed The Whole Shootin' Match, but unsurprisingly the film didn't do much business in 1979 and was soon forgotten while Pennell dug himself deeper into drugs and alcohol and eventually died penniless in 2002. But what Pennell left behind is a masterwork in low-budget, regional filmmaking. A good ol' boy version of Cassavetes, his influence can be found in films as varying as Return of the Secaucus Seven to Dazed and Confused and countless others.
Watchmaker Films has restored the film from one of the few existing prints in a beautiful package that includes a 48-page booklet with essays on the film and its creator, a bonus soundtrack disc of the film's twangy score by Eagle's brother, Chuck Pinnell, and a documentary on Eagle.
The DVD goes on sale Tuesday. It's certainly a must own.
[AMAZONPRODUCT=B001HPP7DW]