Back to selection
Queer Film Pioneer Monika Treut on Of Girls and Horses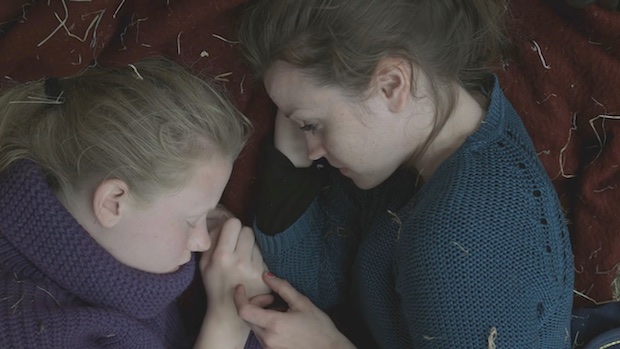 Monika Treut's Of Girls and Horses
A legend in lesbian cinema, Monika Treut has been making films for 30 years, starting with her 1985 narrative feature Seduction: The Cruel Woman (featuring Udo Kier – not bad for a debut film), and right through to this year's Of Girls and Horses, a poetic coming-of-age tale that also serves as a celebration of nature's transformational power. Along the way Treut has also explored the nonfiction realm, turning her lens on everything from gender identity (1999's Gendernauts) to Taiwanese food (2012's The Raw and the Cooked).
Filmmaker was fortunate enough to catch up with the Hyena Films co-founder (along with Elfi Mikesch, her co-director on Seduction) during post-production on her latest documentary, which was shot in Brazil – her head still "buzzing with Portuguese favela slang."
Wolfe Video releases Of Girls and Horses on DVD and VOD today, June 30th.
Filmmaker: So what inspired this latest fiction film? It seems quite a departure from 2012's The Raw and the Cooked – a doc about Taiwan's culinary traditions – not to mention from your more radical early films. Do you see a common thread throughout your body of work, or have your interests changed greatly over the years?
Treut: Of Girls and Horses was initiated by my German distribution company, Edition Salzgeber. For a few years now, they have been coproducing LGBT-themed, low-budget features. They give me free reign in everything. At first I wanted to stay away from the idea, since I clearly have had many experiences making low and no-budget features. But then I remembered my love for horses, which started in my childhood and teenage years when I was a tomboyish "horsegirl" spending all my afternoons in the stable. I've always wanted to convey the attraction to these powerful animals in a movie. At this point in my life I also longed for a change of scenery – getting out of the cities, away from the ubiquitous screens and digital devices, and the overflow of information. When I found the location, the horse and cattle farm in the middle of nowhere in Northern Germany, I was smitten by being able to spend a fair amount of time up there, with little internet access, just surrounded by animals and nature and the relaxed farmers.
The common thread of my films so far? Well, it was possibly the difficulty to get them financed, and the small budgets, which came out as a result. Each of the films was met with skepticism by the funding bodies, not so uncommon for female filmmakers. So I produced most of them myself through my production company Hyena Films. The subjects of the films have always been closely connected to the changes in my life.
Filmmaker: When it comes to filmmaking you're a "switch hitter" like your fellow countryman Werner Herzog. You seem at ease moving between the worlds of fiction and nonfiction. Do you use specific skills for each form? Or is your working method more like the Danes, who are trained not to separate doc from narrative – to just shoot movies?
Treut: I like switching between the two to ease the pain. In fiction the shoot is nervewracking but postproduction is heaven – and with documentaries it's the opposite. But really, I believe working in both forms is inspiring – to allow for real life to intrude into fiction, to be open for happy accidents, to leave space for actors to improvise. Whereas in documentary filmmaking I believe it's helpful to work with a strong narrative structure, especially during the editing process.
Filmmaker: Since you're an artist who's worked in both Germany and the U.S., I'm curious to hear what you think are the biggest differences between the two countries. I know several filmmakers who've moved to Berlin in recent years, finding the city more conducive to creativity I suppose.
Treut: Often it seems that one's creativity is helped by being in a foreign environment, and therefore losing one's sense of security. In Germany it's easier to find public funding for art and film projects. In the U.S. there's more support from the actual filmmaking community. But the latter might just be my personal experience.
Filmmaker: I find it pretty mind-blowing that your feature film debut Seduction: The Cruel Woman and documentary Gendernauts: A Journey Through Shifting Identities were released in 1985 and 1999, respectively. I mean, it took literally decades for the culture to catch up with you. So now that we're in the age of 50 Shades and Caitlyn Jenner on the cover of Vanity Fair, what are your thoughts on the mainstreaming of both BDSM and gender nonconformity?
Treut: I'm all for equal human rights, and I'm happy that the U.S. and Western Europe slowly seem to be coming to a better understanding of trans people. But of course there are still huge problems, not even mentioning the grim situation in most areas of our planet. I can't say much about Caitlyn Jenner. Her story is small news on the other side of the Atlantic. I understand that in the U.S she's big news since she was an American celebrity as Bruce Jenner. If this helps to raise people's consciousness about the terrible binary gender prison that's great. But as for 50 Shades, I doubt that mainstream attention is able to change people's attitude on a deeper level.
Filmmaker: Back when I was growing up genderqueer I didn't have a word for what I felt. I also didn't know why I was so strongly drawn to the world of S&M. But looking back I realize that above all BDSM allowed me to exist in a genderless space. It's all tops and bottoms and switches in that community – i.e., you're defined by your power preference, not by male/female or even necessarily gay/straight. Have you long seen a link between sadomasochism and personal identity?
Treut: I think that was also partly my attraction to the world of S&M in my early years, the playfulness and the irony of gender and power roles. Other than that I was attracted by the power the classic S&M scene gives to women, following the literary sources like Leopold von Sacher-Masoch's novels, foremost Venus in Furs. And of course the fantastic world of fetishes – costumes, whips, boots, wigs. I believe I've learned a lot through communicating intensely with the subjects of my documentary films. Like with Eva Norvind, the subject of my documentary Didn't Do It For Love, a former dominatrix who changed her identity many times throughout her turbulent life.