Back to selection
Milestone Films' Dennis Doros on Ornette: Made in America and Project Shirley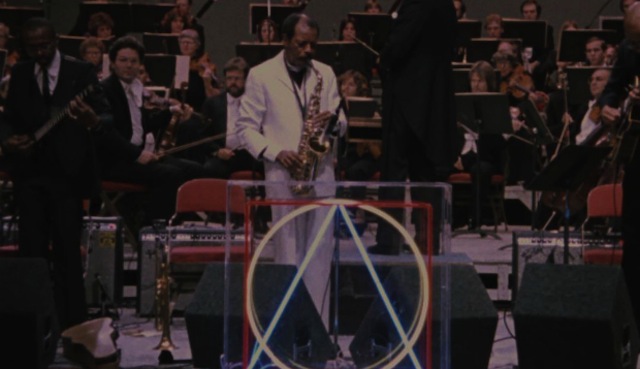 Ornette: Made in America
Since founding Milestone Films in 1990, the husband and wife team of Dennis Doros and Amy Heller have been restoring and distributing some of the most significant and overlooked titles in the American independent cannon. Ornette: Made in America, one of four feature films in their "Project Shirley" Shirley Clarke collection, is wrapping up a week long run at Spectacle today, as part of a celebration of Ornette Coleman. Filmmaker spoke to Doros about the acquisition and restoration process behind Clarke's characteristically singular documentary, as well as Milestone's recent objection to Stephen Winter's Jason and Shirley, which liberally re-imagines the set of Portrait of Jason.
Filmmaker: Generally speaking, how do you go about selecting the titles you acquire?
Dennis Doros: We are primarily a two-person company, though we have three interns working this summer. We work out of our house and we have the flexibility to choose the films we really want to do. We are lucky in that we expect to make money, but we don't need to do films that make $5 million or whatever. One of the very first things we do when we think about acquiring a film is, "How is it going to stand up over the years?" That's also what inspired our name, Milestone, that these are films for the next generation and the one after that.
Ornette specifically was part of an idea we had about Shirley Clarke. Ever since we did Killer of Sheep in 2008, we have been looking at the American independents and considering the fragility of the rights and the fragility of their materials. Also, the concept of these films and filmmakers that had been lost to cinema history. Shirley was almost a whim: I turned to Amy [Heller] one morning and said, "How about Shirley Clarke?" and she said "Yes." I started thinking, "She's probably too popular," because when I first got into film she was still alive, but as I started looking around, I realized there were no books about her, no monographs and most people had forgotten who she was.
We specialize in films of ideas and cultures and everything that's outside Hollywood and the mainstream, and Shirley was really one of the first great independent directors post-war. The more I researched and found nothing about her, the more interesting a subject she became. We acquired four features of hers [Ornette: Made in America, Portrait of Jason, The Connection, Robert Frost] and we have over 100 home videos and unfinished films. Ornette is one of the jewels.
Filmmaker: When did you acquire Ornette?
Doros: It's year seven of the project, so I would say 2009 or 2010.
Filmmaker: Did her estate hold the rights?
Doros: No, they were owned by Kathelin Hoffman Gray, the producer of the film, and she was very excited about the project. It did help that we had already acquired the rights to Portrait of Jason from [Shirley's daughter] Wendy Clarke, and that we had her support.
Filmmaker: Did you immediately go in to restoration?
Doros: No, because we had to find a restoration partner for it. There is a huge amount of material from this film. There are tons of outtakes sitting in an air-conditioned warehouse in New Mexico that we still have to deal with. Kathelin has been storing them properly I have to say, she was keeping them in very good shape. But there is so much material, and part of the reason is that the film was started in 1968 and finished in 1984. There is a huge amount of stuff that she collected, the video works, and everything else that became part of the film. So we had to find out what would be the best material to restore and Ross Lipman, who had done The Connection, and whom with we'd worked on four other films, worked with us and the producer to find the best material. Then he worked on the restoration itself, with the soundtrack being worked on simultaneously, and then Ross, Ed Lachman [the cinematographer] and I did the digital restoration.
Filmmaker: Ornette is currently caping off a one week run at Spectacle, but was there a theatrical premiere once the restoration was initially completed?
Doros: Yes, there was a run at the IFC Center. It got great coverage, it was very well respected but not hugely successful. Ornette is and was an aesthetic that is not popular music, it's a specialized sound.
Filmmaker: It seems that there's been a recent renewed interest in some of your titles, for a variety of reasons. Losing Ground, for instance, just had its first theatrical run in the Black Independents series at Lincoln Center and is playing BAM again this month.
Doros: Yes, Kathleen [Collins, the director] died in 1988 and the film sat at Duart. It wasn't until they, along with professor Terry Francis at Yale, started calling her daughter, saying "You have to do something with the negative," that they decided that the film should be remastered and redone. And then they came to us to distribute the film, which took another two years to find the proper opening, and redo the sound. But it's such a joy to bring out a film for the first time.
Filmmaker: Are you planning to do anything else with the additional home videos you have from Shirley Clarke?
Doros: There's going to be something called the Magic Box Project Shirley Volume IV, which will be at least three or four discs, maybe eight hours of her work, and the home videos, we will put on the internet some day with the help of the Wisconsin Center for Film and Theater Research, since they have the Shirley Clarke collection.
Filmmaker: Is there a projected release date?
Doros: I'm thinking December, because I have to do Losing Ground first.
Filmmaker: I have to ask about the piece you and Amy wrote about Stephen Winter's Jason and Shirley. Have you seen it since?
Doros: Yes, three times.
Filmmaker: And your opinion still stands.
Doros: We have never done this before in our thirty years in the business. We don't like to be callous. What we wrote took three and a half days to write, because we wanted to express how we and Wendy Clarke felt. Over the years, we've dealt with everyone from D.A. Pennebaker to other people who were with her when she died, so Amy and I felt like we needed to express how the family felt and how we felt. Will we stand by it? Yes, because we wrote what we meant. We didn't like to do it, and we refused to do interviews about it afterwards, but that's how we felt.
Filmmaker: Did Stephen contact you?
Doros: No, he had contacted us three months before, and we watched the first 10 minutes of his film and decided it wasn't for us. Frankly, as soon as they started talking about how awful Wendy is, we didn't like it, but then when Wendy saw it, we had to talk it over, and realized that it was damaging to not only her mother, but to her. And we felt like we had to do something.
Filmmaker: Richard Brody, who is an ardent admirer of Clarke and Portrait of Jason, chose to feature Jason and Shirley in his write-up of BAMcinemaFest.
Doros: Richard, along with Manohla Dargis, is probably the best supporter of Milestone, and if he has a different opinion, God bless him. We could have a great discussion about it, but if he has that opinion, he's earned the right.
Filmmaker: Ornette, The Connection and Portrait of Jason are now on Fandor. Do you have any plans to release additional titles on SVOD services?
Doros: We made a big deal with Fandor, who we like and who are sponsoring a film that we're producing, NotFilm, directed by Ross Lipman. It was suggested to him that he restore a Samuel Beckett short starring Buster Keaton, and he fell in love with the work, and he asked Barney Rosset if he had any outtakes from the film, and it turned out to be the missing first scene, and Ross has now done a two hour documentary about that film, Keaton, Beckett, and Rosset, and we're producing it. We never wanted to produce, but we're very proud to be doing so after seeing it. It's really great.