Back to selection
Rachel Morrison Talks Dope, Her Favorite Shot and Career as a Cinematographer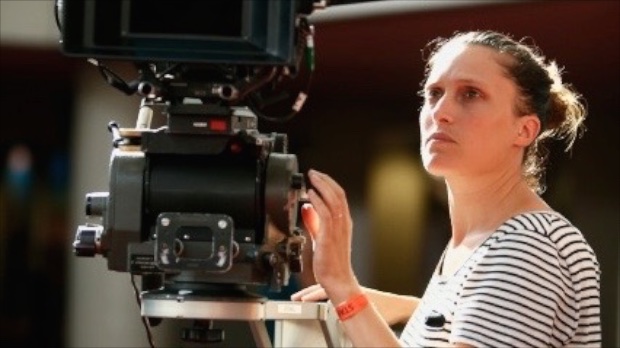 Rachel Morrison (photo: Frank Masi)
As the second largest film festival in Germany, Filmfest München programs a large German slate and a range of international titles. In addition to the Alexander Payne retrospective and homage to Andy Warhol's cinematic experiments, this year's festival highlighted an assortment of U.S. films. Picked up by Open Road Films and Sony Pictures at this year's Sundance Film Festival, Rick Famuyiwa's Dope had its German premiere in Munich. Below is my conversation with cinematographer Rachel Morrison.
Filmmaker: How did you decide to become a cinematographer?
Morrison: I grew up with a still camera in my hand, determined I could freeze time. I went to college for photography (specifically photojournalism), but ultimately realized I could tell a more complete story through cinematography.
Filmmaker: What was the best part about your collaboration with director Rick Famuyiwa on Dope?
Morrison: I'm used to shooting serious, cry-your-eyes-out dramas, which have a certain tone on set. Dope is much lighter and has a frenetic energy to it. Rick and I made each other laugh, which I think you can see in the film itself.
Filmmaker: Does your energy and style change with different directors?
Morrison: Very much so. Some directors are incredibly hands on with the technical components of filmmaking, while others like to focus more on performance and choose to hire people they trust to look out for them in the technical arena. As a d.p., you have to adapt your style to fit the director's tendencies. My energy and style also depends greatly on the narrative. One look doesn't fit every story, so the cinematography is really a reflection of the arc of each character within the context of a greater narrative.
Filmmaker: What is most important in any given shot?
Morrison: It's most important that it helps to drive the story forward without drawing attention to itself.
Filmmaker: Do prefer working on TV series or films?
Morrison: I like shooting films because you form a family for a few months at a time, collaborate closely to tell a complete story, and then you move on to the next collaboration. And you have a great deal of visual variety. I appreciate that writing is becoming stronger in television and specifically, that better drama is moving to TV, so I could see myself happily shooting pilots and mini series, but I wouldn't want to become a strictly episodic d.p.. I think shooting the same show season after season would start to feel like the "day job" I entered this business to avoid.
Filmmaker: If you could do anything else, what would it be?
Morrison: I would be a war photographer.
Filmmaker: Do you have a favorite shot of all time?
Morrison: The opening "oner" in Touch of Evil is pretty bad-ass. Without having had tools like steadicam to help, it's so far ahead of its time.
Filmmaker: How much do you second-guess yourself while shooting? 
Morrison: As a woman in this industry, you really can't afford to second-guess yourself. Maybe in the sanctity of your own home, but not as you shoot.
Filmmaker: How is your personality different during in your personal life than it is at work?
Morrison: It's not. I'm pretty easy-going in both. Life is too short not to appreciate it fully and be kind to those around you.
Filmmaker: You say on your website that you are most inspired when out of your element. When are you out of your element?
Morrison: When I don't know what's around every corner, both literally and metaphorically — foreign countries, new technology, changing diapers (a recent development).
Filmmaker: How has motherhood impacted your work?
Morrison: Someone told me — perhaps my buddy Bradford Young — that family makes you double down, that you work twice as hard and go twice as far. My aspirations as a d.p. have only grown, and I'm already back to shooting (while nursing/pumping on set), and I don't think my work has suffered in the slightest. That said, the work/family balance is an endless quest, and it affects every decision I make. So I find myself asking a whole new set of questions — how long is the shoot? How well does it pay? Where would my family stay? How long are the days? Which benefits are better – Local 600 or DGA? All questions I wouldn't have considered important before…
Filmmaker: How else are you selective about choosing projects to work on?
Morrison: I get more and more selective with every project. Story/script always comes first — I have to be invested in the story I'm helping to tell. The director is the next major factor — I look at previous work and try to gauge from meetings what the vision is for the film, and what the collaboration would look like. Then I weigh in the producers' track records, and the cast attached — do they have the chops to pull it off? Will they take risks? And finally, I consider the budget and schedule and whether they're realistic to do justice to the material. I used to need just one of these factors to line up. Now, I hope that all of them do. And just recently, I've realized that even that isn't enough. If the script is solid but the visuals are bland and all the locations are mundane, I start to get restless, so lately I've decided to select projects that will give me the freedom to play and explore a little….
Filmmaker: Recently, you directed an episode of American Crime. Are you interested in exploring more directing?
Morrison:As long as I can remember, I've always wanted to be a d.p. Holding a camera is an extension of my own body and a huge part of my identity. I never set out to direct. I was fortunate that John Ridley took a chance on me, that it went really well, and that now I suddenly have a cart-leading-a-horse directing career. Everything is a bit in flux right now, but I love cinematography too much to ever give it up, so I'm hoping to move between both worlds fluidly, and to support my family both financially and emotionally because they are what matters most.