Back to selection
Samyang/Rokinon Announce New Cine Lens Line: XEEN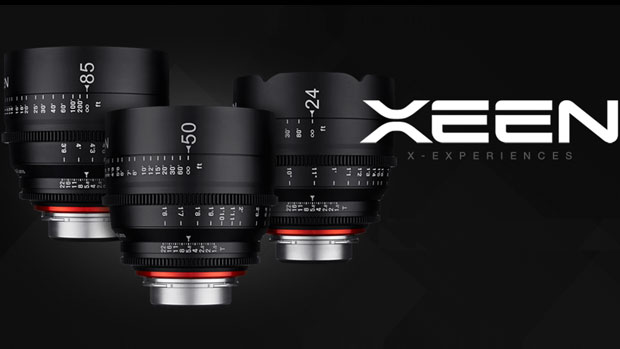 Samyang [also sold under the Rokinon brand] attracted quite a bit of attention from budget filmmakers when it started selling its budget line of "Cine" lens. These were their traditional still lenses with standard geared focus and aperture rings, de-clicked aperture ring, and remarking for T stops rather than F stops. The lenses received generally positive reviews from users — particularly as they provide a good mix of image quality/construction for the price. They are, however, fully manual lenses, with no auto-focus support or image stabilization built in.
But adding teeth to the focusing ring of a lens doesn't truly, a Cine lens make. Professional lenses usually provide a number of other features in housing construction — independent of any improvement in picture quality — most notably standard dimensions that make it easier to switch between two lenses, as well as longer focus rotation to make focusing more accurate.
Now Samyang|Rokinon (hereafter Rokinon because that's the brand name currently being used in the US for this line) has announced a new line of Cine lenses, the XEEN line, which takes aim at "true" Cine lenses. They are starting with three prime lenses; 24, 50 and 85mm, and are already promising three additional lenses: a wider lens (probably a 14 or 16mm), a lens between the 24 and 50 (probably a 35mm), and a longer lens, which will probably be a 100 or 135mm lens. I'm basing these guesses on the sneak-peak image on the website, and the fact that the announced lenses are based on existing lenses. Rokinon already offers lenses in these other sizes (though there are several more at the wide end.)  The additional sizes are listed as "Coming Soon!" on the website. One variable is that some of those other lenses aren't full frame, or aren't T1.5, both features that are currently highlighted on the web site.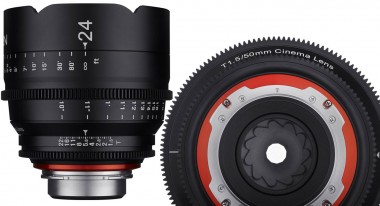 The XEEN lenses have the same elements and groupings as the current lens line, but, according to company reps, the grinding, polishing and coating process is different for these lenses, and have a different set of tolerances. Sharpness should be about the same as the existing lenses, but you might see differences in color and flare handling.
Don't dismiss these lenses because they are a "repackaging" of the current lenses; after all, Zeiss' CP.2 line of Cine lenses are also based on the optical elements in their still lenses.
All of the current lenses have a 114mm front diameter, consistent ring placement, 200 degree barrel rotation, aluminum housing, support full-frame sensors and "optical performance of 4K+."
One other major area where they differ from the lenses currently offered — in addition to the different coatings — is that all these lenses have an 11-blade iris. Rokinon is also offering a 3 year warranty on these lenses.
The lenses are available in five lens mounts including; PL, Canon EF and Sony E, and reportedly you'll be able to have the mount changed, though you'll have to go to a qualified service center, unless you have the specialized calibration equipment needed to do it.
Steven Gladstone, writing a first-look review for B & H Photo, says:
The first thing I noticed was, with the lenses open to T1.5, that the iris is no longer round; it kind of becomes more of an acorn shape as you can see by the out-of-focus highlights. This is really to be expected, as this is a full frame and you're asking the iris to do a lot when being that wide-open. However, racking the iris to T2.0 rounds out the out-of-focus highlights. I also noticed a subtle color shift as the lens transitions from wide-open to T4 / T5.6. It's nothing that couldn't be corrected in post, but worth noting.
Matthew Duclos was also impressed by the quality of the lenses, and while noting that the optical difference is only in the coatings, says:
If you've tried the other Rokinon lenses in the past and you were happy with the performance, then you'll definitely be happy with these. If you tried the Rokinon primes before and weren't impressed with the image quality, give these a try and you may find that their new coatings take them up a notch.
Compared to the original lenses, these new ones aren't cheap; they have a list price of $2,495, but value is relative and they are cheaper than other lenses. By comparison, Zeiss CP.2 Cine lenses, themselves a repackaging of Zeiss' still lenses, start at $3,990, Canon's Cine lenses, which are only available in EF mount, start at $4,450, while Cooke lenses start around $7,300. If you're looking for PL mount lenses, Sony does offer a set of six lenses that is currently being sold for $12,900, which works out at $2,150 each. A caveat is that when Sony first came out with PL mount lenses they only warranted them to work with Sony's PL mount cameras.
But these comparisons themselves may be wrong, as $2,495 is the XEEN list price, and the street price may be around $2,000.
When it comes to lenses – and in many things – personal preferences are as important as the actual performance. These new Cine lenses should offer good value for money, but for me the real question is: should I upgrade from the existing Samyang/Rokinon "Cine" lenses I already own? That really depends on how you are using them, and how frequently. While these new lenses are good for focus pulling and switching lenses quickly, they also are much larger and heavier than the current lenses. If weight or size is an issue, stick with the current models. And given that they are optically similar, if you have these lenses only to use now and again, you'll probably be better off — and save yourself a little money — by sticking with what you have. But if size isn't an issue, and you're shooting day in and day out with them, then you might want to sell your current lenses on eBay as quickly as possible.