Back to selection
Place of Passage: J.P. Sniadecki on The Iron Ministry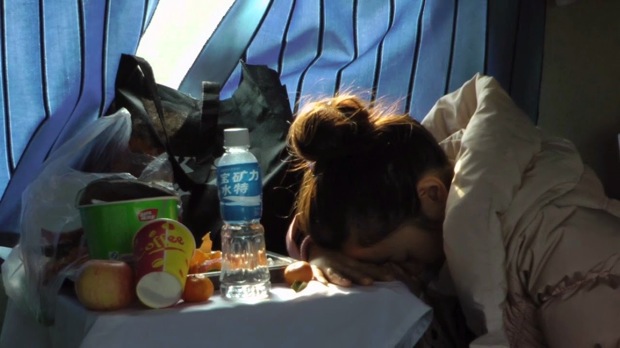 The Iron Ministry
The Iron Ministry takes place on a moving train, whose compartments expand over the course of the film to reveal a host of rocking sights: hanging raw meat, cigarettes floating in water, boxed goods in transit, and myriad people engaged in conversations about politics and its impact on their daily lives. The people and their destinations are often both left unnamed, with a ceaseless sense of forward motion remaining as the greatest takeaway. "This is a civilized train, so please feel free to piss, shit, and throw trash all over the aisle," says a young boy early on in parody of a government conductor. He is one among many of the film's people who use their time in closed quarters as an occasion to speak freely.
The feature-length documentary was shot by American filmmaker J.P. (John Paul) Sniadecki over the course of three years spent traveling on trains in China, which contains the world's largest expanding railway network. The film's diverse journeys have been edited together to give the appearance of a single, continuous ride. In doing so, Sniadecki places China's civilian population within a continuum of recent history stretching from collectivism through capitalism and towards an uncertain future. His film is beginning a weeklong theatrical run at the Museum of Modern Art (MoMA) in New York following its world premiere at last year's edition of Locarno, which has also premiered of some of Sniadecki's previous works, that similarly show individuals striving to keep their balance within the midst of a rapidly moving society under development.
Sniadecki was born in 1979 in rural Michigan and has frequently returned to China following his first trip to the country in 1999. His work has often been affiliated with Harvard University's Sensory Ethnography Lab (SEL), an experimental laboratory whose other members have produced nonfiction films such as Sweetgrass (2009), Leviathan (2012), and Manakamana (2013). These films eschew didacticism in favor of immersing viewers in the sights and sounds of unusual locales. While Sniadecki's films similarly bombard spectators with stimuli, they also tell rich stories about the fates of human characters that reveal their dreamed-of desires to the filmmaker in the midst of striving to achieve them.
For instance, Foreign Parts (2010, co-directed with Véréna Paravel) — Sniadecki's lone completed film shot outside of China to date — profiles a small number of charismatic and appealing residents of the impoverished Willets Point neighborhood in Queens, New York as they attempt to hold their crumbling community together. People's Park (2012, co-directed with Libbie Dina Cohn) samples the vast array of social dynamics present during a single day spent in one public park where people from all age groups have come to joyously dance. Yumen (2013, co-directed with Huang Xiang and Xu Ruatao) combines different elements from its predecessors by poetically bringing the titular once-industrial ghost town back to life through scenes of young people performing hope-filled musical numbers.
The Iron Ministry is the first film that Sniadecki has directed solo since his short, boat-bound Shanghai study The Yellow Bank (2010). It is also a film made largely without the resources of the Sensory Ethnography Lab (with a notable exception being the crucial presence of SEL Lab Manager Ernst Karel, who helped shape Ministry's complex sound design). Yet one never feels while watching this new film like he is working alone. Whether it be through a pair of young men cheerfully explaining details of their Hui Muslim faith or a young woman pensively describing her need to move towns and leave her old factory-bound lifestyle behind, a wealth of human life is constantly appearing before Sniadecki's camera, and it gives the sensation of growing richer with time.                   
Filmmaker: How did you come to make films in China?
J.P. Sniadecki: I first flew to Shanghai in May of 1999 to study Chinese philosophy and culture. It was my first time in an airplane, my first trip outside of the United States, and my first immersion in a wholly different language, society, and understanding of history from the environment in which I grew up. I think that the processes of absorbing these things, along with observing the country's rapid rate of economic growth and social change, and forming strong friendships with many Chinese people and foreigners living there, helped transform my experience of China into a lifelong project.
People often ask me if I like or even love China, to which I reply that it is not a matter of evaluation. The project and everyday textures that constitute the country are very much parts of my life. My filmmaking has also been largely concentrated in China partly for practical reasons, though. As a graduate student in anthropology, I spent much of the academic year in classes in Cambridge, Massachusetts, with summer being the only time open for filmmaking. And, since my research focused on Chinese independent cinema, my summers were spent in China.
My later dissertation fieldwork conducted there allowed me to make three films between 2010 and 2013 — People's Park, Yumen, and The Iron Ministry. These films are not issue-oriented, or op-ed in form, and they don't strive for any kind of sweeping commentary on China as a coherent, homogenous whole. Instead, I employ ethnographic methods to explore community and social space as fluid and co-created, and to understand the quotidian as revelatory.
Filmmaker: How did you come to make The Iron Ministry?
Sniadecki: I shot The Iron Ministry over three years on numerous train rides, shared space with thousands of people, and spoke with quite a number of them. Like most aspects of my filmmaking, whether and how I would film was shaped largely by these encounters. The origins of the work can probably be traced back to my first long-distance train ride in China in 1999. From that time onwards, trains became my primary classroom for learning Mandarin and, and like the vast majority of Chinese people, my primary means of moving around the country.
I knew at that time that countless films could be made while riding the rails in China (despite not yet having seen the ones made by filmmakers such as Ning Ying, Xu Xin, and Wu Haohao). I later lived in Beijing, in between January 2010 and August 2013, and I often traveled the railways to visit friends and colleagues, conduct fieldwork, and make my films. While my previous films had all been shot on borrowed cameras, this period led me to buy my first camcorder: the small, compact, but fully manual Panasonic TM-700. Like in most of my shooting experiences, here the camera became an extension of my body, perhaps even more so than usual because of its size.
I began filming intuitively (as I often do anyway), with a focus on moments of travel and everyday life. I often shot on trains, and as I rode different models (old collectivist trains and high-speed bullet trains, for instance), different lines, and in different classes, I gradually realized that I could make a film that I had been imagining for the previous eleven years.
At that time, I was interested in how filmmaking could be born out of one's immediate surroundings and experiences, rather than emerging as an exercise in character-driven narrative or as an exposition of some social issue. So I filmed on every train ride on which I found myself. Some trains I boarded precisely for the purpose of filming them — for instance, the train to Tibet and the train through Wenzhou where a tragic accident occurred in 2011. The majority of the filmmaking, though, occurred on trains that I was riding for reasons other than the film, often on my way towards realizing other projects.
Filmmaker: What were your goals as you filmed on the trains?
Sniadecki: I strove to be thorough without being exhaustive, and felt compelled more by the desire for movement and encounter than by any documentary notion of "coverage." Some of the rides that I took were twenty minutes long, while some lasted for over fifty hours. I didn't have a clear goal, and I didn't want anything from each journey beyond the experience of travel. When you are hunting and searching as a filmmaker, you often miss entire dimensions of what it is both to be and to be somewhere. Your perception narrows. I'd seen Ning Ying's film Railroad of Hope (2002), in which the filmmaker and her crew board a green-skin train filled with Sichuanese migrant laborers on their way to pick cotton in Xinjiang and ask them, "What is your dream?" I wanted to avoid a schematic premise around which to structure my film like she had used for hers. For me, it was all part of one journey, and like in most journeys, the most important thing was discovery.
There is such a diversity of encounters and factors shaping the finished film that it would be laborious to describe them all. Formally, this work focuses on the sensorial, the experiential, and the aesthetics of the everyday, but it does not do so at the expense of either the verbal or the experiences of the actual pressures, anxieties, hopes, and questions that are very much present for individuals in Chinese society. The conversations onscreen often turn to topics that dominate daily life in China: Housing prices, prospects for livelihood, the rising costs of goods, questions of personal happiness, the speed of change, the nation's fate, national sovereignty, the status of ethnic minorities and religion.
I did not want to shy away from the streams of human speech that animate train rides. My experiences on the trains and with the footage itself were saturated with language in all its platitudes and revelations, and so the film asks audiences to deal with it all — the multitude of voices and concerns and subjectivities — and also to look closely at the very act of speaking on a train. On trains, complete strangers are thrust together in intense ways for relatively short periods of time. Yet often they feel the need to speak, to exchange, to challenge, to question, to share. This might perhaps be due to the fact that human beings have a hard time figuring out what to do with their fundamental solitude. But it also might be because they know that these intense moments are short-lived, fleeting, mere encounters. Transience can be liberating. In any case, this kind of situation creates a particular way of interacting, which in some ways is similar to the ways in which a camera can actually catalyze interactions and behaviors.
Filmmaker: How did you select the particular places and people that appear in the final version of the film?
Sniadecki: Every film presents new challenges, and also allows me to work through problems and challenges faced in previous films. The Iron Ministry was the first film I made that was not bound to geographical place — in no inconsequential way, all my previous films communicate a sense of place as much as they do anything else. Songhua (2007) focuses on Stalin Park, where the titular river meets the center of Harbin; Chaiqian/Demolition (2008) offers an exploration of a site of demolition and urban change; The Yellow Bank meditates on Shanghai during a moment in which a total solar eclipse casts the megalopolis into darkness; Foreign Parts foregrounds the textures and communal aspects of a ramshackle industrial enclave in Queens, New York; People's Park journeys through a famous urban park in the center of Chengdu, Sichuan in one unbroken long take; and Yumen stages a wounded musical amidst the ruins of a ghost town that once thrived with oil.
As I filmed The Iron Ministry, I realized that I was working through another approach to cinema of place. What held this particular panoply of train rides, interactions, and shifting characters together was the sense of an emotional place, one that contained a mixture of hope, anxiety, perseverance, and disconnection.  
Once I returned to the U.S. to complete my Ph.D., I began to look through the footage that I had assembled. Many films lay within the rushes, as is often the case in nonfiction works. My earliest films in China were solo works, but it had been several years since I had signed a film alone. This made the process of post-production more onerous, with my having to make and bear lone responsibility for all the final decisions. I like sharing. I did the film's image editing along with its original sound design, after which the sound engineer and artist Ernst Karel and I worked closely together to craft a more defined, evocative soundscape.
I ultimately opted to compress scores of train rides into something resembling a one-train experience. The film's montage directly links the experiences of riding the old collectivist-era "green skin" trains to the later air-conditioned "red skin" trains and the newest high-speed bullet trains of today. As this cinema-train traverses China's vast interiors, the camera also traverses Chinese railway infrastructure, with varied uses of technology coming in and out of focus. I had shot hours and hours' worth of material at train stations, on platforms, and at railways located in the midst of mountains, cities, and tundra, but in the end I elected to constrain the film exclusively to footage taken within the bodies of the trains themselves. I also limited the number of times in which the camera moves toward or looks out a window, and placed those shots such that long periods pass without any window views. We don't see out the window until quite far into the film. When window views do appear, they move gradually from abstraction towards something more panoramic and concrete.
Landscapes are easy and expected when dealing with a film set on trains, though. I wanted to limit their role and presence in order to focus viewers in on the machinery, the sounds, the social spaces, the claustrophobia, the basic fact of people being forced to deal with one another, with cramped and common humanity, all stuffed together into a train headed who knows where. This constraining of the landscape also makes it that much more powerful, enigmatic, mysterious, and somehow satisfying when it eventually does pass by the frame.
In some ways, The Iron Ministry is the most diaristic of my works. With that said, I don't ever remember considering my own role in it, and in fact, I generally don't conceive of myself within my films. The filming environment simply felt like a palimpsest—an imprint of sensations, environments, emotions, and words. My fellow passengers and I formed a kind of temporary collective.
We discovered ways to survive and even connect during our travels. There are so many people who appear in the film. Some of the scenes with extended dialogues were chosen because of the excitement and flow of the discussions, such as an engagement between Hui Muslims and Han Chinese about their respective faiths, or young men speaking about China's fate, or a drinking session held in the hard seat section of a train.
Other moments — such as a girl looking out a window and considering her future in Jiangnan as she leaves Guangdong's factories, a train mechanic recalling previous Ministry of Railways practices, and the Tibetan dissident author Tsering Woeser speaking about myths and the railroads — seemed to print themselves indelibly both on the frame and on me. Others still — like a miraculous satiric riff on train announcements offered by a boy — were simply uncanny encounters.
Filmmaker: How are these "uncanny encounters" reflected in the film's title?
Sniadecki: It was important to allow space for all of these varied kinds of instances that I have just mentioned. I didn't want to tie the film down to one formal device or monolithic tone, and instead sought to create a shape-shifting work that mirrors the filming process and transforms itself while transporting us through space and time. The film's title itself holds different meanings. "Iron" refers, on one level, to railways and railroad trains, while also evoking notions of development, progress, and modernity. On another, more indirect level, it refers to the Chinese Communist Party: the "iron bowl" of collectivism (which supposedly provided nourishment for all who partook in it) and the continued "iron fist" of social control that endures despite efforts to develop soft power.
"Ministry" refers specifically to the Ministry of Railways, which was considered a secretive yet expansive "kingdom unto itself" within a government known for its opacity. The Chinese Ministry of Railways once had its own schools, courts, housing, factories, and police force. The three years that I spent shooting this film coincided with the last three years of the Ministry's reign as a separate world: In March 2013, after high-level cases of corruption were exposed, the Ministry was officially dissolved and transformed into the state-owned China Railways Corporation. It is said that control over this corporation is divided between China's elites, and ongoing privatization and expansion have been easy to see.
My usage of the word "ministry" also refers relatedly to belief, religion, and other aspects of an encompassing moral world. Finally, it is meant to bring up a "mission" process of spreading an ideology throughout a land. To me, this is the most intriguing meaning.
Filmmaker: What are you working on now?
Sniadecki: Now that I am back in the United States, I have been working on a few different projects, one of which has been a screening series co-organized with Karin Chien and Shelly Kraicer called "Cinema on the Edge: The Best of the Beijing Independent Film Festival." The Beijing Independent Film Festival (BIFF), one of Mainland China's premier festivals for independent cinema, has met with overwhelming government opposition over the past three years, leading to a cancellation of the 2014 edition. In response, and with BIFF's full cooperation, we have mounted a North American touring version of the festival that began earlier this month.
I am also working on a film about Rainbow Farm, an attempt at utopia and radical freedom set up by two queer community-minded libertarians named Tom Crosslin and Rollie Rohm in Vandalia, Michigan, about ten miles north of my home. Between 1996 and 2001, they held festivals and gatherings that attracted people from throughout the country until government harassment from the local conservative power base led to conflict. Once the State took their son into custody, Tom and Rollie kicked everyone off their land, burned down everything on their property save for their farmhouse, and faced off against the state police and FBI. Four days later, both men were killed by authorities without having fired any shots.
The Iron Ministry screens August 21st-27th at the Museum of Modern Art (MoMA) in New York. More information about the film can be found at http://icarusfilms.com/new2015/iro.html and at http://www.theironministry.com.
Aaron Cutler keeps a film criticism website, The Moviegoer, at http://aaroncutler.tumblr.com.