Back to selection
"AUDIENCE OF ONE"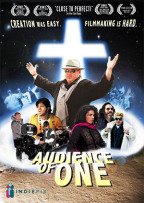 Hands down one of my favorite films of 2007 is this funny yet poignant documentary about a driven San Francisco Pentecostal minister who wants to make films.
Though I will admit I was a little late on the One bandwagon (I didn't see the film until we started screening titles to consider for that year's Best Film Not Playing at a Theater Near You for the Gotham Awards, which unfortunately, because of the talented crop of titles that year, wasn't nominated for the award), Michael Jacobs's film found a lot of success on the festival circuit, winning awards at SXSW, Silverdocs and screening at New Directors/New Films.
Pastor Richard Gazowsky saw his first film at 40. Soon after, he had a vision that he was to make a film company. In fact, he says he was told by God to "Be the Rolls-Royce of filmmaking." Through donations from his congregation (which totaled in the hundreds of thousands), Gazowsky created the company WYSIWYG (What You See Is What You Get) and began production on their first film, Gravity: The Shadow of Joseph, which the film's producer describes as "Star Wars meets The Ten Commandments."
Jacobs then follows Garzowsky's rag-tag group of unqualified cast and crew (all non union, found on Craigslist or from the church) as they move production to Italy to shoot the film. Soon the naivete of the people behind the production begins to become more apparent, revealing a behind the scenes look of a Christian sci-fi epic that turns into something similar to Lost in La Mancha.
Though Jacobs highlights a lot of absurdity behind the making of Gravity (Gazowsky's hilarious explanation of a bar scene, shooting the film on 65mm, the mystery investors in Germany, to only name a few), he and editor Kyle Henry never look down on Gazowsky and his team, and instead stays as objective as possible, which is the film's true testament.
The disc includes a great commentary by Jacobs, deleted scenes and the only scenes that have ever been shot of Gravity.
To purchase the film, click here.
[AMAZONPRODUCT=B001QU8834]
[AMAZONPRODUCT=B0038RC2DA]