Back to selection
"I Prefer Not to Hear 'Mary Had a Little Lamb' with a Bad Drumbeat Behind It": Keith Richards at TIFF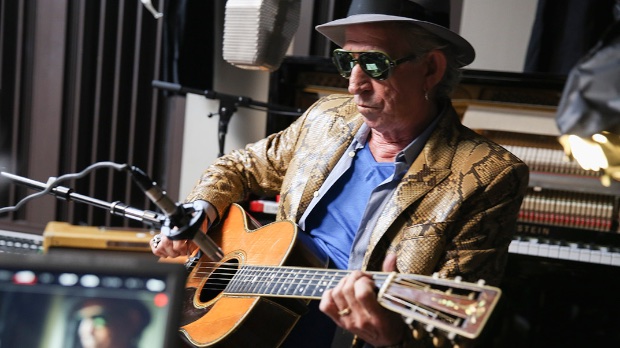 Keith Richards: Under the Influence
Keith Richards swept into Toronto late this week to inject fresh excitement into TIFF just as the parties were waning, filmgoers were yawning and industry heavvies were flying back to the States. Sporting a snakeskin jacket, a Jamaican-coloured headband and impenetrable mirrored glasses, the 71-year-old rhythm guitarist for The Rolling Stones was here to promote Morgan Neville's documentary, Keith Richards: Under The Influence. It enjoyed its world premiere here last night before playing today on Netflix.
The consensus in Toronto holds that Under The Influence is really a commercial for Richards' latest album, Crosseyed Heart, also released today. No surprise that the film was intended to be a much-shorter piece to promote the album. Also, it was never meant to be the screen companion to Richards' illuminating and detailed 2010 memoir, Life.
"That would be a 10-hour documentary," said Neville (20 Feet From Stardom) at the press conference before the premiere. "Less of a novel, more of a scrapbook," was how he described his film.
In Under The Influence, Neville follows Richards to music meccas Chicago and Nashville, and he interviews Richards' influences, such as blues giant Buddy Guy, and collaborators like Tom Waits, whom Richards affectionately described at the presser as "a piece of work."
Neville employs archival footage, including Polaroids of Richards' trips to Jamaica and iPhone footage shot by Richards' manager, Jane Rose, of her client working with Waits.
"I wanted it to feel like a hang," explained Neville, "like you're sitting around around with Keith, talking about music, talking about life."
Richards himself was chatty throughout the 32-minute press conference, charming a sleep-deprived press corps that was fawning over him.
About the Stones: "I do think the Rolling Stones are still finding themselves."
His signature five-string, open tuning: "Five strings, three notes, two hands, one asshole."
His dislike of rap and hip hop: "Blues to me also includes music, not just somebody talking…I need notes. It just doesn't grab me. I don't want to knock anything. They're having a great time and loads of people love it. I prefer not to hear "Mary Had A Little Lamb" with a bad drumbeat behind it."
The Stones' role in reviving blues in American music: "The weird thing is when we  got to America we realized most of America wasn't listening to it either, not because they didn't like it but they didn't go down that end of the dial of the radio. There was a sort of segregation all the way through society. One of the greatest things for me was to meet people like Muddy Waters, BB King, Buddy Guy and John Lee Hooker — these were the guys we looked up to as the gods. They would come and thank us for reviving and bringing the blues back to America."
Richards added that his band's impact was far bigger than he ever expected. "You expect to make a few good records and hope to turn a few people on," he humbly reflected.
"I'm damn glad I did it."