Back to selection
An Unpredictable Release: Four Surprising Facts about It Follows' Road to Success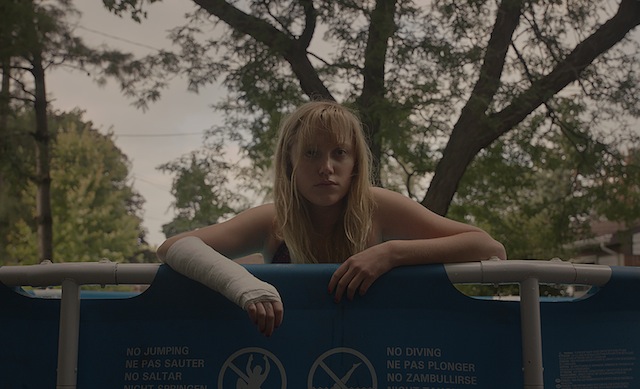 It Follows
During the second day of IFP's Screen Forward conference, Indiewire's Eric Kohn moderated a discussion between Animal Kingdom producers Joshua Astrachan and David Kaplan, and former Radius-TWC CEO Tom Quinn on the breakout success of David Robert Mitchell's It Follows. An indie juggernaut, It Follows grossed 15 times its $1.3 million budget at the box office, in large part due to Radius's last minute decision to stall VOD and expand to a wide release two weeks after its limited theatrical opening on March 13, riding the wave of word of mouth rather than costly P&A. Below are four major takeaways on the film's unusual road to success.
Animal Kingdom debated whether or not to premiere at the Cannes Film Festival.
Although screening amid the arthouse heavyweights of Cannes arguably allowed It Follows' genre pedigree to stand out from the pack, Animal Kingdom debated holding the film for Toronto or Sundance. The sales agent Visit Films had already closed on two pre-sales in France and the United Kingdom, so the paramount issue was securing U.S. distribution, which, theoretically, might have been easier to accomplish on home turf. Producer David Kaplan also expressed concern over the typically exacting international press that cover the festival, but in the end, director David Robert Mitchell's alumni status and Cannes' cachet led them to commit to the premiere, where it was met with ecstatic reviews and heavy buzz.
When Radius-TWC acquired the film, there was no release strategy in place.
While Animal Kingdom was hoping for a distributor to offer a wide release with a generous P&A, they were ultimately swayed by Radius's transparency and their commitment to building out a bullpen of potential release strategies over the ensuing six months. "We had to allow for any scenario to play out at the last minute," said Quinn. Quinn slated a VOD release after a two-week theatrical exclusive but always knew that the window could change if it did well in theaters. Since a distributor has to book a VOD date at least three months in advance, Quinn says he had to "straight up lie" to the media companies about his plot.
Despite Radius's grasp on its potential audience, It Follows did not test well.
Quinn was determined to get the film in front of a 25-and-under audience given its adolescent protagonists, but he also made a play for older John Carpenter fans. Nevertheless, the film did not perform well in test screenings, and all of the theatrical exhibitors passed on it with the exception of the Arclight chain. When it made $7,000 in ticket sales on Thursday, March 12, the night before its official opening, Radius immediately decided to pull VOD and spent the next three days putting together a wide release for March 27. Radius's gamble was right on the money: the film went on to gross $160,089 in just four theaters on its opening weekend.
More than anything, It Follows' success demonstrates what happens when distributors let the audience dictate a release.
Quinn is a firm believer in an "[call an] audible"-style release strategy, allowing the rollout to function directly in response to the consumer. Kaplan noted that the releases behind each of label's most noted success stories — including Bachelorette, Snowpiercer and now, It Follows — were all different. Most mid-level horror films, Quinn noted, are either released wide or direct to VOD; there is no middle ground. He called for exhibitors, media companies and distributors to be transparent with one another and allow plans to fluctuate. "It's best for the movie," he said, "and ultimately, everyone makes more money."