Back to selection
Four "Soft Skills" You Need to Remain Sane as a Creative Documentary Producer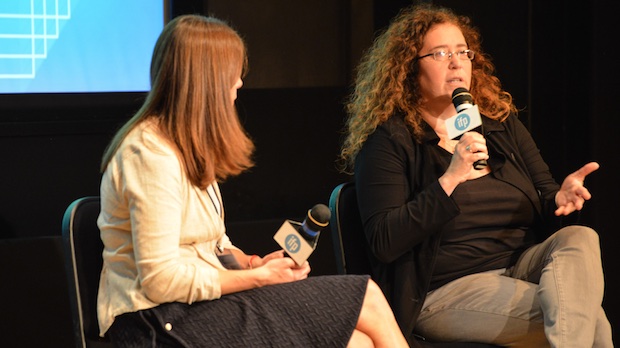 Nancy Abraham (left) and Julie Goldman. (Photo: Kelsey Doyle)
It's an unfortunate, but all-too-real paradox that one of the most demanding roles on or off the documentary filmmaking process is also one of the most under-appreciated: the creative producer. A problem-solver, accountant, disciplinarian, and therapist all rolled into one (and that's just the tip of the iceberg), the responsibilities a creative producer faces on a daily basis go far beyond mere finances or logistics. From the visceral, chest-pounding conviction described by Emmy-winning producer Julie Goldman that inspires her to take on a project in the first place, the job requires an emotional strength and investment that's just as, if not more, crucial than an aptitude for logistics.
While the checklist for hard skills can be found on any job description website — think budgeting, facilitating principal photography, strategizing distribution — Goldman and Nancy Abraham, Senior Vice President of HBO Documentary Films, who have teamed up for a whopping 16 documentaries over the last two decades, scratched below the surface in a conversation Tuesday, September 22 at IFP Screen Forward, that unearthed four key attributes of a creative producer who can lead the making of a successful documentary.
"Be Open to Collaboration"
For Goldman, the definitive trait of the people she'd choose to work with again is an ability to listen, not only to her feedback, but that of partners involved with the film. The goal, she said, is not to lose your own vision while being able to work with others even when their views differ from your own or when their feedback is difficult to swallow. "Each member of a team is critical in terms of what they bring," she said, noting that the absence of team spirit can limit the full potential of the project. However, at its best, years of collaboration can lead to a trust, and a shorthand of sorts, as the one that has developed between Goldman and John Dower after producing a dozen films together. "When we started with Once in a Lifetime: The Extraordinary Story of the New York Cosmos [2006], we used to talk for hours. Now, we can talk for practically one minute and get just as much done," she said.
"Be the Emotional and Creative Liaison"
There's no room for fear or trepidation when you're the link that connects so many people on a team. At times, both Goldman and Abraham admitted, being the voice of reason, or broaching difficult yet unavoidable issues equates to the "bad cop" role in order to let the director champion their creativity and maintain an affable image as the public face of the film. At other moments, it means finding an understanding between disparate viewpoints. "I remember one meeting where HBO understood one thing, the director saw something else, and the editor understood something completely different," Goldman said. "It was disastrous, but I had to tread that water before it became more problematic." And at still other moments, being the bridge means easing tension between a director and another producer who have fallen out of sorts and refuse to speak or even share the same space, as has been Goldman's experience on more than one occasion. Ultimately, Goldman said, since you're speaking on behalf of multiple people simultaneously, so you need to be strong enough to get upset when things fall apart, but move on quickly.
"Know How to Roll with the Punches"
When the number of unforeseen obstacles that can sprout during the making of a film is so high it's almost comical, the ability to troubleshoot (fast) lands high on the list of a creative producer's most invaluable assets. Goldman recalled a few particularly disastrous anecdotes; for instance, when Koran by Heart was, at the last minute, denied permission to shoot in Dubai and had to re-route to Egypt in order to salvage the money already spent, or when a car accident during the making of ManHunt: The Search for Bin Laden landed writer Peter Bergen in a Pakistan hospital. She credited being well-insured and keeping in regular touch with the crew on the road as the saving grace to preventing further issues from arising. In short, be organized, but at the same time, remain flexible and prepared for anything—it can even lead to better results than you expected.
"Have Passion"
At one point, Goldman paused the Q&A session to emphasize her love for her job, saying, "It's a joy to make these films, and an honor to tell these stories." Passion is a trait that can't be taught, and while it may develop over time, there's something innate about the genuine, personal investment a creative producer has in their projects and subjects, and their sheer gratefulness to be a conduit for the voices in the films to be heard. As both Goldman and Abraham pointed out, juggling multiple job descriptions simultaneously and often being the last to get paid goes hand in hand with the opportunity to become immersed in a million different worlds, meet awe-inspiring characters and learn more than you ever thought possible. One thing's for sure, they said: you'll never be bored.