Back to selection
"IL DIVO"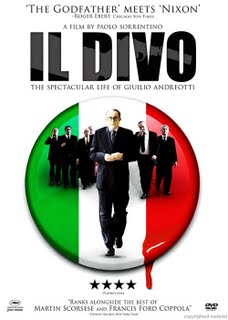 With so much press given to Matteo Garrone's Gomorrah in '08 and '09 (and all of it for good reason) it's easy to forget fellow Italian director Paolo Sorrentino's Il Divo also came out around the same time in both Italy and the U.S. Though not as chilling and much more stylistic and flashy than Garrone's mafioso epic, both films display the diabolical trifecta of politics, religion and organized crime that has plagued Italy for decades.
Il Divo explores the end of the reign of Italian politician Giulio Andreotti (better known in his home papers as the Prince of Darkness, the Black Pope, the Fox, the Sphinx, the Hunchback and Il Divo). A slouchy, bespectacled hermit, he doesn't look like a man who was one of the most powerful politicians in his country, but as the head of the Christian Democratic Party his acts led to the murders of high-level bankers, judges and journalists for decades (he was investigated for his role in the 1979 murder of a journalist who published allegations that Andreotti had ties to the Mafia and the kidnapping of Prime Minister of Italy Aldo Moro. A court acquitted him in 1999).
Like Gomorrah, if you have knowledge of the events or the main players you will appreciate what's going on a bit more, but Sorrentino does a good job of giving a cliff notes of the issues and events surrounding the 2003 trail accusing Andreotti of having corruption ties to the Vatican and the Mafia — dubbed the "Trial of the Century" — which inevitably destroyed the Christian Democratic Party. A prime minister three different times in Italy, and later given the title "Senator of life" (a position he still holds to this day at 90), actor Toni Servillo (yes, he starred in Gommorah) plays Andreotti in a tour-de-force performance.
Most of the film looks inside the lavish lifestyle Andreotti leads, though he is anything but. Rarely showing emotion (outside of a twirling of his fingers), Sorrentino and Servillo depict Andreotti as Italy's Richard Nixon.
With a powerful score and top notch camera work, Sorrentino creates a new form of bio pic that's hip and engaging.
DVD is out this week through MPI Home Video.
Read our interview with Sorrentino here.
[AMAZONPRODUCT=B002JTMNZ0]
[AMAZONPRODUCT=B002JTMNZA]
[AMAZONPRODUCT=B0037FOXXK]