Back to selection
DP Mackenzie Mathis on Slamdance World Premiere Chemical Cut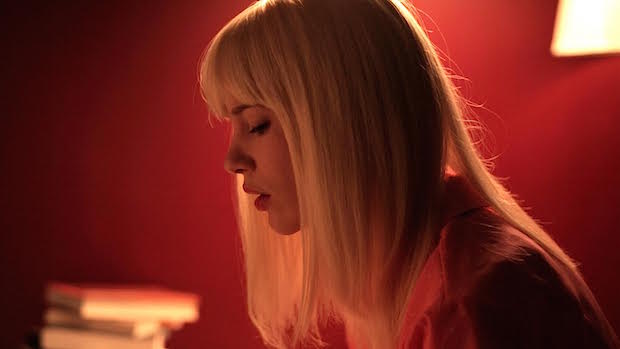 Chemical Cut
A cinematographer on nearly a dozen shorts since 2008, Mackenzie Mathis makes his debut as a feature film DP with Chemical Cut. The film, written and directed by America's Next Top Model contestant Marjorie Conrad, held its world premiere at Slamdance 2016. In this interview, Mathis discusses his influences and technique as a DP.
Filmmaker: How and why did you wind up being the cinematographer of your film? What were the factors and attributes that led to your being hired for this job?
Mathis: I was introduced to Marjorie Conrad through our producer Barret Hacia, for whom I'd shot a short film some years back. Marjorie and I hit it off right away and found we had similar aesthetic tastes and shared core philosophies about filmmaking and art. I think this played a major part in me being hired on this film because Marjorie would be in front of the camera much of the time and needed someone she knew would be on the same page behind the camera.
Filmmaker: What were your artistic goals on this film, and how did you realize them? How did you want your cinematography to enhance the film's storytelling and treatment of its characters?
Mathis: My goal on this film was to remain invisible, both during the shooting process and in the final movie. I wanted the actors and the story to shine through brighter than anything else, so tried to keep the cinematography as simple and as unobtrusive as possible.
Filmmaker: Were there any specific influences on your cinematography, whether they be other films, or visual art, of photography, or something else?
Mathis: I find great inspiration in the work created by some of my favorite director/cinematographer teams, like Hou Hsiao Hsien and Mark Li Ping Bin, Sofia Coppola and Harris Savides, Wong Kar Wai and Christopher Doyle, or Jim Jarmusch and Robby Müller. I find my greatest influence however, to be the richness of the world around me.
Filmmaker: What were the biggest challenges posed by production to those goals?
Mathis: Creating a big enough space for the actors to work within was a challenge, due to sometimes tiny filming locations and our limited lighting package. My goal was always to provide the actors with lots of breathing room, but there were plenty of scenes in which there were tons of lights, stands, and rigging just out of frame.
Filmmaker: What camera did you shoot on? Why did you choose the camera that you did? What lenses did you use?
Mathis: We filmed using a Canon 5Dmk3 and Zeiss ZF.2 primes. Due to our small crew size and speed of production, we needed a balance between aesthetic, size, and reliability, and this set-up served us quite well.
Filmmaker: Describe your approach to lighting.
Mathis: With so many interior locations and only a small lighting package, our philosophy revolved around enhancing the light that would naturally occur in each space. Exteriors were achieved purely by shaping sunlight.
Filmmaker: What was the most difficult scene to realize and why? And how did you do it?
Mathis: The scene outside the movie theater in which Irene and Arthur fight on the street presented the biggest concerns for me. The dialog was largely unscripted, we had no filming permits, and the scene was covered in a number of handheld tracking shots that spanned a couple of city blocks. In the end, the chaotic nature of the scene lent itself to a more flexible interpretation of the space, and it appears quite natural onscreen. It helped that we shot a number of close inserts in which the space is rendered intentionally ambiguous – smoothing out any continuity issues that might have remained.
Filmmaker: Finally, describe the finishing of the film. How much of your look was "baked in" versus realized in the DI?
Mathis: It was a general rule to capture our images as closely to the final look as possible. All work done in the grading suite was very subtle, focussing mostly on achieving consistency in the blacks and compensating for minor differences in lens characteristics.
Camera: Canon 5Dmk3
Lenses: Zeiss ZF.2 Primes
Lighting: Available Light
Processing: Digital
Color Grading: DaVinci Resolve