Back to selection
Hélène Louvart on why the Director of American Mass Shooter Drama Dark Night Wanted a European DP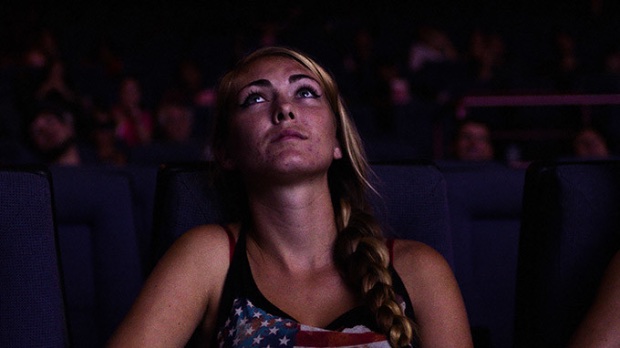 Dark Night
Since the 1980s, prolific French cinematographer Hélène Louvart has worked with such art-house favorites as Wim Wenders and Agnes Varda. For her new film, she collaborates with writer/director Tim Sutton on Dark Night, a film based on the 2012 movie theater mass shooting in Aurora, Colorado. She spoke with Filmmaker ahead of the film's world premiere at the 2016 Sundance Film Festival about her European perspective, natural light and shooting with a very small crew.
Filmmaker: How and why did you wind up being the cinematographer of your film? What were the factors and attributes that led to your being hired for this job?
Louvart: I met Tim Sutton in Paris​ in December 2014, and we shot in June 2015. We didn't meet ​very much before shooting, but we ​wrote ​to each other and talked ​ a lot. Co-producer Martin Marquet introduced me to ​Tim because ​he was looking for a​​ european DP,​ ​was familiar with my work with Larry Clark The Smell of Us and The Wonders. I think, Tim wanted a European DP, to share a different culture, a different perspective ​for Dark Night.
Filmmaker: What were your artistic goals on this film, and how did you realize them? How did you want your cinematography to enhance the film's storytelling and treatment of its characters?
Louvart: Tim was looking for somebody who likes to work with natural light, even if we used some lights, our goal was to be as close as possible of the natural light, and we agreed to reach a visual aspect who could help the story, but "the image should never be above the story."
Filmmaker: Were there any specific influences on your cinematography, whether they be other films, or visual art, of photography, or something else?
Louvart: Tim sent me a look book of images, and some links of movies he digs, and I took time to explore it in a deep way. I understood what Tim liked and what he disliked for Dark Night. For example, it was very clear he didn't want an image too crisp – we pulled​ out the wide lenses as much as possible, and most of the time, we tried to have soft in backgrounds and foregrounds.
Filmmaker: Describe your approach to lighting.
Louvart: Tim sent me also some pictures of the places he took during the casting, and it was for me a way to understand which sort of frames I liked. Most of the time, he took pictures under the sun (slightly over-exposed, with the medium light very high), and during the sunset, and the twilight, with some magenta.
Our crew was little, and it was exactly the way Tim wanted to shoot. With a small crew, but with a very friendly way of shooting. So, the light list was tight (max 800w for the "sun effect") and we got a gaffer/grip (the same for Tim's last movie Memphis), a light-help, a 1st AC and a school student.
Filmmaker: What camera did you shoot on? What lenses did you use? ​
Louvart: We shot with the Amira, in Apple Pro Res with the Cooke lens S4. Eighteen days of shooting, and with an incredible pleasure of shooting.
Camera: Arri Amira
Lenses: Cooke Lens S4
Lighting: Available Light
Processing: Digital