Back to selection
5 Questions for Lovesong Writer/Director So Yong Kim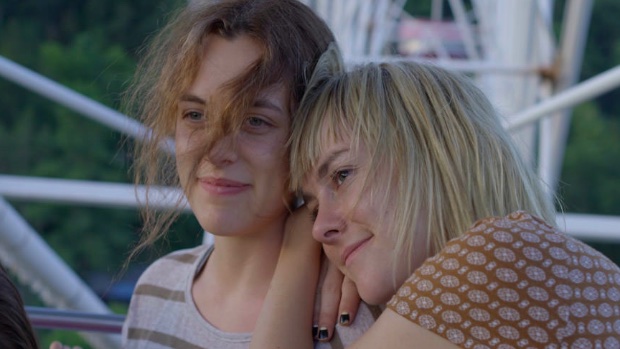 Lovesong
A 25 New Face from 2006, So Yong Kim's Lovesong premiered at the Sundance Film Festival in 2016 and opens today in New York from Strand Releasing. The below interview was originally published during the film's Sundance premiere.
While continuing to make subtle, emotional, character-based stories, So Yong Kim's cinema has been one of change and evolution. Her debut feature, 2006's In Between Days, spent several days surveying the burgeoning first love of two Korean teenagers living in Toronto. Largely filmed in Korean, and shot on a micro budget with non actors, the film landed Kim on our 25 New Faces list. Speaking to S.T. Van Airsdale for Filmmaker, Kim said of her future career, ""I don't see myself making big-statement films, because I don't think that's something I can do. I just try to find some sort of honesty in what I make, have that come from personal experience and try to relate that to the audience."
In her follow-up, the beautiful Treeless Mountain, she made an even more intimate film, traveling to Korea to tell the story of two young girls fending for themselves and their aunt when their mother departs one day. In 2012, she looked again at family relationships, but this time working in a more explicitly American independent idiom. In For Ellen, Paul Dano played a rocker attempting to connect with the daughter he had with his now-estranged wife. And now, in Lovesong, premiering at Sundance in the Dramatic Competition, she adds a temporal element to her storytelling. Riley Keough plays a young mother who makes a possibly amorous connection with her childhood best friend, played by Jena Malone. Three years later, when Keogh's character travels to the wedding of her friend, their relationship finds itself cross-examined and re-explored.
Kim spoke to Filmmaker about her film's inspiration, working with husband Bradley Rust Gray, and how she's been able to make a succession of smart, character-based films.
Filmmaker: What inspired the story of Lovesong?
Kim: I was struggling with a project called Seventy, about an older matriarch who was turning 70. But I had to put it aside, it wasn't working. Then I started to think about a younger mother character who's lonely and isolated with a toddler in a country house. Initially the story was going to be something simple, about this lonely young mom living in isolation. Then while I was brewing this idea, Jena Malone came to play a concert in NYC with her band, The Shoe, and she invited us to come watch. After the concert, and on an impulse, I asked Jena if she would be interested working on this project I'd been writing. She said yes. That was the solidifying moment — the film was going to be about a young mom living in isolation and her best friend comes for a visit.
Filmmaker: You've collaborated with your husband, the filmmaker Bradley Rust Gray, over the course of many films now. He has co-written this film, as he did In Between Days. How has your collaboration changed over the years, and what was its role on this film?
Kim: We do a lot together. We are even answering some of these questions together. We live together, and we work from home, so we see a lot of each other. Working together in a way is just another natural extension of our lives. We trust each other's opinions and judgments even if we have our battles about defending our own ideas.
Brad's help on both films was similar in that he was helping me write something we could make on a limited budget. My initial script for In Between Days was set in Los Angeles and involved street gangs and stolen car chases. When we decided to make the film ourselves, set in Toronto, starring a girl whom we met in a bakery in New Jersey, it seemed obvious we'd have to adjust the script. Brad did a lot of things like changing "steal a car" to "steal a car stereo," because that would save a couple thousand dollars.
The strongest part of our collaboration is definitely in the editing. We've cut almost all of our films together. So the writing aspect is an extension of that type of language. It's about structure. But mainly it's about respecting the truth inside the material and inside the character. If we're both listening to the character, she or he is guiding us most of all.
Filmmaker: What were the specific challenges of writing a film with action set years apart?
Kim: The first part of the film was written so that it could stand on its own. I wanted to develop the characters further in collaboration with actors on set. It had an energy and a direction. After we finished that process writing a second part to the story was fun and exciting. It's set three years later, because that gives some distance for their character's relationship to settle. But also it's set three years apart because we could cast our elder daughter to play the role her younger sister played in the first part.
Filmmaker: Your early films, while scripted, had a bit of a documentary aesthetic to them. This film, like For Ellen, is scripted drama. But did your film and its story change at all between shooting and the end of post? If so, how? What decisions did you make about story in post?
Kim: That's an interesting question.
In a sense, the first part of Lovesong was more documentary style. Some scenes were written just as descriptions of what the characters would do without dialogue. Jena and Riley were great at improvising moments and created a joint history on the fly. I've worked with them on previous projects so I trusted them completely. We usually don't use that much improvisation in our films, so working in this way was exciting. The second part of the film was more formally scripted. It involved a larger cast and more money, much tighter schedule. We still had room to play and adapt, but we had to create those spaces.
The film always changes in the editing. That's where the film is really made for me. We usually cut all the scenes very methodically, getting each scene to work on its own. This takes months, and then we make our first assemblage. This is probably the most fun part of the process because the film is usually not working at this stage, but we get to shift huge chunks around. There can be big changes of emotions and sequences of actions. It's like editing with an ax at this point. Once the big movements are set, we enter the fine-tuning phase.
For example as part of the film's opening sequence we had a moment when Sarah looks out the window and cries. However while editing we wanted to emphasize Sarah's sense of loss after her friend Mindy leaves. So we shifted this scene to become the closing sequence. It's paired with a shot of our daughter eating a peach which was not scripted. I had borrowed a camera to shoot some extra footage, and we just happened to get this moment of her relishing her big juicy peach. Putting these two moments together seemed to describe parenthood for me, because children are very physical and instantaneous. Contrary to popular opinions, I don't think children are completely tuned into the emotions of their parents. So you could be sad and breaking down in the back of the house but the kid is happy as a lark and devouring a peach in the front yard!
Filmmaker: Like your previous film, For Ellen, Lovesong is a drama with name actors — a different model than your first two films. What are the challenges of this sort of film in the current marketplace, and how did you confront these challenges when getting Lovesong financed and produced?
Kim: I feel that the marketplace is completely unpredictable, and financing of independent films is challenging. I have been lucky that I've had the privileges of working with various producers who are capable and have been able to find financing for both types of films. The common thread in making films with name actors or non-actors is that I strongly believe in the value of casting the best actor possible for the film rather than casting for financing. I think whatever you can do as a filmmaker to preserve your creative spark and vision by working with the best actor who has mutual creative vision is the strongest path to getting financiers come aboard.