Back to selection
Five Questions for Life, Animated Director Roger Ross Williams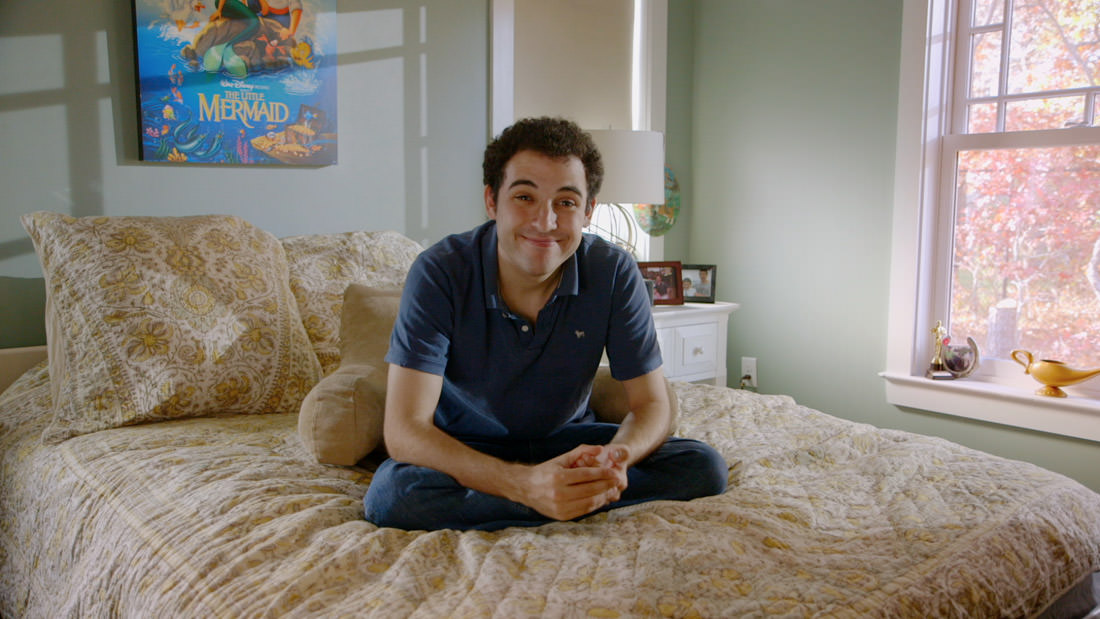 Life, Animated
Chances are you've experienced one or two-dozen animated films from Walt Disney Studios. Snow White and the Seven Dwarfs, The Little Mermaid, The Lion King: the studio famous for introducing the world to Mickey Mouse has produced some of the most identifiable films (and, subsequently, images) of the twentieth century. One of the studio's most ardent fans is Owen Suskind, a young man diagnosed as autistic at the age of three and the subject of a memoir, Life, Animated: A Story of Sidekicks, Heroes, and Autism, written by his father Ron Suskind. Using Disney films as a guide to communicate and express himself to the outside world, Owen developed a unique kinship with the studio's output that is explored in Academy Award-winning filmmaker Roger Ross Williams' latest documentary.
Filmmaker: Were you familiar with author Ron Suskind's book, Life, Animated: A Story of Sidekicks, Heroes, and Autism, before embarking on this project? What drew you to making a cinematic companion?
Williams: Ron Suskind and I have been friends for 15 years.  He told me about the book when he was writing it, and so my producer Julie Goldman and I optioned it right away. The film is not just a retelling of the story in the book. It picks up where the book ends and follows Owen as he moves into adulthood. I always saw the film as a classic coming of age story with valuable life lessons for everyone. Rather than a story about a struggle of autism, it's a story about the journey we all take at one time or another to find our place in the world.
Filmmaker: As the book was written by Owen's father, there was a specific perspective in how that story was told. What were your intentions for the film once you entered the Suskinds' lives?
Williams: The book is written from Ron's perspective and is very much a personal memoir of the journey he took with his wife Cornelia as they sought to reconnect with their son. From the start, it was important to me that the story in the film must be told from Owen's perspective. That poses some challenges when you're working with a person who has autism. The one-on-one interview can be intimidating. Since Owen grew up watching animated Disney films and feels comfortable looking at a video screen, I decided to interview him using an Interrotron. That is a camera positioned behind a screen, so the subject is looking at my image while simultaneously looking directly into the camera. This allowed Owen to look directly at me, and therefore directly at the audience, to tell his story. I also played Disney clips on the screen and Owen became immersed in the images. In a sense, the audience is inside the Disney clip and subsequently inside Owen's head. I wanted this to be a journey inside the brilliantly creative mind of Owen Suskind.
Filmmaker: When working on a documentary about a person with a disorder, how do you go about representing that person's story accurately? How knowledgeable must a filmmaker be regarding the subject's condition? Is there ever an internal struggle as to what feels appropriate and what may feel exploitative?
Williams: It was surprisingly difficult to let go of my own preconceived notions of what it's like to be a person with autism. I saw autism strictly as a limiting condition, but while making Life Animated, I found that every person with autism has something unique to contribute to society. There is a big difference between the notion of being disabled and the reality of being differently-abled. We just aren't tapping into our true, full human potential if we ignore this distinction, and we're losing out as a society if we leave them behind. Owen Suskind, the subject of our film, has taught me so much about life. Once I got past what I perceived as his disability, I was able to see that Owen had a great deal to say. As an enthusiastic documentary filmmaker, I felt privileged to listen and participate in a dialogue that still goes on to this day.
Filmmaker: As the film features footage from some of the most popular Disney films of all time, were there any issues regarding the clearance of rights? Did you receive free range to incorporate scenes from films like Aladdin and The Lion King?
Williams: It was important to develop a relationship with Disney early on in production, and Julie Goldman established and maintained that relationship throughout. We licensed the footage from Disney and they do not have any ownership or editorial control over the content of the film. I think the executives at Disney simply liked my vision and decided not to stand in our way. Our experience with Disney was pretty smooth and they were a dream to work with.
Filmmaker: In 2014 you released footage of your upcoming film as a short, Animating Owen, for The New York Times Magazine. How far along in production were you at that time and how did your inclusion in the Gray Lady come about?
Williams: Owen's father, Ron, is a Pulitzer Prize-winning journalist who has written many articles for The New York Times and has written many New York Times best-sellers about politics. This, however, was the first time he wrote about his own life. The book was a huge success and was excerpted in the NYT magazine. We were developing the documentary idea and he asked me to throw together a short video clip. That was the first footage we ever shot and none of it actually made it into the finished film, but it was still seen by tons of people and generated an overwhelming response. Whenever we would tell anybody about the film, they would say they had read the Times piece or had seen the clip.