Back to selection
"A Poultry-Infused Visual Remix" of The Shining: Nick DenBoer on The Chickening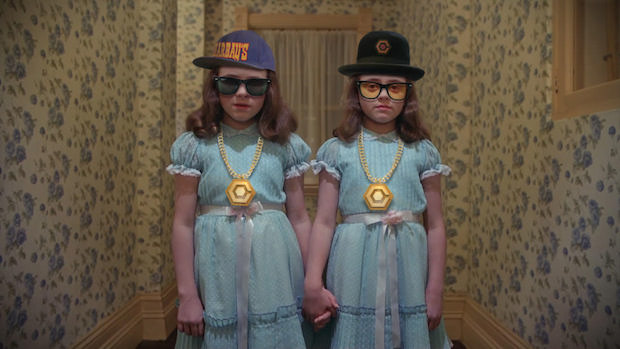 The Chickening
A garish, absurdist riff off The Shining, The Chickening is prime fodder for Sundance's Midnight Shorts Program. Animation duo Nick DenBoer and Davy Force wrote and directed the film, which blends shots from The Shining with a Tim & Eric-esque cocktail of inventive, abrasive imagery about a fried chicken tycoon. Below, DenBoer discusses how he and Force created the meticulously crafted images of their giddy short film.
Filmmaker: How and why did you wind up being the cinematographer of your film? What were the factors and attributes that led to your being hired for this job?
Nick DenBoer: My co-director Davy Force and I collaborated on our film remotely. He worked from his studio in Los Angeles and I from my studio in Toronto. We both wrote, directed, shot, edited and did the visual FX on various scenes. We both have a similar well-rounded skill set where we can produce content from start to finish in our home studios, so it makes for great collaboration. We've worked together this way on past projects, so we thought we'd do it again on this film, The Chickening.
Filmmaker: What were your artistic goals on this film, and how did you realize them? How did you want your cinematography to enhance the film's storytelling and treatment of its characters?
Nick DenBoer: Our goal for this film was to create a new narrative by altering and remixing an existing film. The Chickening is a poultry-infused visual remix of Stanley Kubrick's The Shining. We added new characters, altered existing characters and changed the scenery and architecture to transform the classic film into our new story. Our cinematography was specially executed to meld with the original film. Characters were shot on green screen and made to interact with the existing scenes, so much of our camera work was determined by the existing compositions. The enhancement of the film's storytelling came through in the juxtaposition of mixing our new cinematography with that of the original film.
Filmmaker: Were there any specific influences on your cinematography, whether they be other films, or visual art, of photography, or something else?
Nick DenBoer: Inherently because this is a remix of a Kubrick film, his influence is present. We filled the scenes with easter eggs resulting in every shot being a visually loaded composition. It's the kind of film where you keep seeing things you missed the more you watch it, much like Kubrick's work.
Filmmaker: What were the biggest challenges posed by production to those goals?
Nick DenBoer: The biggest challenge was the visual transformation of the film. We wanted to create something new while paying homage to the original film. If we didn't go far enough with the transformation it would be like many other remixes online and we wanted to achieve a higher level of visual remix so we really took it up a notch and used every VFX trick in the book to transform The Shining into this crazy chicken meltdown.
Filmmaker: What camera did you shoot on? Why did you choose the camera that you did? What lenses did you use?
Nick DenBoer: I shot on a Canon 5d for our green screen character shoots with a 24-105mm ef lens. It's the best camera I currently own and I like it because I often need to mix high-res stills with video in post production and having them come out of the same camera makes for seamless integration.
Filmmaker: Describe your approach to lighting.
Nick DenBoer: Once again, because we were compositing shots into an existing film, we needed to simulate the lighting from the original source footage. Matching the shadows and general light direction is my priority in this case. Temperature and color can be fixed in post but shadow casting and light direction can't be fixed so easily so most of the effort is in getting the direction and light levels where they need to be. I put two monitors side by side so I can have a live preview of the source scene and what I'm shooting to compare. This setup usually does the trick.
Filmmaker: What was the most difficult scene to realize and why? And how did you do it?
Nick DenBoer: The most difficult scene was making the twin girls in the hallway of The Shining dance. I shot my body dancing on green screen, then mapped the girls' head and dresses onto my body by animating them in after effects. I then built a 3d model of the hallway and projection mapped a still of the empty hallway onto it. Finally the animated girls were placed into the 3D scene and a virtual camera moved throughout the scene to bring the shot to life.
Filmmaker: Finally, describe the finishing of the film. How much of your look was "baked in" versus realized in the DI?
Nick DenBoer: Finishing the film involved me piecing together all of the scenes that both Davy and I created remotely into one timeline. The final edit came together organically and I edited while scenes came in. It took form quickly and we did several rounds of touch ups and animation tweaks until it was ready for screening. Virtually none of our film was baked in. Everything was done in post. All of our shooting was done on green screen and composited in after effects.
Camera: Canon 5D
Lenses: EF 24-105mm
Lighting: kino flo, lowel
Color Grading: Adode After Effects