Back to selection
"The Military System and a Movie Set are Similar": Rachel Lang on Baden Baden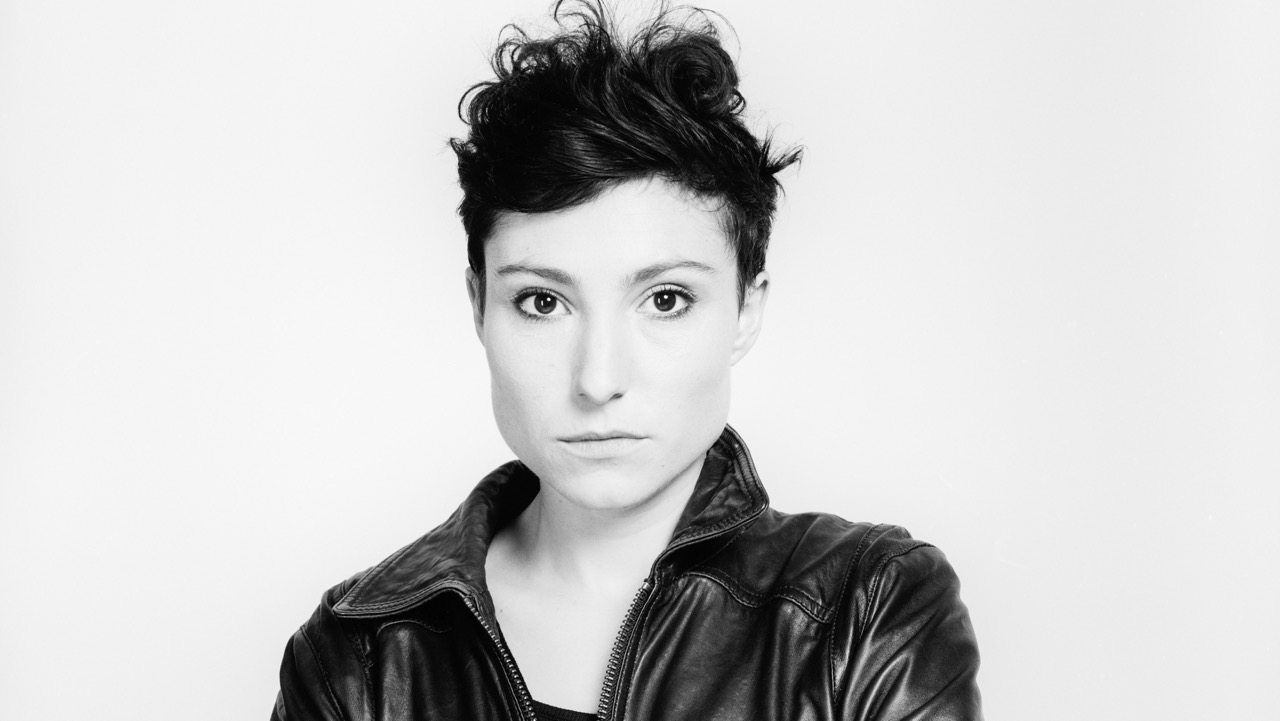 Rachel Lang
Described as the most daring section of the Berlinale, Forum aims to straddle art and cinema. Launched in the late '60s to diversify the festival, Forum still showcases perhaps the most progressive and experimental films of the 400 total that are slated in Berlin's beast of a festival.
There were 44 titles selected for Berlinale's Forum program this year, and of the 34 world premieres and 9 international premieres, several played at Berlin's arthouse Arsenal cinema in the festival's wake.
Though this year's program was focused on the Arab region, Forum is known for its dissidence and commitment to presenting unpredictable and unconventional lineups. This year, the slate also included Baden Baden, a lighthearted Franco-Belgian co-production that recently opened in New York at the Anthology Film Archives.
Written and directed by Rachel Lang, the film follows a young woman struggling to make sense of her life when she returns home to the German-French border town of Strasbourg. Other than the existential overtones, the film brims with social and cultural immediacy, and with natural and nuanced performances. As a follow-up to her previous short films (For You I will Fight won the Silver Leopard at Locarno in 2010), Baden Baden is Lang's first feature, as well as the end of a trilogy.
After her world premiere at the 66th Berlin International Film Festival, Lang discussed her debut feature and what she's planning next. Baden Baden's premiere theatrical U.S. release at the Anthology Film Archives runs until December 1st.
Salomé Richard stars in both your previous shorts, and is also the lead in your first feature. What about her do you find striking? What is so special with Salomé is that she never plays; she is. She is specific but at the same time communicates something universal, so I think all kinds of people can relate to her. She's not like a lot of French actors, who are aware of being looked at. She's free to just be and to play, so it's really easy to work with her.
How do you think audiences will most relate to her? Well, I hope people from very different cultures and places around the world can relate to her character and to the story. But there is something specific in the movie that speaks to young people in Europe today who have difficulty finding their place, finding jobs, finding something important to do in life. I don't know if it's the same in the States. In Brazil, for example, it's not — there seems to be places for everyone to build something for themselves. In Europe now, everything feels so closed.
And in France specifically? There is something existential in the meta-physical sense that is the same for everybody, everywhere. I feel that there is a state of thinking for all young people to cross in order to find the meaning of life, their place in the world, their connections with other people, and to try and make change. I hope there isn't too much cultural French-ness in the film that prevents anyone from relating to these existential questions. I would like to see how the film speaks to people in different countries and in different generations, not just to young people.
The story from your two shorts has culminated now with the feature. With a completed trilogy behind you, what would you say you've learned most? What's important for a young or first-time filmmaker is to have your identity, to believe in it and to stick with it. And then of course, it's important to find the right people to build the team because that's the most important thing – the communication between people. I'm very lucky to have made the feature with the same people I made the shorts with, including my French producer Chevaldeuxtrois, who believed in me from the beginning. It was very easy to be connected. We were like a family, always sharing good energy. The only big stress was getting Salomé a driver's license two weeks before she had to drive the Porsche.
Your next film is about the French Foreign Legion. What inspired the military interest? I was a soldier in the French Army when I was 18, and I've been an officer now for one year. But I'm not active every day. I'm at the base once every month, and the rest of the time, I'm reachable, but off the base.
After you were a soldier, you went to film school in Belgium for five years. Now you are simultaneously serving and making films. How do you find the transition between the two mentalities? It's a good balance for me to be in two different mindsets — military and artistic. The army is a micro society that mixes people from very different social standings, which is fascinating to me. But for me, it's much easier to make films. Being a solider is easier in terms of day-to-day existence. You just obey. In many ways the military system and a movie set are similar in that everybody has a precise mission to fulfill a goal bigger than the group. But during my officer schooling, I was responsible for 30 people who could die, so it was a huge responsibility. In comparison, a film is no responsibility. If the film is bad, who cares?