Back to selection
SXSW: Five Questions for Hunter Gatherer Writer/Director Josh Locy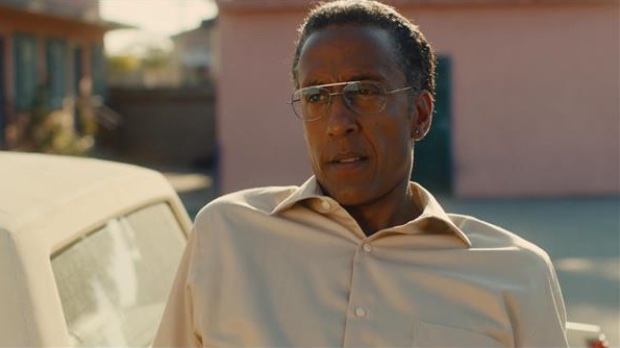 Hunter Gatherer
Virginia-born Josh Locy makes his feature debut at SXSW with Hunter Gatherer, a drama about forty-something African-American-man beginning life anew after prison — and after the support network he thought he had fail to reengage with him in his new life. Locy originally planned to become a Baptist minister, but a detour led him to the director David Gordon Green, for whom he worked, and the job of art director, which he now practices on various independent and studio films. Below, he discusses the origins of his story, what he learned from Green and how working in the art department influenced him as a director.
Filmmaker: Let's start by talking about genre. What attracted you to the life-after-prison genre, and how does your film differ from others that have tackled this storyline?
Locy: When someone returns home from being in prison, he is experiencing freedom and a chance to start over — to redefine who he is. He has a past that he either regrets or longs for, and he has a future that he wants to affect. These aspects create a rich environment to explore what it means to be in the present — how our past influences it and how our current actions will plant seeds for our future.
There are certain things people expect from a life-after-prison movie. I wanted to draw in an audience by making them feel comfortable and familiar with what they are watching and then subvert their expectations. In doing this, the viewers can feel new emotions and explore common themes in a fresh way.
Filmmaker: In terms of the specific story, did you model your lead character on anyone in particular?
Locy: The story was inspired by a friend of mine, specifically his unflinching optimism and hope in the face of dire circumstances. He was a person who knew exactly what he wanted but didn't always take the most direct route to get there. Our relationship had its ups and downs, but his energy and passion were a constant inspiration to me throughout the process. He passed away a couple of years ago, and the film is dedicated to him.
Filmmaker: How did you connect with David Gordon Green, and what would you say are the three most important things you learned from him?
Locy: My friends Brad and Brett Land introduced me to David when they were working on the script for Goat, like ten or 11 years ago. David and I gradually became friends and I was his assistant on Pineapple Express. I then went on to art direct Prince Avalanche and Manglehorn with David's designer Richard Wright.
David is big on collaboration, and I've witnessed how new ideas spark new scenes and how a film gets better when the director is open to what is going on around him and curious about the opinions of others. Also from David, I've learned that the director sets the tone for production, and being kind and open goes a long way to create an environment where people can be themselves and their most creative.
Filmmaker: How did you enter wind up becoming an art director, what made you decide to join the union, and how has your work in the art department shaped and influenced your work as a director?
Locy: Ever since I started working on sets, I've been intrigued by the art department — the materials and processes that go into creating a cohesive, visual environment. I studied literature and religion in college, so I had never really gotten my hands dirty and learned how to actually make things. The concrete means of filmmaking were an abstraction to me and working in the art department helped me understand that there are established ways of going about things and creative people who are hungry to help at every step of the way.
As a director, all departments want to pull you in so many different directions at all times, so having been an art director helps me decide what details are important and where I should focus my energies so that the things that matter are properly cared for. I've also learned how to communicate effectively to the other collaborators on the film. (They may have a different opinion on this!) It's daunting for a filmmaker to have his vision realized, and I've learned that it's okay if things aren't exactly as you thought they should be. Budgets and schedules will always give a film certain parameters and I've learned to have appropriate expectations and how to push the limits of what's possible within those parameters.
Filmmaker: What was the biggest production challenge of this film, and how did you surmount it?
Locy: We had a lot of locations and a very tight production schedule. The only way to surmount the challenges inherent in what we were trying to do is to have producers who care deeply about the project, are smart enough to foresee potential challenges, and are experienced in knowing how to mitigate them. When problems were unavoidable, my producers knew how to effectively communicate the issues at hand and what our options were. The on-the-ground producers of Hunter Gatherer (April Lamb, Sara Murphy, and Michael Covino) supported my vision at every step and there is no way I could have made this film without them.