Back to selection
SXSW: Five Questions for Claire in Motion Directors Lisa Robinson and Annie J. Howell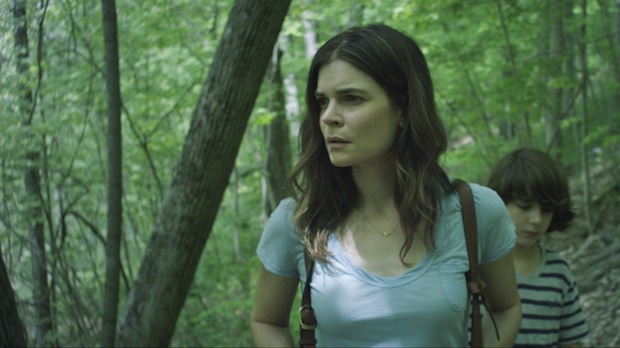 Claire in Motion
Five years after premiering their pregnancy road trip drama Small, Beautifully Moving Parts at SXSW, the writing/directing team of Lisa Robinson and Annie J. Howell return to Austin with their Competition entry Claire in Motion, a drama about a woman grappling with the disappearance of her husband — as well as the secrets of his life that disappearance has caused to surface. Below, we talk to the duo about the nature of their collaboration, being female directors working with female subject matter, and whether comparisons to Gone Girl are accurate or not.
Filmmaker: It's been five years since Small, Beautifully Moving Parts premiered at SXSW. As directors, what have you been doing since then, and how did Claire in Motion wind up being the next film you'd make?
Robinson and Howell: It's hard for us to believe the time has sped by as it feels like we've been so busy. We knew we wanted to make another film together, but it took a while to fully cook the story. Also, we were each working on other projects (Annie another writing project and Lisa a short film). Once we settled on the location — Athens, Ohio — where Annie was living at the time, it all started to fall into place. Lisa went out to visit and we brainstormed ideas, knowing we were interested in writing a story about identity and about how crisis can shift that identity. We were also interested in what it means to be at a time in your life where your idea of yourself and your family can start to solidify in ways that aren't totally healthy. Where you can just coast, for example, in your relationships, because you think you know who you are, who they are … and then how that can totally be upended. Those thoughts slowly led us to this story.
Filmmaker: Although there are some high-profile examples, directorial duos are still rather rare. How do you work as a team, and has this way of working changed or evolved since Moving Parts?
Robinson and Howell: The way we see it, we are like musicians in a band … sometimes we play together and sometimes we play solo. And we will continue doing both. In terms of working as a team, we really tackle the work moment by moment with no rules, and sure — it changes all the time — but it doesn't make sense to us to over-analyze it. We do a lot of conferring and prepping ahead of time to make sure we are on the same track.
Filmmaker: From reading your synopsis, your film has obvious parallels to Gone Girl, except it's from a primarily female point-of-view. How does your film differ in terms of storytelling and approach from that well-known book and movie? What different statement were you trying to make?
Robinson and Howell: We didn't really talk about Gone Girl at all. We were much more influenced by films like Lynn Ramsay's Morvern Callar or Eliza Hittman's It Felt Like Love, that are subjective psychological journeys with elements of suspense. And, in our story, there is no suspect or sense of blame. We were less invested in solving a crime and more interested in dealing with uncertainty. We are interested in how crisis could shake up Claire's life in ways that were both negative and positive. There's so much uncertainty in the world — people go missing every day, and most of these stories don't end with a sensational event but instead invite a slow haunting sense of change.
Filmmaker: The challenges facing female directors in today's film business have been well chronicled in recent years, at Filmmaker and numerous other sites. What's been your own experience as female directors attempting to launch your next movie? Do you feel your gender has played a role in the difficulty — or ease — with which you've made this feature?
Robinson and Howell: The challenges and assumptions are something you get used to, unfortunately, and it's a relief that people are talking about it more now. It's clear that it's much easier to finance movies with male stars and male stories, and we knew no one would hand us an opportunity that simply, so we proceeded in a fiercely independent way. A lot of people loved the script, and there is a hunger for complex stories about women out there, so if you can find a way to finance them, talent and resources do come to you in all areas. We worked with an amazing casting agent, Emer O'Callaghan, and we were so excited to get Betsy Brandt for the lead.
Filmmaker: Finally, tell us about the production, and how you scaled it to match your resources. What decisions were key in enabling you to successfully make this film?
Robinson and Howell: We shot in a town that was perfect for our needs — Athens, Ohio. It had all these gothic elements we loved and was within close driving distance to stunning natural forests with huge boulders and tree roots that traverse the landscape in this beautiful way. And because it was film-friendly, and Annie lived there, neighbors and talented students and colleagues (from the university) all wanted to be involved. That gave the film a strong foundation. Andreas Burgess, our incredible DP, location scouted with us and just rolled with all the surprises and idiosyncrasies of our project. Our design team was really good at getting to know local resources as well as bringing them along in their suitcases — Anna Margaret Hollyman wears a sweater in the film that belonged to our Costume Designer's grandmother … and it's gorgeous.