Back to selection
Short Films Take Flight at the Portland International Airport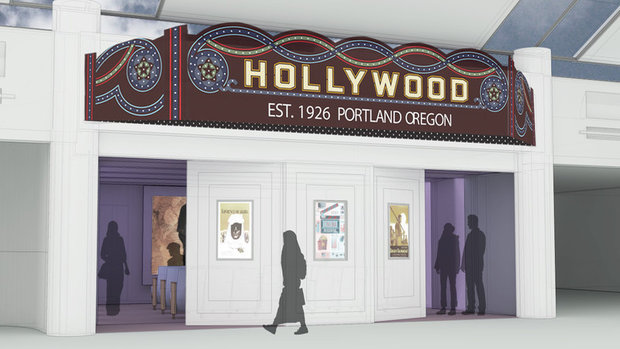 Movie theaters in airports have become a bona fide trend, with the Portland International Airport the latest airport to jump onboard.
Passengers at many airports throughout Asia can already watch movies before their flights. But until recently, U.S. airports were slow to try the idea.
In 2014,  the Minneapolis-Saint Paul International Airport in Minnesota introduced a movie theater that shows art films with programming courtesy of The Film Society of Mpls–St. Paul. And last year, travelers at Miami International Airport were treated to silent film comedy classics as part of a Pop-Up Cinema program.
Most recently, the non-profit Hollywood Theatre in Portland announced it would open a new airport theater space, the Hollywood Theatre @PDX, in late summer 2016. They're now accepting short film submissions for the first cycle of programming.
The theater space was donated by The Port of Portland, which runs the airport, and grants from Travel Oregon and the Oregon Community Foundation provided the initial funding for the venture.
Like the theater at the Minneapolis-Saint Paul International Airport, the theater at PDX will focus on work from regional filmmakers, particularly short films telling stories specific to Oregon and the Pacific Northwest.
They also plan to provide artist residency opportunities inviting collaboration between national and international media artists and local filmmakers, and host special events and visiting guests. For travelers, all shows will be free.
Programming at the Hollywood Theatre @PDX will rotate quarterly, and submissions will be accepted on a rolling basis online via Film Freeway. For the project's first programming cycle which spans late summer/early fall 2016, films must be submitted by April 30, 2016.