Back to selection
Tribeca 2016: Patrick Osborne on Winning an Oscar and his Animated VR Piece Pearl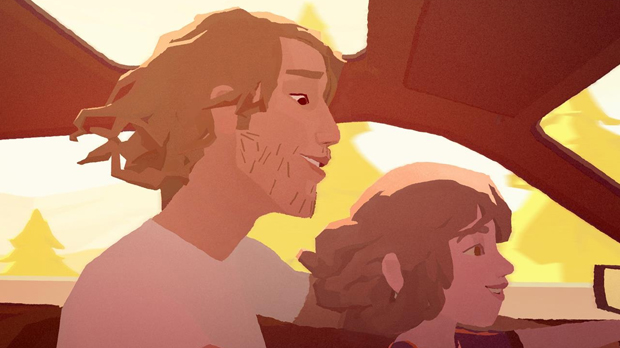 Pearl
Patrick Osborne came to national attention with his animated short Feast, a delightful film about a food-loving dog that screened with Disney's Big Hero 6 and won the Academy Award for Best Animated Short for 2014. It dealt with family, loyalty, and growth and change over time, particularly the strain and eventual reward as new loved ones enter the circle of a previously cohesive relationship: it's initially difficult for Winston, the dog, to accept his owner's new girlfriend, but ultimately it is he who makes the decision to save the relationship and he enters a much wider and more loving world as a result. Osborne's new film Pearl, which premiered at Tribeca this week, follows a very similar emotional trajectory, with a musician single father giving up his life on the road for his young daughter, allowing her to push him away in favor of new friends during her bumpy adolescence, and then being reunited with her and her friends — now her successful bandmates — in her young adulthood. Rather than food and a dog's-eye view of the world, the vehicle this time is literally that: the family's beat-up old sedan — the entire film is set inside it, and it ages beautifully through the course of a few minutes — and a tape recording of a lovely folk song of the father's that carries the weight of the story with ease.
The six-minute film premiered as a linear piece on Sunday and screened several more times throughout the week, but it was actually created as a virtual reality piece — shown at the Interactive Playground on Saturday — under the aegis of Google's Spotlight Stories series (I wrote about an earlier Spotlight Stories film by animator Glen Keane in 2014). Seen this way, the viewer's stationary position inside the car becomes structurally more important, as it gives a fixed physical position to orient you whenever there is an edit — done tactfully so that they are always match cuts rather than jumps — no matter which way you happen to be looking. The continual flow of action in the front seat, back seat, and outside the windows keeps the energy level high and gives you a good reason to turn your head, and unlike in some narrative VR pieces you never spend long looking around to try to find the action.
The Tribeca premiere was a first for Google Spotlight Series, and as part of the series Pearl will be available as a VR piece — such as on Google Cardboard, which is how it was demoed at the festival — on Android and iOS devices later this year.
Filmmaker: Before getting into Pearl, can you describe how winning the Oscar has influenced your career over the past two years? What has your work been like since leaving Disney?
Osborne: Taking home an Oscar was a dream come true in a lot of ways. It's an experience that most would describe as surreal, to say the least: cameras, press, famous faces around every corner. It is far away from the daily life of an animator sitting at a desk crafting a story one frame at a time, and a really fun, amazing night. You're left with a massive "What do I do now?" and a voice message inbox full of messages from producers, agents, studio executives, all asking, "What do you want to do now?" I realized after a few of these "general" meetings that that question — "What do you want to do now?" — was the real prize of the Oscar, because it was coming from people who could actually help you achieve your answer. I also realized that they'd only be asking that question for so long — while I was this mysterious new kid on the block — so I'd better try and take some of them up on it.
I have two features in development now, Battling Boy and Nimona. Both are based on wonderful graphic novels that I've fallen in love with. We are nearly wrapped on a pilot for ABC I'm working on with Adam F. Goldberg and David Guarascio, as well as Pearl for Google and another as-yet unannounced short film. In short, I'm making things I want to make — which is a dream, really. I hope I don't have to wake up. 
Filmmaker: There appears to be a growing relationship between animation and interactive content (at the NFB, Oculus, Google, etc.). If that's a fair assessment, why do you think the two art forms are being drawn together? What do they offer each other? Perhaps another way to look at it is to ask what attracted you personally to making an interactive piece rather than going straight into that short or one of those features.
Osborne: Animation is a natural fit for interactive entertainment because all of the elements are individually created and they can thus be manipulated individually. If you shoot a live action film in VR, for example, the actor and the background are more or less in a fixed relationship to one another. If that same scene is animated, the character and their performance can be arranged differently in regard to each other. In other words, if the audience is not looking in the right place, the character can be placed where they are looking. In live VR, the audience would miss what that actor did if they were looking in the wrong place. I jumped at the idea of making a film in 360 VR space because it felt like it was an experimentation-friendly place at the moment, that there is so much to discover. That's the kind of sandbox I want to play in. 
Filmmaker: Can you describe the creative process in putting it all together? What particular challenges arose in making a VR piece that aren't present with a traditional linear film?
Osborne: My favorite ideas come from the juxtaposition of various feelings, concepts, characters. Pearl was, at first, one of these juxtapositions. I wanted to make a folk musical of some kind, to base the structure of a story on the structure of something as recognizable as a pop song. I also wanted to make a story that takes place in one environment that could age and change context over time, a place where we could get little glimpses of life. And I wanted to try to edit in VR, mostly because people were saying that you couldn't. 
The toughest part of making a VR film when compared to a traditional "framed" film is giving up the frame itself.  A director acts more like a director of a play, who creates an emotional experience intended to wash over an audience and gives up the control of knowing exactly what they are seeing. Technically speaking, creating for VR currently feels a little foreign. All the tools we are used to using are built for working within frames, they're built to compose on flat image planes. Both of those crutches are gone now, and we are composing in space. The goal, to garner empathy, to pull emotion from the audience, is still the same, and still just as challenging.
Filmmaker: And it takes quite a crew to pull off. Can you talk about your creative team on the film?
Osborne: The heart of the Pearl team was a custom-assembled group of artists from all over the world, most of whom I discovered via their Tumblr page or website. The project started with a technical art lead Cassidy Curtis, and a production designer, Tuna Bora, who together were tasked with developing a way to render Tuna's beautiful illustration style in real time, live on the phones that everyone has in their pockets. The characters were designed by Oren Haskins along with Tuna, and the wonderful music was written by Alexis Harte and recorded by J.J. Whistler and Scot Stafford of Pollen Music Group in San Francisco.