Back to selection
The Changing Face of Documentary Distribution: The 17th Annual Hot Docs Forum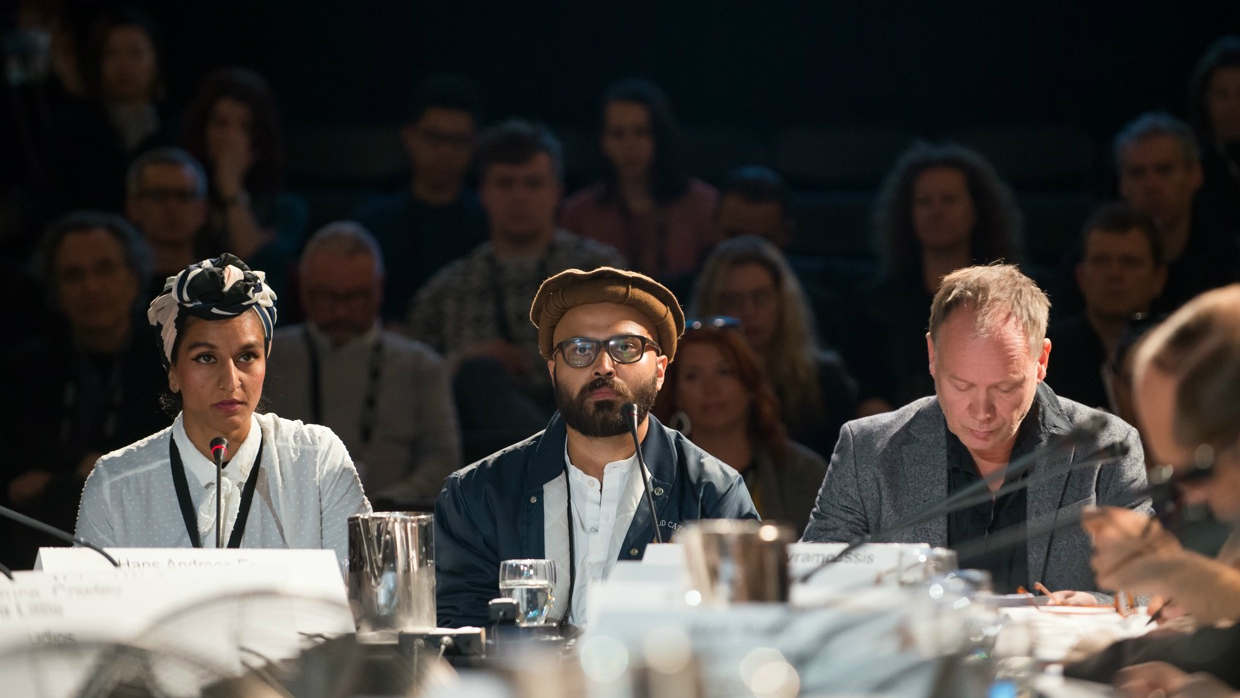 The Zunn: Showgirls of Pakistan team (Photo by Joseph Michael Howarth)
The 17th annual Hot Docs Forum kicked off Tuesday in Toronto with all the pomp and ceremony of a high school model UN tournament. Axel Arno, SVT commissioning editor and one of three forum moderators, laid out the rules: each team will have seven minutes to pitch, followed by another seven minutes of question-and-answer discussion; the bell will ring once at the six-minute mark and twice at the seven-minute mark. Over two days, 20 producing teams pitched projects while 20-odd commissioning editors, broadcasters and video-on-demand reps sat at the table giving their feedback while other financiers and gatekeepers, most notably a Netflix rep, lurked silently in the audience.
Reminding us we were in Canada, the tone stayed civil and encouraging throughout. People are much less polite in Amsterdam, Marge de Koning, from IKON told me, referring to the forum at IDFA, which Hot Docs modeled theirs after. During one pitch de Koning prefaced a piece of criticism with the avowal, "Us Dutch are honest." Without missing a beat, Mette Hoffman Meyer's microphone lit up and the Danish Broadcasting Company rep retorted, "or rude anyways." Laughs followed. de Koning and Hoffman Meyer joined Sundance's Bruni Burres and BBC's Nick Frasier as some of the most prolific commenters of the event. Marie Nelson, from PBS, was the best-dressed.
Several people cited Dorota Lech, the forum producer and Hot Docs programmer, for being responsible for setting a more positive tone in Toronto in recent years. She's certainly the one to applaud for the range and quality of the projects pitched, about half of which were helmed by women directors or co-directors. The Last Animals, directed by Kate Brooks, about the ivory trade, is positioned to be the next Blackfish, and the true crime docu-series American Monster, directed by Patricia E. Gillespie, about a murder in small-town North Carolina, suggested the most commercial appeal. Veteran filmmaker Hope Litoff's Rules to Live By and emerging director Minji Ma's Family in the Bubble — which focus on each director's family life and use black humor to approach their respective topics, mental illness and South Korean real estate speculation — both showed potential to be the sort of idiosyncratic cult doc you can't forget years later. Two of the most stylish projects pitched were the understated verité-packed Happy Winter, directed by Giovanni Totaro, about a Sicilian beach community amidst the recession in Italy, and the slick and colorful Zunn: Showgirls of Pakistan, directed by Saad Khan, about burlesque performers navigating financial independence within a patriarchal society. Five of the 20 projects had media blackouts on them; otherwise, there are a couple others I would also mention.
On the whole, I was left with the following impressions: more than one project revealed the confusion between sensual animal footage and environmentalism; we are still compelled by the space where identity meets theatre; a good forum pitcher has the same skills as a good high school debater; the Italians were the most charming; and the two bald white men at the table fulfilled the low expectations I have for bald white men. Arte's Mark Edwards repeatedly misgendered the trans subject of one of the blacked-out projects while Frasier called Showgirls of Pakistan "Pak porn," dismissing it as a titillating visual show and not a story of significance. Following the pitch, Showgirls director Khan noted the irony of Frasier's reaction. "Nick saying it's 'Pak porn' and slut shaming the women in the film is the same thing as my Dad going to those shows and then calling them whores," explained Khan, who grew up going to burlesque shows in Pakistan with the men in his family and who framed his film as critiquing the patriarchal double-standard that goes on in his home country which Frasier's knee-jerk reaction also reeked of.
Mixed reactions to the Danish film The Accidental King further revealed the urgent need for diversity in the pool of gatekeepers, especially the need for people of color in decision-making roles. The first few responses at the table were favorable towards Accidental, which follows a young man's return to Ghana to become king of his village after studying in Copenhagen, and which has already accrued $40,000 in financing. PBS's Noland Walker and Al Jazeera's Bilaal Hoosein, however, pointed out troubling elements. Hoosein insisted that as the story was framed it could be offensive to African audiences.
As Vice makes the transition from digital to digital and TV, development executive John Turner made clear they're expanding their brand beyond millennial character-drive content, expressing interest in Yoghurt Utopia, with an aging renegade psychiatrist as its lead character. Likewise, The Last Animals' potential to appeal to a broad mainstream audience revealed the changing landscape of documentary film distribution. During the Q&A, the decision makers at the table seemed to assume it was a given that Netflix would be interested in a documentary investigating the ivory trade, poaching, and the endangered status of rhinos and elephants. Amazon rep Brianna Little made clear her digital platform would be willing to fight Netflix for it, while Hoffman Meyer strove to suggest that the alternative for reaching millions could be a coordinated broadcast across many public TV networks worldwide. The question for a documentary with a robust social impact campaign is which will reach more people, video-on-demand platforms or television?