Back to selection
Mechanical Dreams Uses VR to Amplify Diverse Voices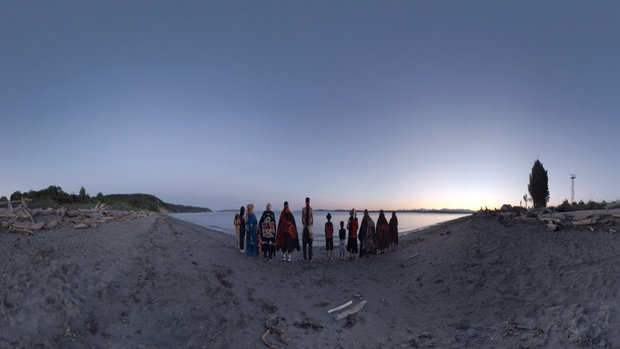 Eagle Bone
As Hollywood is rightfully called out on its underemployment of women, virtual reality companies like Mechanical Dreams Virtual Reality (MDVR) are actively courting underrepresented voices.
The Seattle-based virtual reality content company housed by the University of Washington and the start-up incubator CoMotion is producing six innovative 360 films, five of them directed by women. The company's first production, Tracy Rector's Ch'aak' S'aagi (Eagle Bone), one of the first VR pieces ever by a Native American filmmaker, was recently selected as one of five VR projects to screen at TIFF as part of its inaugural POP VR section at the festival.
MDVR is currently raising money on Kickstarter to finish post-production on two VR films and to fund three others.
The company was founded by five filmmakers: Lacey Leavitt, Mischa Jakupcak, Joe Jacobs, Mara Auster and Chris Mosson. Leavitt, Jacobs, and Jakupcak are each directing fictional projects. POWER, a VR experience created by award-winning filmmaker Lynn Shelton and Netsanet Tijrongo's Dom, an immersive documentary experience about a black dominatrix, round out the initial slate.
Filmmaker recently spoke with Leavitt and Jakupcak, veteran film producers and joint CEOs of Mechanical Dreams VR, about why now is the moment for women to become creative pioneers in VR.
Filmmaker: Why is it important to focus on VR content from women and other traditionally marginalized groups?
Jakupcak: Lacey and I have known each other for over ten years working in the independent film world out of Seattle. We started getting really interested in VR around two years ago. Since then, what we started to learn was that there was a need for exciting content and great storytelling in VR. So we dove in and last year, we partnered with Chris Mosson, our in-house VP and Joe Jacobs, our in-house technologist, and Mara Auster, who does editing. The five of us pooled our efforts and bought a 360 rig with ten GoPros and started experimenting with shooting 360.
We have six short VR positives and of those, five are directed by women. It feels like there's a moment in time because we have experience and mastery of the new technology of shooting 360 and creating short VR pieces. It's an important moment to usher in really diverse voices.
Filmmaker: How does VR filmmaking differ from traditional filmmaking?
Jakupcak: All of the rules and the understanding of what works and doesn't work from film history is not necessarily true in the VR space. So it's particularly exciting. Our first project was a collaboration with Tracy Rector, who is an indigenous activist. When she looked at what she wanted to create, the whole process was completely different. We're used to the standard production and pre-production of feature films. We know the work flow and what works and what doesn't work and there's best practices. Because this is an emerging technology, we feel fortunate and excited to be diving in and figuring out all the rules and the language of what we're doing, which is kind of amazing.
Filmmaker: It does seem like it's a particularly exciting time to work in VR and immersive storytelling.
Leavitt: It's been fascinating to see how much more impactful stories can be when you're really placing the viewer in someone's environment, in a 360 space.
Filmmaker: It's also an exciting time for women in VR.
Leavitt: We've been lucky that some of the early pioneers in VR have been women like Nonny de la Peña. Right now is a critical and interesting time because up until now there have been a lot of female artists who have been excited about experimenting in something new. Now that the attention is starting to shine on VR concept creators in terms of time and money and publicity, will that truly stay the way it is? Right now, if you're looking at who is making billions of dollars in terms of tech investors, it's primarily white men. I do think that this is the time to start fresh.
It's really exciting to think about starting in this new medium and inviting a wide variety of artists to be playing in the sand box from the very beginning so we don't have to worry about five years ago there being a really poor representation of the wide variety of people who make up this world. We're starting from the get-go with a good cross section of the human experience.
Jakupcak: Obviously, the tech industry is not known for its inclusion of women and diversity, but we do feel like there's a distinct opportunity here that we can go back in time with mistakes from our collective cultural histories of who gets to tell the stories. What stories are worthy of taking people's time? Whose voices deserve to show their perspective? It does feel like it's something that has the potential for greater impact.
Check out the campaign page here.