Back to selection
Show Me the Money! At DOC NYC, Making Your Skills Pay as an Independent Filmmaker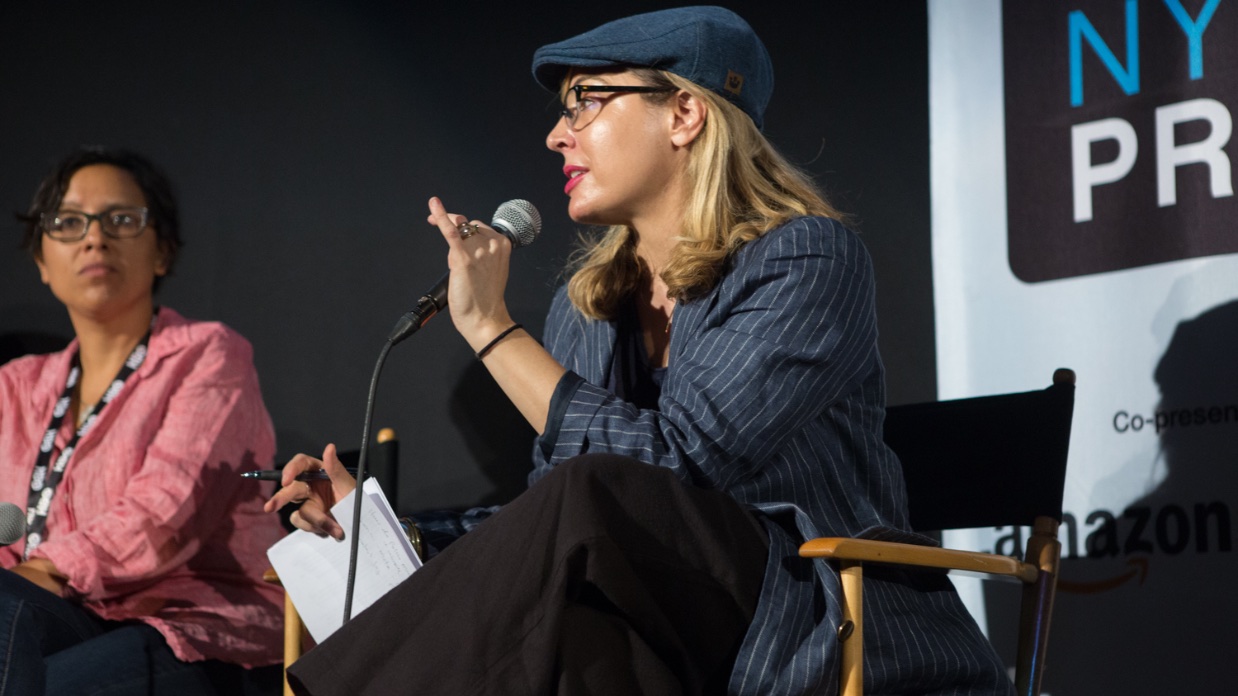 Esther Robinson at DOC NYC (Photo: DOC NYC)
You're a filmmaker. You've made one or two films, maybe even more. Or maybe you're working on your first one and trying to figure out how to build a sustainable career. For now, you're struggling: struggling to make ends meet, to find work that utilizes your skills, to keep your head above water while also finding the time, the energy, and the resources to work on your next project. If this sounds like you, welcome to the club. You're not alone.
Producer and director Esther Robinson led a panel discussion at DOC NYC about how to sustain yourself financially, while also building a career as a filmmaker. The panel was populated with documentary producers and directors, but as someone who works in both doc and narrative, I can attest to the fact that this discussion is relevant across the board.
A couple points really stood out, and I was glad to see Robinson noting early and often that there is no place for shame in this discussion. "It's just really hard to make a living as a filmmaker," she said, and added that it's important not to make a systemic issue a personal one. "Even established filmmakers find it hard. We need to have compassion. A lot of times we're competitive, but we need to have empathy…. There's no magic bullet. No one path is going to work for you. It's always complicated, and a lot of different people are making it work in different ways."
So what are some of those ways? Carrie Lozano, director/producer of The Ballad of Fred Hersch, pays the bills by "taking on jobs others don't necessarily want." She writes treatments, consults with filmmakers, produces for television, and she acts as a filmmaker mentor for ITVS and Firelight Media, along with coordinating the fellowship at the Bay Area Video Coalition. All told, she'll have 10 to 15 discreet revenue streams in a year.
Veteran producer/director Annie Sundberg, who runs Break-Thru films with partner Ricki Stern, has done everything from renting out her apartment on AirBnB while staying with her boyfriend to doing reality TV work. She actually recommends the latter, saying, "Reality TV is great because you get your hands on cameras, you're in edit rooms, you meet people who are helpful down the line." She also recommends developing a marketable skill: "People always need editors, they don't always need first time directors or producers."
Yoruba Richen (The New Black) says that her worst job was a temp position, and it was just the second time in her life she'd been unemployed since college. "I remember being told that I was on the internet too much, and I was thinking, 'Hm, I have a master's… something's got to change.'" Having previously worked at ABC News, Richen reached out to her academic contacts and was able to land a teaching position with CUNY School of Journalism. She's now the Director of the Documentary Program there.
Things also became a little better for Richen after making her first film. While making The New Black, she was offered a job with US AID, filming a story about land rights. She says, "They reached out to me because of my previous film, The Promised Land. That ended up being a long-term project and ended up paying my salary for the last year of my film."
Jenni Wolfson, Executive Director at Chicken and Egg Pictures, says, "This is one of the most current and continuous conversations we have at Chicken and Egg. As a first-time filmmaker, it's often a passion project, but you have to start thinking about making [films] in a sustainable way so you can go on to make your next films. We see a lot of filmmakers doing a lot of in-kind and exchange. Think about the one skill you have that you could develop where it doesn't feel like you need to sell your soul, maybe working as a consulting producer or editor or teacher."
The panelists had three good tips for covering expenses, including health care:
1. The Freelancers Union has started allowing people to enroll with them as employees. They handle payroll taxes for your company and though you have to pay for it, they enroll you in Oxford, so your health insurance is covered through them.

2. If you can, look into the benefits of incorporating as an S-corp. Health care is then a deductible expense, and you can also deduct equipment purchases, like a camera or computers. [Of course, consult an accountant before taking this advice!]

3. If your income is low enough, look into Medicare.
Wolfson also suggests that you take not only your film but your own expertise in the subject of your film on the road, packaging them together as a workshop for universities. Richen backs that up from her experience. She was able to live for a year by promoting herself as a speaker for the educational market. Many of the bookings came through her website, which had a section dedicated to screening and bookings and which contained her contact info.
Wolfson adds that working with branded content doesn't have to mean being a sellout. She says, "We're getting calls from companies who realize that a lot of their content is made by men, and they want more perspectives, and so we're trying to connect filmmakers to brands."
Another good point, made by Robinson, is that with grants, there is a bias toward the known. So with each application, you're building relationships. Even though you may not get the grants on the first couple of films, you're getting to know people and becoming a familiar name and a known quantity. Stern also suggested that if you're a first-time filmmaker, you could reach out to an established one to see if they want to executive produce.
Lozano, a self-proclaimed introvert, says that it's essential to get out and meet people. "Join IDA and the D-Word to network." She continues, "A lot of this is a head game. You have to learn to be uncomfortable. It's part of your skillset." Wolfson agrees: "You have to network. Put yourself our of your comfort zone, go to things you don't want to go to, and talk to people."
Robinson has a practical but essential reminder on that score: "Most gigs come through word of mouth. And there's a ton of racial and gender inequality in that system. So if you're not a white guy and you're finding it hard, know that there are systemic reasons for that. And I'm saying that because I want people to identify that these things are not personal failures." She also differentiates between networking and friendship: "The people I've worked with over 20 years are friends. So there's a point at which networking is not the answer: friendships are. And then you take the friendships and you make the work and through perseverance, you rise, and you expand the professional network."
Finally, Lozano reminds the audience that you need to have the confidence in yourself to step into the unknown and accept challenging offers and opportunities when they present themselves. "I take a lot of risks," she says, "and I say yes to things I've never done before."