Back to selection
Moby Dick, Mad Max: Fury Road "Black and Chrome" Edition, and Moscow on the Hudson: Jim Hemphill's Home Video Picks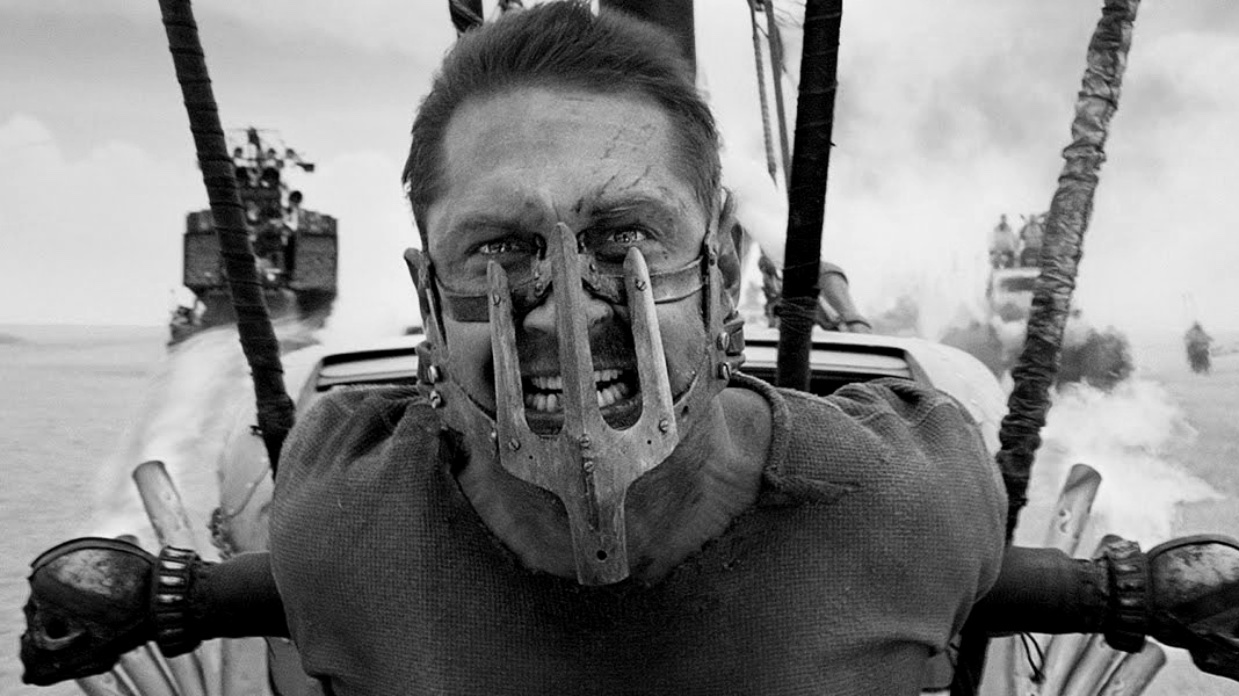 Mad Max: Fury Road "Black and Chrome" Edition
A great American film finally gets a proper home video treatment on Twilight Time's new Blu-ray of Moby Dick, John Huston's 1956 adaptation of Herman Melville's 1851 classic novel. It's a film of many virtues, starting with the literary – Huston collaborated with Ray Bradbury on the screenplay, and their adaptation is a surprisingly successful distillation of Melville's voice and themes. Huston's memories of the production were not fond; he described it as the most difficult picture he ever made and said in his autobiography, "I lost so many battles during it that I even began to suspect that my assistant director was plotting against me. Then I realized it was only God." The wrath of God aside, Huston overcame terrible weather, malfunctioning prop whales and multiple accidents — he nearly lost star Gregory Peck at sea when the actor was riding a mechanical whale that drifted off — to pull together a powerfully concentrated portrait of obsession and adventure. The performances are uniformly spectacular (Peck, Richard Baseheart, and Orson Welles in a cameo are particularly fine), but what really makes the film work is the visual corollary that Huston and director of photography Oswald Morris find for the book's literary flavor. In an effort to find a classic style that would fit the period — to make a film that looked as though it was shot in 1840, according to Morris — the filmmakers shot in Technicolor and struck two negatives, one in color and one in black-and-white. They then superimposed the two negatives over each other for the final release prints, resulting in a truly unique palette that avoids all the usual clichés of period cinematography. Previous video transfers of Huston's masterpiece have largely flubbed the look, missing the precision and nuance of Morris' work, but Twilight Time's restoration is positively stunning, and must viewing for both Huston enthusiasts and cinematography scholars.
A color experiment of a different sort can be found on the newly released Mad Max: Fury Road "Black and Chrome" edition. Back in 1981 when director George Miller was supervising the scoring on the second Mad Max film, he watched the picture via a black-and-white dupe and wished the movie could be released that way; he never got to do it with The Road Warrior, but thanks to the home video market he was finally able to implement his desire for monochrome on the latest Mad Max opus. For the "Black and Chrome" edition of Fury Road, Miller has digitally corrected the entire feature to be in black-and-white (with some blue tinting in the night exteriors), and the result is breathtaking; the abstractions of the theatrical release are pushed even further, as Miller's exercise in pure action filmmaking is stripped to the bone. In some scenes details are clearer and more striking, while in others the lack of color removes definition to the point that the images devolve into pure impressionism; it's a fascinating experiment that ultimately gives us practically a whole new Mad Max movie. "Black and Chrome" has been streaming for a couple weeks now, but the newly released Blu-ray is really the way to watch it — I can't think of many other films that benefit so enormously from the increased stability and resolution of physical media. (Warner Bros. has also made the "Black and Chrome" edition available in an eight-disc "High-Octane Collection" that features all of the Mad Max movies with tons of fantastic extras.)
At the opposite end of the aesthetic spectrum from Miller's aggressive dynamism is the delicate contemplative comedy of Paul Mazursky's Moscow on the Hudson (1984), also new to Blu-ray courtesy of Twilight Time. As Julie Kirgo's insightful liner notes for the disc note, Mazursky is one of the great humanists of the American cinema, and Hudson is one of his most beautiful films, a deeply felt love letter to his country and its immigrants that, for obvious reasons, resonates even more now than it did when it came out. In the performance of his career, Robin Williams plays a Russian circus musician who defects to America when his troupe travels there to perform. (In a set piece that is simultaneously hilarious, suspenseful, and filled with unforced social commentary, he makes his escape in a Bloomingdale's department store without forgetting to take a pair of Calvin Klein jeans.) Mazursky then conveys, in painstaking detail but with exquisite craft that makes the filmmaking look effortless, the intense emotional experience of an immigrant in America as Williams' character makes friends, finds work and suffers through the agonizing paperwork and interviews required to become a citizen. It's one of those rare movies that is inspiring, patriotic, and optimistic without being simple-minded or overly sentimental == Mazursky profoundly believes in America and its promise, and he comes by his Capraesque message honestly. His film's empathy and inclusiveness are valuable, affecting, and vital, given that both values are in such short supply these days.
Jim Hemphill is the writer and director of the award-winning film The Trouble with the Truth, which is currently available on DVD, iTunes, and Amazon Prime. His website is www.jimhemphillfilms.com.