Back to selection
"I Felt a Huge Responsibility to Get it Right": DP Kate McCullough on It's Not Yet Dark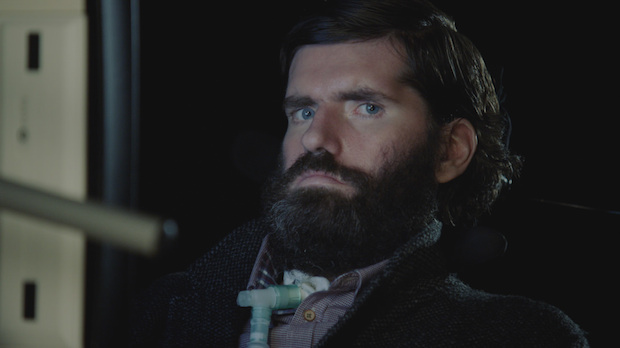 It's Not Yet Dark
Kate McCullough won top honors for her cinematography in the world documentary lineup at the 2010 Sundance Film Festival for the film His & Hers. She returned to the festival this year with It's Not Yet Dark, the debut film from director Frankie Fenton. It's Not Yet Dark tells the story of Simon Fitzmaurice, an Irish film director who in 2008 was diagnosed with motor neurone disease (ALS). The film chronicles his efforts to make a feature film despite total physical incapacitation, using only his eyes to direct. Below, McCullough speaks with Filmmaker about the unique challenges of photographing this emotional story.
Filmmaker: How and why did you wind up being the cinematographer of your film?
McCullough: To answer the question: "Can one direct a film by communicating through the use of one's eyes only?"
Filmmaker: What were the factors and attributes that led to your being hired for this job?
McCullough: I knew I had experience in documentary and the rest is for the director/producer to answer!
Filmmaker: What were your artistic goals on this film, and how did you realize them?
McCullough: The film was always going to be an amalgamation of a number of sources. This can be exciting but also alarms ring sometime when you hear this. What is this other footage like? What format is it in? Does it have character, intrigue, continuity, perspective? So it was important to see some of this footage and set out the patchwork and how our approach would be with the cinematography overall. We concentrated on three main motifs: interviews would be an intimate portrayal, reconstructions to be abstract and nuanced, observations to be economical and honest.
Filmmaker: How did you want your cinematography to enhance the film's storytelling and treatment of its characters?
McCullough: Most important was to be true to the moment, so whatever was happening that my response would be open, honest and with integrity.
Filmmaker: Were there any specific influences on your cinematography, whether they be other films, or visual art, of photography, or something else?
McCullough: Originally the director gave me some examples from Caravaggio paintings and in particular another painting of the same ilk, Joseph Wright's An Experiment on a Bird with an Air Pump. We thought marrying the dark interviews with some form of abstract reconstructions (in the style of Jonathan Glazer's Under The Skin), we might be able to convincingly delve into the poetic mind of Simon. We didn't quite get that far but it certainly was a starting place to come from!
Filmmaker: What were the biggest challenges posed by production to those goals?
McCullough: Time, budget, juggling access to Simon.
Filmmaker: What camera did you shoot on?
McCullough: Arri Amira, Canon 5D, and PMW 200 for behind the scenes.
Filmmaker: Why did you choose the camera that you did?
McCullough: Amira and Canon and PMW 200 as I own them – it was for budgetary reasons.
Filmmaker: What lenses did you use?
McCullough: 24-70 T2.8 Canon on Canon 5D, 19-90MM Fujinon on Amira and T+S lenses with the DJronin rig.
Filmmaker: Describe your approach to lighting.
McCullough: Minimalist for observations and recons, frontal for IVs as camera was tracking throughout and so lighting needed to be more loose than I would normally have it.
Filmmaker: What was the most difficult scene to realize and why?
McCullough: The scene with Simon attending his film screening. I felt a huge responsibility to get it right for Simon and for the film.
Filmmaker: And how did you do it?
McCullough: By planning, talking through things with Frankie, the director.
Filmmaker: Finally, describe the finishing of the film. How much of your look was "baked in" versus realized in the DI?
McCullough: We got to work with a very talented DI op Dave Hughes at Windmill Studios, he worked very hard to bring this patchwork into one tapestry.