Back to selection
Tribeca 2017: Five Questions with Rainbow Crow Producer Maureen Fan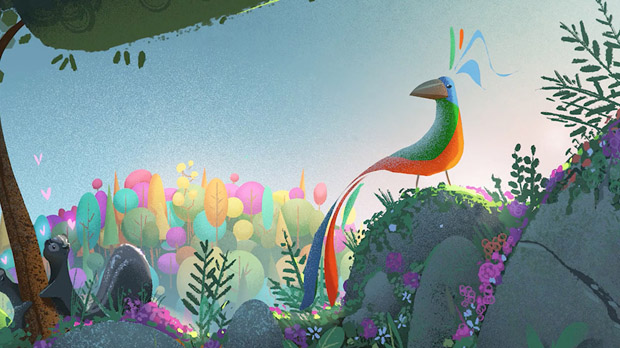 One of my favorite virtual reality pieces at last year's Tribeca Film Festival was the animated Invasion! from San Francisco-based Baobab Studios. The short film, directed by Baobab co-founder Eric Darnell, was reportedly downloaded over one million times (including in my household, where my kids loved its Google Cardboard version), making it the most-downloaded virtual reality piece yet, and in September a feature film adaptation was announced. Baobab thus had a high bar for their next project, so they launched two: Asteroids!, which premiered at Sundance in January, and now Rainbow Crow, which premiered this year at Tribeca.
Following in the kid-friendly tradition of Darnell's earlier work (the Madagascar films), Rainbow Crow is a lushly animated adaptation of a Native American legend about how the seasons began and how the crow got its black feathers. It's a creation and atonement myth in the vein of Prometheus and Odin, who also sacrificed themselves to give gifts to the world, yet its adaptation to virtual reality is both contemporary and delightfully fun, perhaps the first time such an ancient story has been brought to VR. Using full-room tracking and hand devices as well as a visor, Rainbow Crow begins by placing the viewer in the center of a forest in summertime to watch a cartoon skunk and moth as they're dazzled by the arrival of the local celebrity, Rainbow Crow. The rest of the piece is still being created, making it one of the first VR series, but the opening promises a rich experience for adults or kids.
After viewing the piece at Tribeca I talked with Baobab co-founder and CEO Maureen Fan about the piece and how the studio is pushing the technical as well as narrative limits of animated VR.
Filmmaker: After the success of Invasion!, what prompted Baobab to tell this story next?
Fan: We never stop creating. Eric is an amazing storyteller and came up with many stories within the first month of founding our company. He not only directed all four of the Madagascar films but also was a writer for them. He's constantly coming up with new characters and stories.
Rainbow Crow was a piece that we all loved from the beginning, but we felt Invasion! was a better first piece because there were fewer characters. Rainbow Crow is very ambitious, with many characters, locations, and a complex art style resulting in ambitious technical goals.
After the incredible and continued success of Invasion!, we decided to create both Asteroids! and Rainbow Crow. Asteroids!, starring actor Elizabeth Banks, premiered at Sundance earlier this year and will launch later this year. In Asteroids! you're a task robot and you journey the cosmos aboard the spaceship of Mac and Cheez, an alien duo who are so mission-focused they forget what's important in life – friendship. And it's up you the viewer to show them what really matters. You can download the sneak peek now.
Rainbow Crow is our third powerful VR animation. Just the prologue of a much larger multi-part series was revealed at the Tribeca Film Festival. It's based on a Native American tale of self-sacrifice and self-acceptance. The main character, voiced by John Legend, who is executive producing with us, is a brilliantly plumed bird that sacrifices everything he thinks makes him special to bring light to the world. In the process, he learns who he truly is. Randy Edmonds, an incredibly well respected 83-year-old-tribal elder, narrates Rainbow Crow, sharing this Native American tale with new generations through a new medium. Fresh off the Boat's Constance Wu voices Skunk and Star Wars: The Force Awakens star Diego Luna voices Moth.
Rainbow Crow really is a hero's journey that highlights themes that speak to us and are especially relevant in the world today. Also, we were excited to break new ground in VR with an artistic and cinematic style that hasn't been done before. We want audiences to step into a storybook, one that feels like a dream. After all, our mission is to inspire people to dream.
Filmmaker: You mentioned the segment shown at Tribeca is just a portion of the finished project. Can you talk about what that will look like and how you're planning to release and distribute it to viewers?
Fan: Rainbow Crow will come as an animated series. While we've recorded the entire piece, we're still deciding where to break the story into chapters. There will be a minimum of three chapters. We want to make sure audiences are comfortable with how long they are inside the headset. Just like with Invasion!, we're platform agnostic and will launch on all major VR headsets.
Baobab Studios animated efforts are headed by Eric, who, as you know, is credited for his work on all four DreamWorks Madagascar movies and Antz. Under his direction, our team has created a different style in VR.
We were excited to show the prologue sneak peek at the Tribeca Film Festival. The feedback has been great and the prologue has definitely created anticipation for the next chapter in the series.
Filmmaker: You already mentioned the cast and the fact that Rainbow Crow comes from a Native American legend. I'm interested in the diversity of the casting (and crew) and your collaboration with John Legend beyond his performance, because he's also helping produce. What did he, Diego Luna, Constance Wu and Randy Edmonds bring to the piece?
Fan: We're thrilled that John Legend, Randy Edmonds, Diego Luna, and Constance Wu are so excited and committed to Rainbow Crow as an important story to tell visually. Rainbow Crow is a tale about sacrifice, diversity, and self-acceptance, and we're proud to have a distinctive cast of talented storytellers who also share our values. The characters in the story learn that their differences are what make them unique. Once you accept yourself, you can accept others. It's a theme that we think is especially relevant in these times. That's why it was so important for us to select a diverse cast.
Not only are the characters and the talent in Rainbow Crow diverse, the story itself is a chance to bring to light a point of view from an important group in American culture, and we believe the values of the story should be shared through generations. Working with Randy Edmonds, distinguished tribal elder, and Sarah Eagle Heart, CEO of Native Americans in Philanthropy, has been a rewarding experience for all of us. Diverse points of view from the cast and team gives us different ways to explore expressing and designing the storytelling.
Filmmaker: Lighting is used throughout the long takes to guide viewers' attention and follow the narrative, and the physical textures of the characters and objects use new technology for a softer fuller look than we've seen in animated VR before. Can you talk about how these visuals were developed?
Fan: We want audiences to walk into a storybook, into a dream. While most VR is full of hard edges, we spent significant technical investment to create a softer feel. For example, the skunk's tail is feathery and soft, versus hard lines. You want to touch the animals and roll around in the soft grass. We also used theatrical lighting to direct the eye. We're creating VR, so we can make reality whatever we want. Instead of going more towards reality, we created a look that goes more into fantasy.
The work of lighting in VR is crucial to the experience. We have experts from theatrical lighting on our team and we work hard to help direct where the viewer should look and spend their time exploring. We have to be thoughtful and diligent to direct a viewer's eye, to make sure the audience doesn't miss anything important while they're exploring our worlds. That, combined with our storytelling and the softer edges, gives Rainbow Crow a beautiful feel. We learn from many different mediums. For example, we learned from magicians to direct viewer's eyes in Invasion!.
Filmmaker: There's also an element of interactivity that allows viewers to influence the space and even the story. Watching VR is already much less passive than watching a film, but how does the interactivity enhance the experience with Rainbow Crow?
Fan: To us, we want people to experience magic while in virtual reality. We want them to leave this world and enter an amazing realm, where the worlds, the characters, the emotional connections that you can build are bigger than life.
We strive for a level of interactivity that adds to the magic, that deepens your connection with the imaginary, the characters and the story we're telling. By interacting with the environment or characters, you're no longer just watching a story, you're playing a part in it, and we think that is very magical.