Back to selection
Eleven Recommended Titles at BAMCinemafest 2017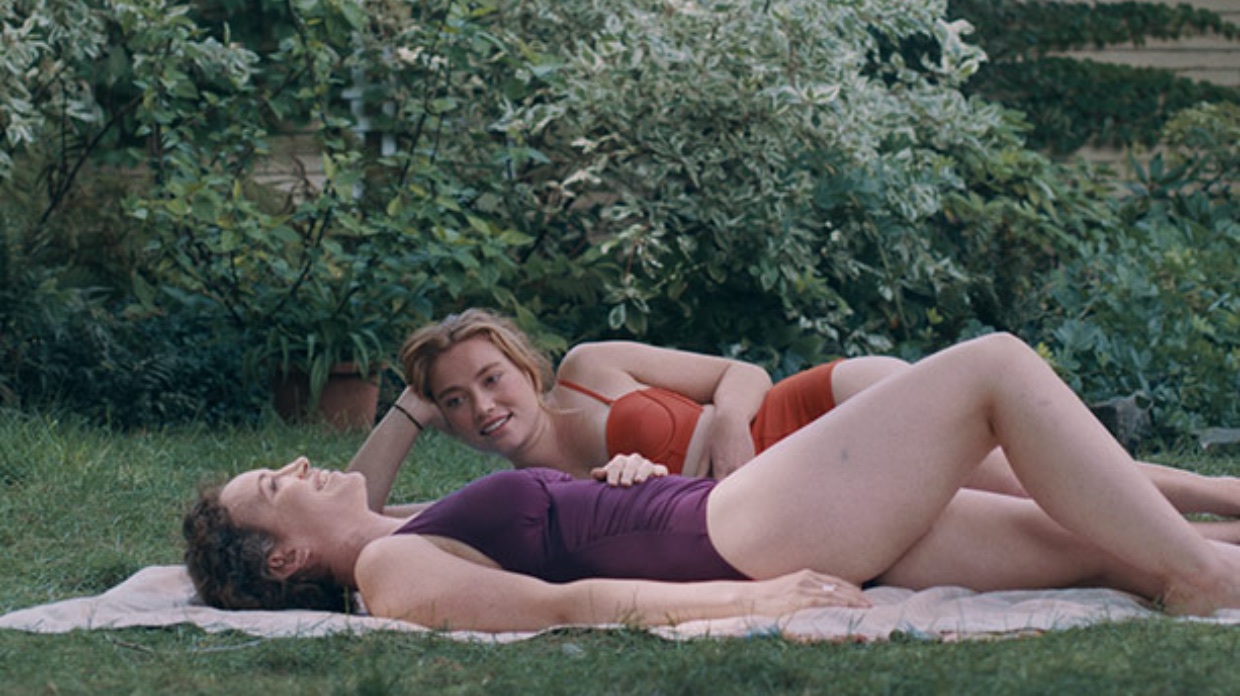 Princess Cyd
BAMcinemafest, the Brooklyn presenting organization's annual festival of top new American independent films, kicked off last night with Aaron Katz's stylish L.A. murder mystery Gemini and runs through the 24th, with Alex Ross Perry's Golden Exits as closing night film. The festival, which gains stature and momentum every year, mixes a fair swatch of local NYC auteurs with out-of-towners whose work strikes allied notes of idiosyncratic auteurism. Below, from myself and Vadim Rizov, are a series of picks and capsule reviews for recommended films in this year's edition.
Princess Cyd. Stephen Cone's fifth feature is his first not grounded in an evangelical milieu. Where his last feature, Henry Gamble's Birthday Party, concerned in part a pastor's son coming to terms with his queerness, Cyd splits the dilemma into two characters. 16-year-old Cyd (Jessie Pinnick) is blithely atheist and without a hint of confused angst over her bisexual self-identification; her Chicago-residing writer aunt Miranda (Rebecca Spence), with whom Cyd's crashing for a few summer weeks, is a self-identified, church-going Lutheran with bonus extracurricular spiritual interests. The two women seem destined for some perpetual, slow-rising friction building to a big blow-up; an early, very slow zoom-in on the two having lunch (a nice way of adding visual dynamism to what's essentially a static two-handed conversation — the method is revisited later for a sidewalk walk-and-talk) could be out of the Polanski playbook, but nothing so ominous is in the offing. Nor is there any big third act climax: there's traumatic violence at the fringes, but unlike Party — which deflated when it was time to resolve things — Cyd stays loose, and often very funny, until the very end. Cone teaches acting, and his performers are uniformly operating at the level of rhythmically unexpected seeming-spontaneity at its very best, an illusion that never comes off as too thespian-ish. — VR
A Ghost Story. One of the best films of the year, David Lowery's fourth feature is an appropriately haunting, unexpectedly philosophical jewel. Shot in 4:3 and with rounded corners summoning not only a nostalgia (a series of old picture frames) but also a kind of retro-modernity (a "vintage" Instagram filter), it's a tale of grieving that's razor-balanced on the edge between absurdity (Casey Affleck plays a ghost covered with a white sheet) and profundity. With a slow-building gravity, Lowery thrillingly makes connections between our personal relationships and the fate of the universe. — SM
Escapes. Michael Almereyda's other film this year after the excellent Marjorie Prime is essentially story hour with Hampton Fancher — former Bonanza regular, the first screenwriter on Blade Runner, seasoned raconteur. In titled chapters, Escapes alternates between montage slideshows compressing key stretches of Fancher's life into title cards + illustrative footage/photos and Fancher telling some very long, undeniably fun stories about his life. He left home at an early age and never stopped running — the title is both lucky and unlucky, with Fancher candidly acknowledging that all of his relationships were effectively just stops along the way, with definite expiration dates.
A dizzying array of unlabeled TV shows and movies are drawn upon to illustrate his story. One early anecdote is about his relationship with Teri Garr at the start of her career. Her last name's not given; you'll need to recognize her from clips in Close Encounters of the Third Kind, repurposed to provide effectively apposite illustrations of their domestic strife. Another ex, Barbara Hershey, is represented in part by clips from her feature debut, James Bridges' still-way-underknown 1970 drama The Baby Maker; elsewhere, Almereyda draws footage from Straub/Huillet's The Death of Empedocles, underlining the catholicism of his viewing enthusiasm. Fancher is an unusual kind of storyteller, someone with a lot of very cool experiences told in a largely placid tone, without the honed-with-years stop-and-starts of the kind of raconteur who's timed reaction to his anecdotes down to a repetitive science. The film's both a blast and a little sneakily sad: Restlessness punctuated by lots of improbably lucky breaks is the gift and the curse. — VR
Columbus. Amongst many lovely shots in this beautifully modulated debut feature that deals in large part with visual language itself, there's one absolutely perfect one. It's nothing more than a couple looking through a window, but in this single shot character, theme, backstory and future narrative all coalesce. Columbus, directed by ::kogonada — a 2014 25 New Face — is an elegant riff on an Alice in the Cities/Lost in Translation sort of story that's informed by this video essayist's understanding of silence, framing, and the expressive potential of what's left unsaid. — SM
Most Beautiful Island. The Narrative Grand Jury Prize winner at SXSW this year, Most Beautiful Island gains its unsettling power from its seamless yet unexpected shift from a gritty tale of immigrant hardship (albeit with a few Repulsion-esque flourishes) to dark, Eyes Wide Shut-type suspense. Writer, director and star Ana Asensio makes a powerful impression here with a picture that culminates with a provocative final sequence that will have you on the edge of your seat even as you question the motivations of all involved. — SM
The Force. Vadim Rizov wrote about The Force following its Sundance premiere:
Peter Nicks's super-solid doc The Force covers the notorious Oakland Police Department over the course of two years, climaxing with the infamous stretch where they ran through three police chiefs in nine days (!) due to multiple scandals. The starting premise of the doc was presumably Oakland PD's ongoing attempts at internal reform (as compelled, please note, by federal authority), which stands in handily for larger, looming concerns about systemic police abuses of authority, killings of people of color et al. Nicks takes a semi-neutral stance, embedding himself within the department, following beat officers and police in training. There are long discussions about the rights and wrongs of excessive force, and what excessive force might be: the scene in which one recruit tries to justify a video showing someone being shot some dozen times isn't terribly comforting.

One person had described The Force to me as "like a well-directed episode of Cops," which isn't terribly fair. There's, sure, some street action: one scene of the apprehension of a suspect who runs from the arriving officers is seen first from Nicks's POV, with the camera giving up hope of keeping up with the fast running officer cop and culprit. The suspect is arrested, supporting officers arrive, and the cop on duty explains what happened as the scene is replayed, this time from his bodycam's footage. This is a smart way of showing a semi-routine arrest both in the moment and then as it's officially processed afterwards. With one semi-exception, Nicks chooses not to personalize the police, only the administrators above them, which is probably a good move, precluding the possibility of making protagonists out of police who may or may not have been involved in the numerous scandals that occurred over the film's two years. I do appreciate The Force's urgency and thoroughness: if you haven't been paying attention to police brutality-related news these last few years (and you really should be), this would make for a good synoptic primer. The lesson is summarized by a priest who acts as a community liaison: "The past has run up an incredibly high bill." And, of course, the past's not even close to being past. — VR
Marjorie Prime. And here is Rizov's lede about Michael Almereyda's aforementioned Marjorie Prime (read the rest here at the link):
One of my least favorite ways to describe a movie is as a "meditation on" love/time/memory/death/etc. (It's always some heavy abstract thing, never, say, "a meditation on Doritos.") I guess Michael Almereyda is on the same page, per his introduction to this morning's screening of Marjorie Prime. "It's been described as a meditation," he cracked. "I hope it's not. It's a movie." Specifically, it's a heavily modified adaptation of Jordan Harrison's play, customized to fit the ever-adventurous Almereyda's tastes and frames of reference. The premise is both simple and tricky: in the future, your deceased loved ones can be brought back as holograms for company. Marjorie (Lois Smith), aging and losing her memory, has her late husband Walter (Jon Hamm), eternally in his 40s, for company, a development which makes her daughter Tess (Geena Davis) a little nervous. From this low-key sci-fi premise, Marjorie gets complicated — best to keep the rest under wraps…. — VR
Common Carrier One recent-ish instance of especially blunt product placement galls more than most: in Iron Man 3, Tony Stark interrupts what's been, til then, a perfectly credible Shane Black movie, to say he needs to get the fastest possible internet connection; cut to an exterior shot of a Fios truck. The scene came to mind duiring James N. Kienitz Wilkins' first feature, which takes place against the backdrop of last year's Verizon strike: one of the main characters, a director fretting over getting his DCP back after a FedEx delivery goes MIA, is working a phone tech support worker for the communications giant. Whenever someone calls in to configure their modem, he's required to launch into a rote spiel about whether they wouldn't rather just commit to expensive, blazing-fast internet bundled with cable? In both movies and life, crass capitalism of the most clumsily worded and unfeeling type is inescapable; in Common Carrier, it sits side by side in a normative ambience of YouTube DIY videos and lots of radio (Hot 97 and NPR, mostly — plenty of Fetty Wap and Morning Edition make this already a period piece). In deference to how big tech money says we will be living any minute now, there's also a demonstration of the Oculus Rift headset.
Every shot (I think?) of this early-summer-of-2017 portrait is a double-exposure, in ways that often subjectively simulate living in a hyper-connected world, overlaying passive experience on top of its real-world ingestion.  There's less a plot than a network of characters the film alt-tabs between, whose appearances range from straight documentary to strained line-readings in a very video art experience. Wilkins, who kind of declared war on DCPs in last year's short Indefinite Pitch, doubles down here for an ultra-specific bit of hilarity that caps off this successful stab at How We Live Now: surrounded by corporate speech, bemused by our phones, in ambient listening thrall to political developments far removed from our ability to effect change. — VR
Whose Streets? "We want to use our human stories to make the film more than about the issues — it's about people trying to survive and have safety and education for their children," said Sabaah Folayan when she and co-director Damon Davis were interviewed for Filmmaker's 2016 25 New Faces. "It's about how activism can be part of one's life, and what sacrifices you have to make to be part of an activist community." Indeed, nearly three years after unarmed Michael Brown was shot dead by police in Ferguson, Missouri, Folayan and Davis present an urgent and necessary chronicling of his death and its aftermath, eschewing the strictures of the mainstream media narrative in favor of a collage-like portrait mixing various media — from beautifully shot high-def footage to lower-res smartphone videos — and commentary from local on-the-ground activists as well as engaged Twitter users. — SM
En el Séptimo Día. After much recent work helming TV, including episodes of The Good Wife and Mr. Robot, one of American independent cinema's seminal directors, Jim McKay, makes what is sure to be a welcome return with this world premiere about an undocumented Mexican immigrant who must choose between his responsibilities to his soccer teammates and the financial imperatives of a job within a gentrifying community. In addition to this new feature, BAMcinemafest will also show a retrospective outdoor screening of McKay's Our Town.
Golden Exits. Finally, here's an excerpt of Vadim Rizov's piece on Alex Ross Perry's Golden Exits, which premiered at Sundance this year:
There is possibly a lot to pick at, not least the return of Queen of Earth's sister duologues, which do seem to emerge directly from a dude's brain. And yet this sense of a movie emerging from a mind that can only be itself (rather than one which can accommodate and assimilate genuinely other voices) is a weakness that's a strength: it's certainly personal, conveys a strong POV and gives this formally modest film a fever dream aura that would otherwise be absent.
Read Rizov's complete review at the link.