Back to selection
Spirit of a Startup: Brooklyn's Feirstein Graduate School of Cinema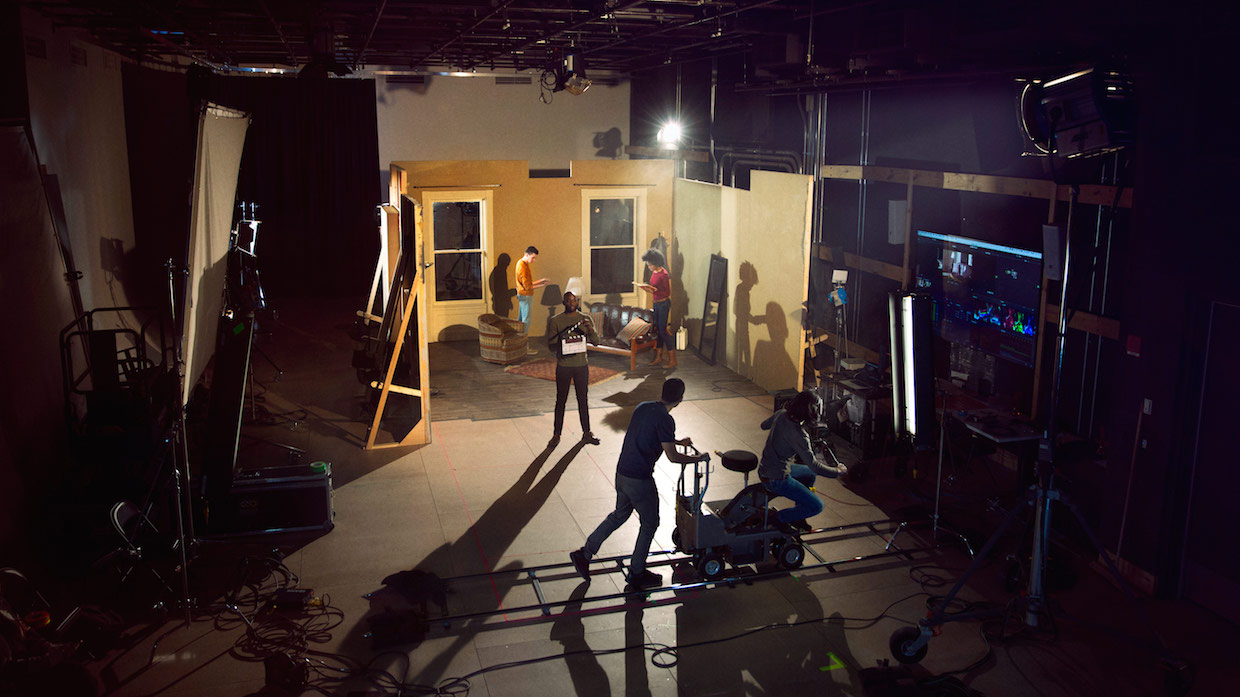 Students on the soundstage of the Feirstein Graduate School of Cinema (Photo copyright Malcolm Brown)
The value of a film school, like any institution, lies not in the sum of its parts but in the people who walk its corridors and inhabit its classrooms and offices. And the people who walk the 68,000 square feet of the new Feirstein Graduate School of Cinema in Brooklyn — its students, faculty and administration — are animated by the effervescent spirit of a startup.
Yet the parts that make up the school are without a doubt impressive, too. Purpose-built on two floors of a renovated building in Brooklyn's Navy Yard, the school boasts state-of-the-art lecture and editing rooms, DaVinci Resolve finishing suites for color correction, sound stages (including one measuring 4,000 square feet), a motion-capture studio, a Foley stage, ADR studio, music scoring studio, an 80-seat screening room with 4K projection and surround sound and a generously stocked, up-to-date equipment center.
Now finishing its second academic year, Feirstein offers a three-year M.F.A. in eight subjects (cinematography, directing, postproduction, producing, screenwriting, media scoring, sonic arts and, from fall 2017, digital animation and visual effects) and a two-year M.A. in cinema studies, and is housed in Steiner Studios, the largest studio complex outside of Hollywood. While there is no official link between the two entities, their proximity has advantages beyond just breathing the general air of filmmaking's hustle and bustle: the occasional guest lecturer dropping in from the lot, or receiving discarded sets from canceled TV shows.
Founding director Jonathan Wacks, who brings his wealth of experience both as a filmmaker (Powwow Highway) and head of film programs across North America (Emerson, College of Santa Fe, Vancouver Film School), has been involved with the school since the early planning stages and sees Feirstein as the ideal film school in terms of infrastructure and study program. "Unlike many of its counterparts," he explains, "where there's a general program in filmmaking and most people want to be directors, our school is built on a philosophy of specialization, much closer to the American Film Institute than any other school, so that we accept 14 students into one of eight tracks and they can't switch." He emphasizes the importance, in this uncertain economic climate, of emerging with a real skill set that allows students to immediately enter the workforce: "If you come in here as a cinematographer, you're going to leave here and you'll really know how to shoot."
Feirstein is the first public graduate film school in New York state and is affiliated with Brooklyn College at the City University of New York, with which it shares an ethos of diversity and inclusion. Continues Wacks, who also teaches directing, "In starting the school, it was essential to us that we become a space where new voices can be heard. Not just new ideas, and newly imagined ideas, but really different kinds of people, who had not had an opportunity thus far."
The school is active in targeting such applicants, but the varied make up of the student body (50 percent women, 45 percent minorities) is also largely possible thanks to the relatively low cost of attendance — about a third of most private film schools. The students are also eligible for scholarships. The award-winning producer Jason Kliot (Three Seasons), who teaches producing, explains, "In a world where it's affordable to go to film school, all of a sudden you have a group of diverse people, and it changes the makeup of it, the feel of it, everything about it, whether it's political or cultural."
Kliot, who has worked with the likes of Jim Jarmusch, Alex Gibney and Nicole Holofcener and has taught at Columbia and NYU, was so impressed with the school and the students' attitude that, after teaching a class for a semester, he accepted a full professorship, despite juggling a busy career, and has also enrolled as a student in the M.A. program. Kliot's producing philosophy, and the focus of his class, is for producers to enable the director's singular vision to emerge. Indeed, the school's advisory board includes visionary directors such as Darren Aronofsky and Steven Soderbergh. Others on the advisory board include working professionals like producer Celia Costas and cinematographer Maryse Alberti, underscoring the school's symbiotic relationship with the New York film community.
These connections will be invaluable in the early stages of the students' careers, says Kliot. "Most of these students don't have three or four years to hang out at their parents' house. They need a job, and I think everybody at the school is trying to give them the skills needed to survive in the real world the moment they graduate." Feirstein presents opportunities through weekly track-specific symposiums with high-profile guests, collaborations with the Mayor's Office of Media and Entertainment (the students direct and produce the web series selected through the Mayor's Office's scriptwriting competition for women) and includes a portfolio-building class in the last semester.
But ultimately it is up to the students to make the most of the tools at their disposal, and some of them show considerable initiative: Brian Petersen and Jess Mazza, both army vets, set up a writers' room at the school last summer and employed their fellow students to shoot a web series (Utilities Not Included, a comedy about three roommates in Bushwick) that has recently been selected for the 2017 IFP Screen Forward Episodic Lab and will subsequently be presented to industry buyers during IFP Film Week in September. Their chance encounter in the building with one of the Vinyl producers led to the donation of the sets that saved them thousands of dollars.
The tangible feeling throughout Feirstein's sunlit rooms overlooking the Manhattan skyline is that of experimentation and adventure. The school feels like an incubator where everything is possible for a fleeting moment that the students recognize as precious. Hopefully, Feirstein's likely success won't get in the way of its irreverent and experimental beginnings, and the spirit of these first years will remain intact.