Back to selection
Color Grading with the Blackmagic Micro Panel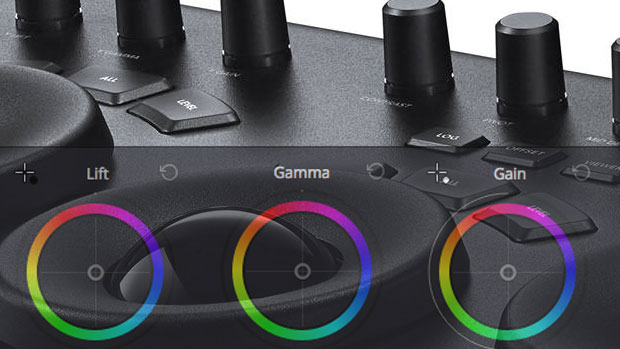 I'm a video editor, not a color grader, but for most projects I have to do my own color adjustments, and I've been using three-way color correction tools to manipulate video color since the days of Final Cut Pro 5.
When you first start playing with a three-way color corrector it can be both fun and very disorienting. Small adjustments in color can look right at first, then look horribly wrong when compared to another scene. It can be easy to know what you want, but very hard sometimes to get "there." In short, color correction is hard. It's part art and part science, and it takes practice.
That's why, after years of messing with color correction tools, I still only tell people I'm a video editor.
DaVinci Resolve has been the dominant high-end coloring application for several years, and before its acquisition by Blackmagic it was an expensive piece of software that came with a custom workstation. Then Blackmagic acquired the software and started selling it at a greatly reduced price and without the workstation. You can even download a very full version of the program for free.
But you are stuck with using your mouse to adjust the color. Now, I've never used a DaVinci workstation, so I never knew whether it makes color correction any easier (as opposed to faster). A workstation, with its many physical controls, clearly allows you to quickly adjust several different options almost immediately, which would take a considerable amount of time when working with a software control panel. If you're doing color correction all day long a workstation will save you time. But does it make it easier?
Now Blackmagic has released two small work panels (the Mini and the Micro) which give you three large trackballs that are almost exactly like those found in the full-size workstation, along with many other physical controls, at a fraction of the price.
When I read about the new Blackmagic Micro Panel — the cheaper of the pair — I was intrigued because a) it was affordable and b) I wondered if it would make color grading easier, or different. And even better, Blackmagic loaned me one for a couple of weeks to play with.
First impressions
Frankly, I was amazed at how large the Micro Panel is. Given the price, I honestly thought it would be about a quarter the size and would be primarily made of plastic. But it's solidly built — most of it's metal — and the controls feel really good to operate. The trackballs are large; Blackmagic says they aren't exactly the same as the ones in the full-size workstation, but they are very close in size, and Blackmagic says that they worked to create a very similar feel in the way the trackballs operate so that it would be easy for an operator to move from a full-size workstation to one of the smaller panels.

Blackmagic describes the Micro Panel as being portable, suggesting that you can put it in your backpack and carry it with you. Strictly speaking, that's true, but you'll need a large backpack to hold this device, and frankly, you would do best to move it in the box it came in or get some kind of Pelican case. I say that because sure, it's solidly built, but you probably don't want to drop it if you can help it.
I don't want these comments to be construed as a negative; I love the size and feel of it, and I'd much rather it was built this way than be smaller and insubstantial.
You might think that the operation of the three trackballs is the primary function of this device, but it also has a lot of extra dials for adjusting other color options, such as Y Lift, Y Gamma, Y Gain, Contrast, Pivot and Mid Detail, as will as buttons for operating other functions. There are also some basic control buttons for playing and jumping between clips. Note that these panels only work with DaVinci Resolve.
The ease and speed with which you can switch between different controls — or adjust two controls at the same time — is the real selling point for this device. And until you try working with the large trackballs, it's hard to describe what it's like; it's different to working with your mouse to click and adjust color. One interesting thing is that working with the trackballs felt like they resulted in much smaller, more precise, changes than a similar sort of adjustment in a software color corrector. This is a good thing.
Conclusion
I found it a lot quicker and easier to try different things using the physical control panel rather than working in the software panels. Being able to adjust two (and even three) things at once makes it a very different experience to using your mouse. Did it make me a better colorist? I'm not sure I'd say that; I still have a long way to go. But it did make it possible to do lots of smaller adjustments more accurately and intuitively. If you're constantly adjusting a lot of material, it'll save you a lot of time too.
If you use a color corrector once a week to adjust a few clips, then this is a luxury you don't need. And if you aren't using Resolve to do color correction, then you probably don't want to switch applications just to use this workstation. But if I was doing a lot of color grading in Resolve I'd want to have one of these available.
Blackmagic also sells the Mini Panel, which adds two LED panels and even more color controls. For the serious colorist the Mini Panel may be the way to go; but it is larger again, and is considerably more expensive: $2,9995 compared to $995 for the Micro Panel.
I think I'll just save up for the Micro Panel.
Requires DaVinci Resolve 12.5.5 or higher.