Back to selection
Shooting From Dock to Dish with the New Canon C200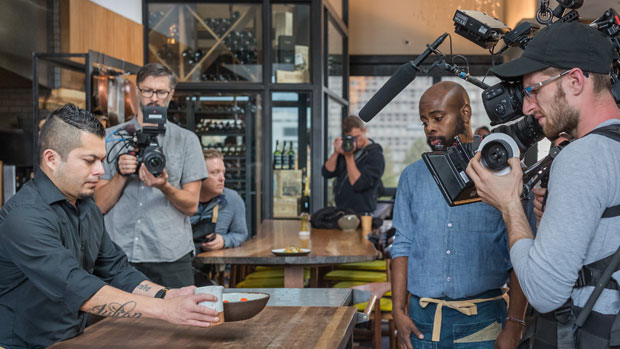 For the launch of the C200, Canon hired producer Andrew Fried of Boardwalk Pictures to create a short introduction video, From Dock to Dish. Boardwalk Pictures specializes in nonfiction programming, most notably producing the Chef's Table series for Netflix. The team, including DP Bryant Fisher, shot From Dock To Dish over the course of two days using pre-production units loaned from Canon.
In this interview producer Fried and DP Fisher talk about the camera and their experience shooting the video.
Filmmaker: How did you become involved in this project?
Fried: Canon approached me to see if I had any ideas for a short film to use their new camera. I spoke to Jeff Tahler and Lauren Asher, two of the executive producers, and together we came up with the treatment. Over the last few years I've spent considerable time in some of the finest kitchens in the world, and I'd been thinking about the notion that many people go to these restaurants and never look past their plate. There's no understanding of all that goes into creating these meals for us. And so we riffed off that idea and thought, wouldn't it be great to track a fish literally from the ocean to somebody's plate?
Fisher: I was involved after the content had already gone through a few revisions. I had the creative brief from Andrew and Canon, so I knew the scenarios that we were looking to cover, and I also understood that this was to showcase what the camera can do. I took this as an interesting challenge and was actually curious myself to see what it can do. I have a C300, so I was curious to see what they've been working on, especially with this new RAW Light format.
Filmmaker: Did Canon provide any constraints, or was it basically "Here's the camera, go make something?"
Fried: We pitched them the creative and worked with them throughout the entire process in terms of what our vision was. In the field we had Tim Smith from Canon and members of his team to assist us in using a camera that had not yet got to market, but also just to coach us on what the camera capabilities are.
As an example, we ended up shooting at the restaurant Otium in Los Angeles. When we asked the chef, Tim Hollingsworth where he wanted to be cooking, he wanted to be in front of the fire, which normally for a DP or adirector would be a nightmare — how to expose for the fire without the fire blowing out? Tim Smith was there to help us use some of the tool settings that the camera offers so that we were using the HDR features in the camera to enhance what we were seeing.
Filmmaker: How did you choose the restaurant and the boat?
Fried: We worked within the relationships that we had, and this was not a huge budget.
Filmmaker: What about the boat?
Fried: I wish there was a better or sexier answer to how we picked the boat, but my producer and I looked for different options, met that father and son who were based in Redondo Beach and we just thought they were wonderful.
Filmmaker: How long did you have the camera before you were shooting with it?
Fisher: I went out to Long Island to Canon's facility for a day and it was really only a couple of hours where I held a pre-production model. Then a couple of weeks later I was out in LA and I only had one prep day with it before we shot.
Filmmaker: What cameras are you typically shooting with?
Fisher: It really varies by project. I've been shooting with the C300 Mark II, the Alexa Mini, the Amira. I recently shot something with the Red Helium, so it's whatever is right for the job.
Filmmaker: Over what period was this shot?
Fried: It was shot in two days. Basically we were tied to mornings for both. We couldn't do the whole thing in one day, because the fishing had to take place early one day and then Otium wanted us to be in before they opened for lunch.
Filmmaker: How much of it was planned out and how much was it shooting what you could get?
Fried: That was one of the things that the C200 was really great for, because it gave us flexibility. As we used it more and had the ability to monitor on set, we were able to see what the capabilities of the camera were, and that helped inform some of our decisions
As an example, we knew on day two that we were going to do a delivery sequence getting us from the fish market [to the restaurant]. We did not know where that [delivery area] was, and that was not pre-scouted. We came on the day and discovered the area underneath the restaurant, and there were beautiful pools of light there. Then some great light happened during sunrise behind the van, so that all happened at the speed of life and was not pre-scouted. But there were other moments that we talked a lot about as we were prepping. We establish the exterior of Otium with Chief Tim coming from his garden in front of the restaurant. I never anticipated that would be part of our final piece, but when Tim showed up the morning of our shoot, that was the first thing he did, and I yelled at Bryant to grab a camera and get that while it was happening.
Filmmaker: What were your impressions of the C200 compared with the C300 Mark II?
Fisher: They fit in the same family. The body design is a little bit different, but it's familiar to anyone who has worked with a C300 or a C100. It's a little bit smaller than the Mark II, it's a little more nimble in its construction, but it's very well built, everything you probably expect as a Canon owner.
The body sort of mimics the front end of a C700; the lens mount is slightly lower than the C300, so the prep day posed a little bit of a challenge for us, because they were still hot off the presses and there were no real accessories that are made for it, so we had to build new configurations for them on the prep day.
Fried: I've sort of come up through the Canon cameras, from back in the day when we were using 5Ds and trying to turn them into film cameras. Then we've used the C300 on some shows and so this just felt like a natural progression to that. It had all the benefits of the C300 in terms of its flexibility and small footprint, but at the same time, now it's recording RAW internal combined with the HDR capabilities that it has. It felt like the next progression of the Canon cameras.
Filmmaker: What were your impressions of Canon RAW Light?
Fisher: The software and the camera were still pretty new, but I've shot on the Canon cameras before and knew how to expose these cameras already. I went into it knowing that the only limit was my record time to CF Card. It only gave me about 15 minutes on a 128 GB CFast, so the limitation is your file size. Other than that I treated it like I would any other codec.
The benefit of using their RAW light is that you can trust the image a little bit more. It's not truly uncompressed, but it does deliver a very similar image to an uncompressed codec. And the benefit is that you can go into Canon software, you can adjust color temperature, you can change your gamma and different settings that give you more flexibility in post. You're shooting 4K 12 bit, which is a huge amount of information, you can really kind of throw this wherever you want.
The only thing that I was making sure of was that I wasn't clipping highlights, and even then I didn't feel compromised by anything — it really held a ton of information. When we were looking at the footage in our DIT truck, we were able to use Canon's DP-V2420 reference display. That was able to take a RAW signal and convert it into an HDR Rec 2020 space, so I was able to see an estimate of what I was going to get in post, so it was very exciting to see that.
Filmmaker: Any other impressions?
Fisher: I think it's really interesting where Canon is going. They sort of put two extreme ends in this camera. You can do this very high-end RAW, and then you have the low-end 8-bit 4:2:0 codec. The affordability of having something like RAW Light is pretty phenomenal, and if they continue down this road by including something that's powerful in cameras that are this cheap, that's really great for any indie filmmaker or any content creator. Overall I am very happy with the results. I had a fantastic team and working with Andrew is always great. He and I have a great relationship and we have a short hand at this point, we can communicate easily.
Fried: Bryant did an absolutely wonderful job with this. With someone like Bryant, who I have a longstanding relationship with, we have a bit of a shorthand. I'm able to tell him what I hope it will look like and Bryant is one of those guys that just delivers in spades. As an example, I said to Bryant, "We'll start on the water in the morning and we'll have the light come through the fog," and he's saying "Where are we getting fog, and how do we..?" In some ways it was just gratuitous, but it all worked out. Bryant really brought it to life. He was constantly trying to keep up with what I was describing but always improving upon it and bringing it to fruition.