Back to selection
Fighting MS and Big Pharma: Matt Embry on Living Proof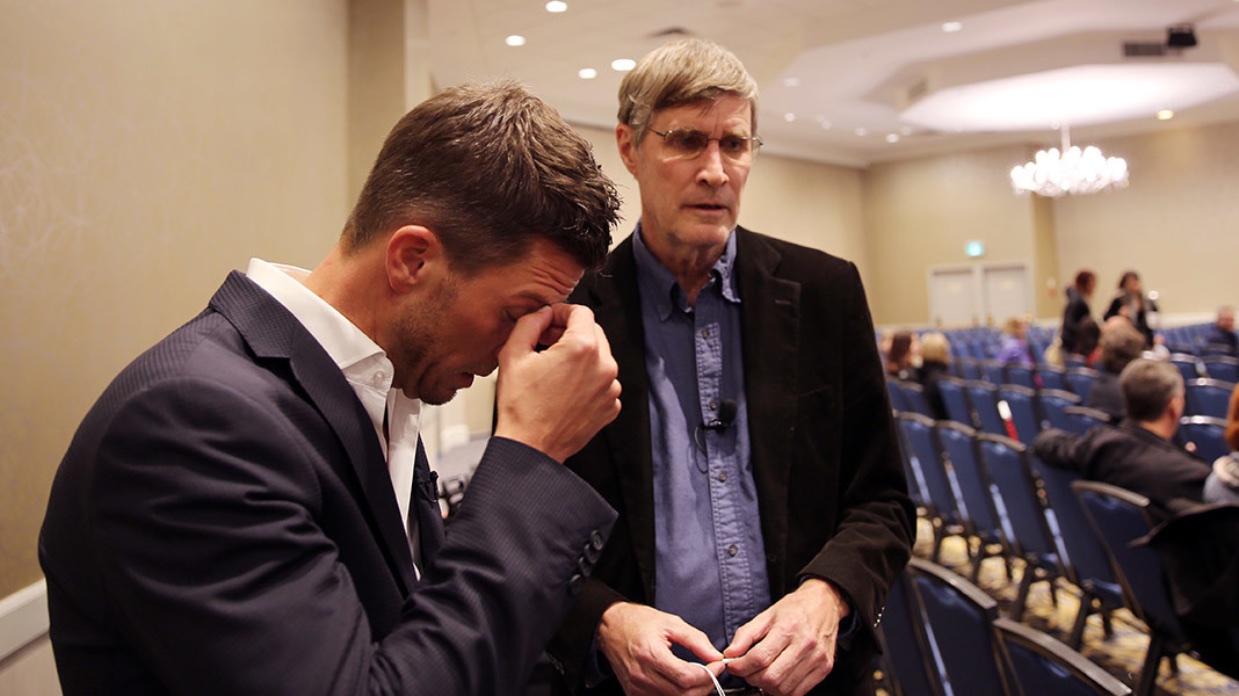 Living Proof
A journey both personal and political, Matt Embry's Living Proof follows the Canadian filmmaker on his quixotic quest to get some answers to a medical mystery. If no one knows the causes or cures for multiple sclerosis, then why are so many MS charities touting drugs (with considerable side effects) that don't work in the long term? And why does the FDA drag its feet on approving promising non-pharmaceutical cures? And why won't the powers that be in the MS establishment listen to the director himself, diagnosed with the disease over two decades ago, and who through only strict diet and exercise (and Vitamin D and a drug-free procedure called CCSVI), remains healthy and surprisingly asymptomatic? For Embry, the obvious answers lie buried in the bottom line of Big Pharma — a risky diagnosis to make. Filmmaker caught up with the Calgary native shortly before the film's TIFF premiere.
Filmmaker: You're both the founder of MS Hope, a site dedicated to providing information about how you've managed to live a "drug-free, healthy life" despite being diagnosed with MS over two decades ago, and a longtime filmmaker. But this is the first time you've chosen to combine both your worlds in one feature film. Why did you decide to go this long-form documentary route — and why now?
Embry: I decided to create a long-form documentary about my family's journey with MS because I felt that I could share a story of hope for MS patients and their families. And I wanted to share information that was difficult for MS patients to access. The MS Hope website was created for this very same reason.
The reason I decided to do it now was because I had achieved 20 years of good health since I was diagnosed, and I was ready to go public. I had also been contacted by several people around the world who had similar stories to mine, and they inspired me to step forward and give our MS population a voice in the public.
I have spoken publicly in the past, going all the way back to 1997, but I think it was hard to be taken seriously when you're only five or 10 years out from diagnosis. Being symptom-free for more than 20 years is hard for people to ignore. I must be doing something right.
Further, when I was diagnosed in 1995 there wasn't anything like msHOPE.com or this film. I heard of success stories anecdotally, and there was Judy Graham's book Managing Multiple Sclerosis Naturally, but there wasn't the resources of information. I hope we have helped to fill this void.
If I could have logged on to msHOPE.com or watched Living Proof when I was first diagnosed at 19, I would have been thrilled. I would have been able to watch some guy who was doing great after 20 years, and I would have had easy access to the science and strategies behind what he did to control his MS. That is the most important reason we are doing all this work. It's for that MS patient and their family that needs hope and strategies that they can start right away.
Filmmaker: We see you on camera leaving voicemail messages, inviting execs from the MS Society of Canada (which initially sent you a cease and desist notice to get you to change some similar-looking logos on your website) to stop by your speaking tour — which, predictably, they don't. Yet we never see you visiting any MS Society headquarters. Did you ever try to confront these folks in person?
Embry: Confronting people unexpectedly is a common device in documentaries like Living Proof, but I did not feel this would be an appropriate or fair thing to do.
Filmmaker: You interview several MS researchers, from scholars to laypeople, including your father Ashton (PhD, not MD). He's featured prominently in the film as the "brains" behind your success — the person who did all the legwork to come up with your regimen, from avoiding all dairy and gluten, to the importance of Vitamin D. So I'm surprised you didn't delve into the clinical trials your parents' DIRECT-MS charity has been involved with. How exactly is Ashton going about taking what you and he know from experience to have worked and proving it with the cold hard data that science demands?
Embry: The strategies that my father created, and that I have implemented into my life, were developed from scientific "cold hard data" and research, not "experience." Like anything in science, my father supports further research and trials to see if the outcomes support or do not support his conclusions. So far, my "experience" using his science-based strategies has been successful.
Filmmaker: It certainly doesn't surprise me that these MS drugs don't work in the long term — and can often lead to terrible side effects — as that's just par for the course with Big Pharma. (Exhibit A: chemotherapy!) A one-size-fits-all drug solution is (profitably) ludicrous when you're dealing with unique individuals in different stages of a disease's progression. Yet it seems to me that, sans profit motive, you've adopted a similar "magic bullet" paradigm for your own MS regimen — i.e., advising patients to follow these very specific dietary and exercise guidelines, perhaps have the CCSVI procedure if they qualify, and they'll keep their symptoms at bay. Have you ever met a patient who followed your method, though, and said it didn't work for them?
Embry: To be clear, I have not claimed that the strategies that I use to control my MS are the "magic bullet" in slowing or stopping the progression of the disease. Rather, the dietary and lifestyle choices I have implemented into my life and disseminate on my website and at speaking events are science-based strategies that I use for controlling my multiple sclerosis.
I have not met one person who has been strict to the program and has not had positive results. I have met several MS patients that claim that diet and exercise haven't altered the course of their MS, but when I inquire further I find they are not truly on the program — this is a major problem that I have encountered over the years with MS patients. They are often trying to stick to the diet, but are unknowingly consuming foods that may be harmful to them.
We have a scene in the film that reveals this issue. We meet a great character who claims they are on the program, and that their disease continues to progress. Then we discover that he has been unknowingly consuming dairy on a daily basis through a protein shake. Being strict to the regimen is a challenge, but it can be done.
Filmmaker: The film starts out by noting the recent explosion in MS cases. And the patients you encounter throughout the film exhibit such a wide variety of symptoms and outcomes that it made me wonder if MS, like autism, might also be ripe for overdiagnosis. Throughout your extensive speaking tour travels did you ever meet any patients you thought might actually be suffering from something else?
Embry: I am not a doctor or a health care professional. I do not have the expertise to assess someone's medical diagnosis.