Back to selection
A Devotion to Cinema: DP Ed Lachman on his Career and Collaborations with Todd Haynes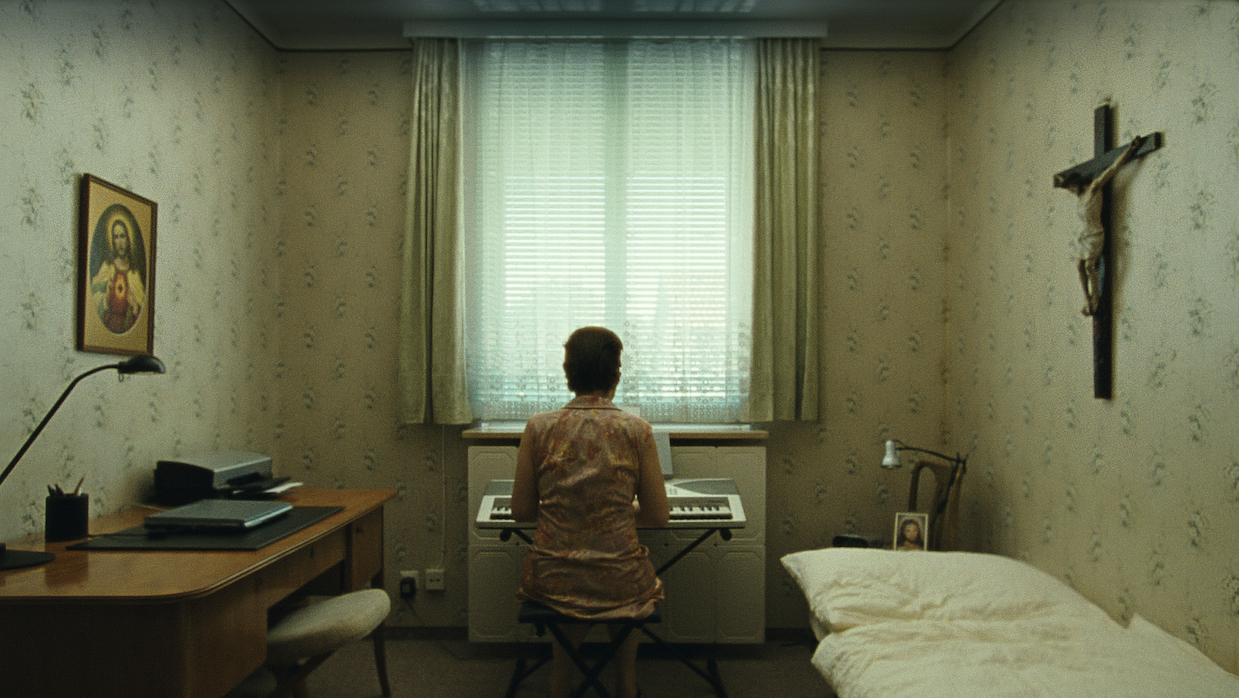 Paradise: Faith (Photo courtesy of Strand Releasing)
At 69, and with more than 90 movies on his CV, cinematographer Ed Lachman is on something of a roll this fall. He received recently the Lifetime Achievement Award from the American Society of Cinematographers, and will see his latest stunning collaboration with director Todd Haynes, Wonderstruck, released in theaters from Amazon Studios and Roadside Attractions. Shot on Super 35mm color and black-and-white stock, Wonderstruck follows Lachman's ravishing work on Haynes's Carol with another film in which the image carries a seductive charge and an analytic weight. An avid historian of visual history, Lachman dives deep into a story's period — in Wonderstruck's case, the New York of the 1920s and 1970s — and passionately employs equipment and photographic processes organic to the material. At a time when digital technology allows for easy creation of "a look" and television aesthetics are prevalent at the multiplex, Lachman, regardless of the format he's shooting, holds deeper and more rewarding beliefs in the value of the consciously conceived of and carefully wrought cinematic image.
Part of Ed Lachman's success is undoubtedly due to his stellar taste in directors. In addition to Haynes, for whom he also shot I'm Not There and Mildred Pierce, he's worked with Steven Soderbergh (Erin Brockovich, The Limey); Wim Wenders (Tokyo-Ga); Paul Schrader (Light Sleeper); and, most recently, Ulrich Seidl (Paradise: Hope, Faith and Love) and Todd Solondz (Wiener-Dog, Life During Wartime). Also on his long list of credits are a bicoastal pair of iconic '80s tales, Less than Zero and Desperately Seeking Susan, as well as the Harmony Korine–scripted Ken Park, which Lachman codirected with Larry Clark.
To interview Lachman, we asked one of our 2015 25 New Faces, Shevaun Mizrahi, a Brooklyn-based director and cinematographer who was his assistant for many years. Her first feature film, Distant Constellation, had its world premiere in August at the Locarno Film Festival and won the jury's Special Mention Award in the Filmmakers of the Present Competition. Shevaun directed and shot the film as a one-woman crew.
Filmmaker: When I worked for you, one thing I observed often was how you'd get inspired by photography or painting, and then you'd go through the process of translating that inspiration into the moving image. What are your conversations like with your directors, and how do you use those source materials to create the filmic image?
Lachman: Well, someone like Todd Haynes looks at the politics, history, art and fashion of the time of the story he's telling, and he uses that period's filmic language. In Far from Heaven, he references Douglas Sirk, and it's not about being chic or stylistic about 1950s imagery. He's looking at what those images represented for Sirk and how he used them as a social critique of American middle-class values and mores. They represented a middle-class repression around race and gender and also spoke to how beauty became its own form of repression — how it represented something unattainable. So, in making Far from Heaven, Todd felt, why not use the same language as Sirk? Would it work on a contemporary audience? Audiences would feel a sense of remove from being homophobic or racist. But then, the film would connect to their emotions, allowing them to respond to their own possible prejudices. The way melodrama works is that it allows the viewer to enter their own world through a heightened reality and artifice — to examine their own feelings and emotions.
Filmmaker: For Desperately Seeking Susan, you talked a lot about taking inspiration from German expressionism, i.e. the paintings of Emil Nolde and Ernst Ludwig Kirchner.
Lachman: I had come out of art school, and this film was something like a screwball '40s comedy, and it didn't make total sense to me. So I thought I could stylize it in order to create a language for the story. Madonna's East Village world would be a foreboding, mysterious and exhilarating one for Rosanna Arquette's character, who had been ensconced in her suburban environment. I thought I could stylize it in haunting saturated colors and darkness, like a film noir of lower Manhattan. So, German expressionism came out of that idea, the idea that I could create things not naturalistically but through expressionistic means — through a constructed reality.
Filmmaker: How did you feel at that time about working on such a commercial movie after you had worked for Werner Herzog and for the Maysles brothers?
Lachman: I thought I had sold out. I went and shot El día que me quieras — The Day You Love Me — this low-budget, crazy film about Carlos Gardel in this remote colonial town in Colombia called Popayán. I was told I had a call and had to run across town to the only phone. I thought it was from the lab, but it was from David Byrne. He told me he was interested in meeting me for a film he was directing called True Stories. That was what brought me back to the States and to the independent film world.
Filmmaker: It seems like there's a tension in you between doing the kind of authentic cinema Nathaniel Dorsky talks about in Devotional Cinema and then working on more accessible movies. How do you see these two worlds? Do you feel you've made sacrifices? Or have mainstream films also taught you a lot?
Lachman: Well, I've done commercial work to support myself doing the independent films, like working for Ulrich Seidl. I basically didn't take any money on Import Export and then Paradise: Love, Faith, and Hope because I so believed in his work. On the commercial work, I've been fortunate to work with some of the most interesting and talented directors working within the Hollywood system, like Steven Soderbergh. Right after we did The Limey, Soderbergh wanted to shoot Erin Brockovich like an independent film. Well, we didn't, but we still tried to use the bare essentials of the Hollywood process and make a film that captured a certain authenticity of the image. We actually shot just off the property line of PG&E, the power company, where [the story] actually happened, as our set. And we shot in the house of the family who were poisoned from the ground water. So, I've been able to work with filmmakers in Hollywood who have had their own voice in their filmmaking.
Filmmaker: But if money hadn't been a factor in your life in any way, do you think you would've just done European cinema? Was there anything other than money that was pulling you back into this Hollywood world?
Lachman: The truth is, I don't think Hollywood calls me that much, anyway. You know, they see me as some kind of outsider or whatever. I guess I haven't accepted the kind of jobs that would've pushed me further into that world. Early on, I turned down Ghostbusters because I didn't understand what it was about. When I read a script, I'm always trying to think,  "Would I go see that film or not?" What determines my interest in a project is the passion of the director, and the material, and the belief that images can be a strong part of the storytelling. I think the best relationship between a cinematographer and a director is where a cinematographer is thought of as another actor in a way, where you're giving a certain kind of performance. I've always liked working with young directors or directors who have their own language. For me, the language of cinema is images.
Filmmaker: One thing I really admire about you on set is you're very in tune with the moment. You do things spontaneously. Obviously, you've had experiences with directors such as Herzog, Wim Wenders and Seidl that I imagine are more improvisational in terms of the camerawork. And yet, many times you're working in very structured environments.
Lachman: It's important to go in with a plan and a shot list, but film lives in real space and time. I started in documentaries and maybe never left them; I think all films are documents in time and space. You never get the same performance, or the actor doesn't end up in exactly the same light. What I'm interested in is the moment in time that you are telling the story. And so, even though I go in with a plan and a shot list, I'm always open to what's actually happening in that moment in time because I think that creates the authenticity of the image. There is a believability to what you are looking at, what you're experiencing.
A director like Robert Altman, let's say, would shoot with two or three or four cameras, and he didn't care if they saw each other in your dolly shots because he wanted the audience to participate in the moment. This idea of multiple cameras came out of television for him, he told me — the idea that cinematography has to be agile in order to allow the audience to feel that they are discovering the performance. I guess that is why I say that the cinematographer is, in a way, another performer — because he is interacting with the story, with the performance, with the movement, with the light.
Filmmaker: You talk a lot in interviews about a director's need for visual consistency. Could you talk about the consistency within your own work amid this huge range of things you've done? Are there certain techniques or kinds of mental frameworks or concepts that guide you?
Lachman: I desperately try to explore each film with its own language, which comes out of the material of the script. The form shouldn't be more important than the content. I do a lot of research — visual research — that will illustrate the ideas of the story. But I obviously have a strong feeling toward color, and maybe that comes out of my painting background and art history — the manipulation of color temperature, using different light sources and film stocks, colored gels on the lights. I'm not interested in using color as a decorative element but rather to evoke a psychological state for the characters in the story. The other tool that cinematographers use is composition and framing, which is also a very personal signature.
Filmmaker: Why did you use black and white in I'm Not There and Wonderstruck?
Lachman: In I'm Not There, we were referencing the cinema of the '60s — early Godard in the New Wave and the modern Italian cinema of Antonioni and Fellini. For the black and white in Wonderstruck, we are referencing the silent period of the '20s, which worked as a visual metaphor for our story about a deaf girl. We looked at F.W. Murnau's The Last Laugh, Victor Sjöström's The Wind and The Crowd by King Vidor.
Filmmaker: Could you speak about your work with your colorist in completing the film?
Lachman: When I shoot a film, I develop with the director, production designer and costume designer ideas about the use of color in the film through sets, wardrobe, location and time period. It's very important to me that the dailies represent the way I photographed the scenes originally. If the dailies don't represent the look accurately, they can get married to that misrepresentation. So, I try to work as closely as possible with a dailies timer before I get to the final grading so everyone agrees to the consistent look we were creating.
Filmmaker: What are some of the different approaches you'll experiment with to create the different ideas in a film?
Lachman: Wonderstruck takes place in the '20s in black and white, which mirrors the language of the cinema of the silent period, and we use black-and-white negative film. Then, in the '70s [portion], we use color film, referencing naturalistic, realistic films like The French Connection, where Owen Roizman, the cameraman, and Billy Friedkin were using zoom lenses like punctuation. I found out the older Angéneiux lenses have more lead in the glass and give more contrast to the image, so I used them. I was trying to use the tools that would have been available in that time period. Todd wanted to do long tracking shots, but we didn't use track, we used western dollies. We wanted a floating, suspended feeling of movement in order to emulate the subjectivity of a newly deaf person. We used the visual language of floating shots, overcranked frame rate, various suspension devices to remove us from the objective experience of the hearing world.
Filmmaker: One thing that is important and relevant to me is that you've worked with a lot of women over the course of your career.
Lachman: Yes. I like working with women because I find it's about the work and not about ego. I find men many times let their egos get involved with what the work is. Women seem to be more open and less problematic about their egos; it's more about the work. And I think men and women have a way of interrelating with each other, even if it's not sexual, that, I don't know, I find more appealing.
Filmmaker: How do you see the future of cinema developing?
Lachman: I don't know. There's one form of filmmaking — to make amusement rides and video games — that, I think, dehumanizes us. And then there are the filmmakers who are looking at what connects us as human beings with our own fears. Those are the filmmakers and films I care about.
Filmmaker: Could you talk about Devotional Cinema, which is a book that you give out to everybody close to you? What is it in that book that has resonated with you and influenced your work?
Lachman: Dorsky talks about how there's an anthropomorphic quality to the nature of film that somehow mirrors our own existence, our own body.
Filmmaker: Our metabolism?
Lachman: Yes, our metabolism. And about the way light creates the image and the way light created the world. He sees it on a spiritual level. He talks so interestingly about how film is two different things. In the medieval age, man was the source of the light and the cathedral windows were very dark or opaque. Then, when the Renaissance began, the windows became lighter, and the light came into the church and shaped and colored us in our spirituality. He states that film really has to be both things; it has to be internal and external. And so, this book somehow expresses the nature of what film is for me, that it's our interior responding to the exterior world. I think that's a beautiful way to say what film can be.
Filmmaker: I like how he says there can be an unhealthy film and a healthy film, and that you feel it on the level of the body.
Lachman: That's the best part — that it mimics our own light, that there's an analogy to our own life, that film responds to light and the way it captures an image is the way we live our life.
Filmmaker: The demands of filmmaking and of cinematography on the physical body, just the weight of the equipment and the intense psychological pressure and all of that — has that been challenging or have you just accepted it?
Lachman: Once you're in it, it's mind over matter. Film always gave me the strength. It was never the weakness. It was always the strength for me to move on. Film has given me more than I have ever given to it. It's allowed me to travel the world through a lens and experience my life. Film for me is like a visual diary.
Filmmaker: Could you talk about your own personal photography and about carrying a camera with you?
Lachman: As much as I don't like the digital media, I always carry a small digital camera, a Sony RX100. [These shots] are like footnotes. There are always things I'm seeing. And when I don't have a camera, I call it a Zen image. It's not recorded on a digital chip or on film, but in my head. If I'm with somebody, I share that image with them and get just as much pleasure.
Filmmaker: The last thing is that you've been this outlier in the industry, in a way. How does it feel now to be recognized so completely with all these accolades and achievement awards?
Lachman: It's strange because I always thought if I could be part of this club, I didn't want to join — you know, the Groucho Marx saying. So, yeah, it feels strange. I hope I'm not too far in the system, that I can still be an outsider. I said something in my speech at the American Society of Cinematographers, where I just received the Lifetime Achievement Award, that I always felt like I was on the outside looking in. And now, it makes me feel like I'm on the inside looking out, but somehow, I always still want to feel like I'm on the outside looking in.