Back to selection
Market Timing: Sales Agents Glen Basner and Ryan Kampe Talk the History and Current State of Independent Film Sales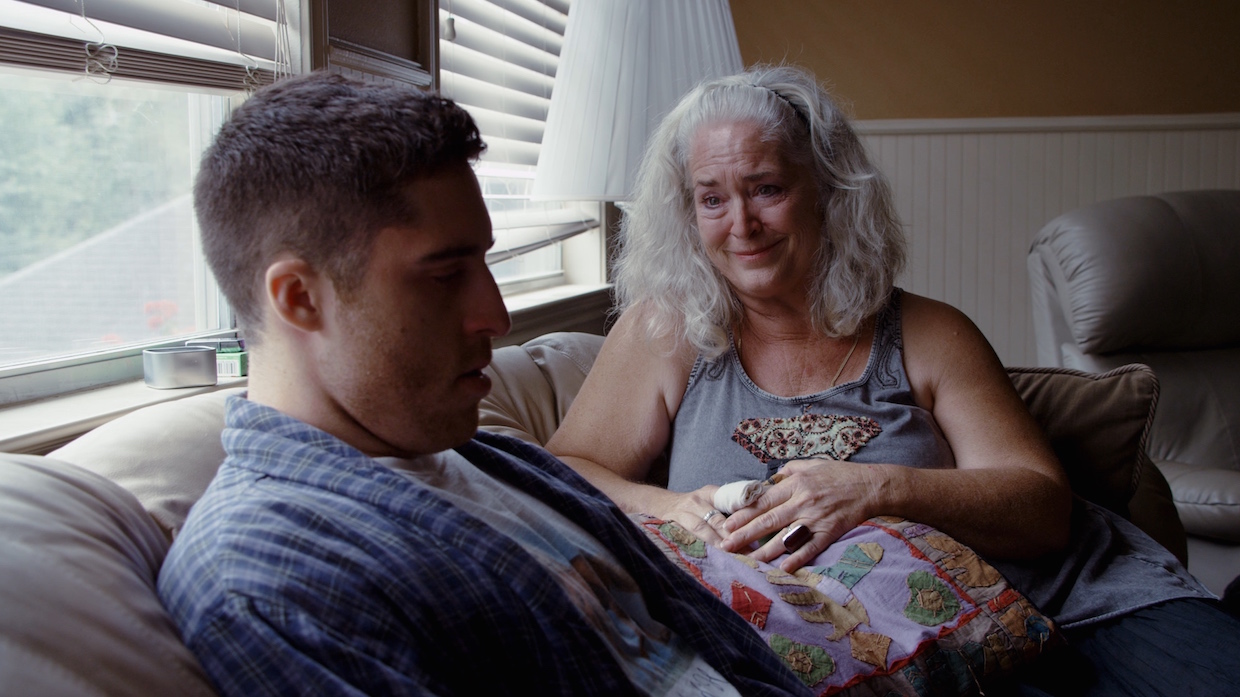 Krisha (Photo courtesy of A24)
Independent film has always had a funny relationship with the world of foreign sales. In the '80s, it wasn't uncommon for a certain breed of hip, black-clad downtown New York filmmaker to find most or all of his or her funding from a besotted West German TV-commissioning editor. By the late '80s and early '90s, following the model of Jim Jarmusch, independent film produced auteurs like Hal Hartley who developed real audiences — and financing — in territories like France, Germany and Japan. But for a myriad of reasons — and, indeed, like the rest of the film business — the foreign sales market has changed dramatically in recent years. For many of the films featured in Filmmaker Magazine — first and second features by up-and-coming new voices — business can be bleak. An American independent film will receive 60% of its revenue from overseas, the Hollywood trades used to opine, but for smaller films this has long been very far from the truth. That said, when American independent films do "work" overseas, to use the lingo of the foreign sales business, their profits can still be robust.
To provide a quick snapshot of the American independent film foreign sales business, both now and historically, we asked the heads of two notable companies to get together with us and talk. Glen Basner is the head of FilmNation, a multifaceted outfit now not only selling internationally but financing, too. Notable recent FilmNation credits include The Big Sick, Arrival and Wonderstruck. Ryan Kampe is the head of Visit Films, a boutique New York sales company with a particular focus on American independents, including, recently, It Follows, The Fits and The Incredible Jessica James.
Filmmaker: Let's go back to your beginnings. Tell us what the international sales business was like when you started.
Basner: It was the very late '90s, and at that time there was still a huge appetite for a large volume of films. You had competition in certain territories between pay-TV platforms that were driving up pricing and would buy a large number of titles. Home video was also still growing at that point, and then, later, the German Neue market completely blew up valuations in Germany. I remember it being a lot easier than it is today.
Kampe: We started Visit in 2007, at the end of that bubble that Glen referenced. But we were coming at it from a different angle, with much smaller films, like many of the key mumblecore films. With pay-TV, ancillary and physical media, distributors had a floor for their monetization, and, in turn, they could buy them from us at a minimum level. That economic support or guarantee seems to have vanished now for many films. Also, there were fewer films in the marketplace then, and it seemed that there were fewer sales companies we were competing with.
Filmmaker: And how would you characterize today's moment, and how it's different?
Basner: In the past, creative talent working in feature film did not cross over much into other forms of storytelling. Now people are working in television series, webisodes, advertising, modeling. [Talent] isn't simply waiting around for the next opportunity in feature film. Additionally, the way movies are being monetized is changing with downward pressure on budgets. The concept of what a theatrical film is is also evolving, particularly with the streaming services and improved television content out there. It used to be that if a film didn't work theatrically a distributor would have the ability to monetize the ancillaries and perhaps still eke out a profit. But now, distributors are looking at films and asking, is it great for the genre? Does it make sense for its audience? How much would it cost to reach that audience? I think that's a healthy thing, but again, it makes the sales business much more challenging.
So, for FilmNation, our whole mindset has changed from what we started out as — an international sales agent of theatrical movies — to, now, a development/production/finance/international sales company for all types of content, whether it's theatrical, feature films direct-to-television or streaming services, or television content itself, including episodic.
Kampe: For me, what's both good and bad is that Visit's place in the industry today is still one of discovery, working with directors like David Robert Mitchell and Trey Shults, whose first or second films we have historically been able to champion. The buyers, distributors and filmmakers know that that's what we do, and that's one of the big things that motivates me on a daily basis. The flip side of that is the challenge of trying to keep these directors in our roster and to work with them throughout their careers. The best case is David Robert Mitchell. We had his first feature, The Myth of the American Sleepover, and then went right over to It Follows. It was exciting for me to see that film break out and become a worldwide phenomenon.
Basner: I'm amazed when you list those filmmakers who you were able to identify at such an early stage and on such a consistent basis. It's really great.
Kampe: If only I could buy stock in them.
Basner: I know, but that's always been the natural progression. A lot of people get borne out of the independent space, and then once they have success we lose them to the studios. Some of them come back to us, which is really nice, but ultimately you take part in [that initial] success and somebody else will then often pay them a lot more money to work with them.
Kampe: Now, with people like the Duplass Brothers, Joe Swanberg and even Azazel Jacobs, who had a series on HBO and a film that did quite well theatrically with A24, it's a little different than it used to be. Before, it felt like [directors] would go to the studios and stay there. Now, I think there is this transfer between television, studio films and indie cinema, and there are filmmakers who are able to jump between them depending on the project. We're continuing to have conversations with people who, maybe 10 years, 15 years ago, we would have lost to the studios or to a bigger company.
Basner: As you grow, the question has always been, "How do you get away from some of the smaller films that maybe you worked on starting out?" But now we're actually looking to be more active in lower-budgeted films — sub $3.5 million movies — simply because we have the financial capability to do so. And while we're not looking to do them in volume, we're more open to strong, unique voices making lower-budgeted films than we had been three or four years ago.
Kampe: Because of the changing economics, those films can be viable when done correctly. They were quite challenging for a little while without the Netflix sales that put them into a financially viable place.
Filmmaker: For these smaller films, what role does the presale market play, if any?
Kampe: I think that "small" is relative. The question is, do you have the ability at all to pre-sell Trey Shults's Krisha, or do you need to wait until It Comes at Night? When we try to take projects to the marketplace that are under $1.5 million, at times it's not for the purpose of presales unless we're going to hit one or two territories to help close the financing. What we're usually doing is introducing those projects to the marketplace so that when they are made people remember us, and the project, and say, "Oh, you've been telling me about this film for a while, and now I want to see it." Additionally, my team does the same with programmers on the festival side, and there is a built-in excitement.
Basner: On the smaller films, we're not really looking to act as a sales agent. We're looking to finance the films. We'd rather just take the risk and hopefully get rewarded with the upside. A $2 or $3 million film is different then a $20 million film where, in order to structure the financing in any reasonably efficient manner, you need to have a significant amount of presales. The Big Sick we barely presold because people internationally didn't know who Kumail Nanjiani was. We just took the risk and were fortunate because the movie turned out well, and the back-end participation became very meaningful.
Filmmaker: For The Big Sick, how did you work with Amazon? And what sort of new partnerships are arising for companies like yours with the new streaming services moving so aggressively into the independent space?
Basner: For The Big Sick, Amazon simply bought the U.S. and some international rights from us at Sundance after screening the film. We've also been fortunate enough to have Amazon hire us to sell films that they've been producing and financing into the international marketplace
Kampe: We've done a couple deals with the VOD companies. For films we've taken to Sundance and SXSW, they become a kind of support. We've been able to hand those SVOD deals over to distributors, who are essentially going to cash flow those deals for us, plus whatever premium we can get, and then guarantee the theatrical, the management of the film and the ability to generate revenues in other windows. Obviously, on the originals side, those Netflix/SVOD deals are pure acquisitions, so it's just looking at whether those deals are the best opportunity to accept for the film versus the traditional distributors or not.
Filmmaker: A few years ago we were all talking about DIY distribution. This was all leading up to and after Shane Carruth self-distributed Upstream Color in 2013. Now, it seems that that movement — or at least the discourse around that movement — is dying out. Ryan, as someone who started out working with filmmakers like Joe Swanberg, who was involved in that movement, what's your take on the trajectory of DIY over recent years?
Kampe: Yeah, that was an important part of what we were doing — supporting DIY filmmakers by selling the territories that they were not doing self-distributing in. If filmmakers kept the domestic rights, we would be working on the international, and we could bring them cash they couldn't realize on their own. What's happened since then is that people realize that distribution is a job, and the long-term care distribution companies provide a film by continuing to monetize it will ultimately benefit a filmmaker. I think that setting up a distribution company every time was too much. Also, together with the DIY movement was a whole slew of aggregators who all believed that they could make a business out of volume on VOD by just throwing movies up online. That [success] never really happened. And so now filmmakers are more careful. They realize that marketing is important, as is a company's relationship with Netflix, Amazon, iTunes and VOD channels — those are all important relationships. Filmmakers may be hiring theatrical bookers, but they are finding long-term partners for all the other rights, whereas I think in the period you were referencing they still believed that they could do it themselves.
Basner: I have a front row seat right now at a very interesting DIY distribution company with Steven Soderbergh, Fingerprint Releasing and their first film, Logan Lucky. It's a substantially budgeted movie, a very big one for us in terms of sales. Here you have a filmmaker who, with his partners, including Channing Tatum, took the risk of financing the movie and really doing a DIY U.S. distribution of the film.
I know that Steven thinks that Fingerprint could be an entity through which other filmmakers could then look to work to "do it themselves."
Filmmaker: What is Fingerprint's relationship with Bleecker Street?
Basner: Bleecker Street is doing a lot of the theatrical booking and billing, but Fingerprint did their own home video deal. They've done their own pay TV deal. They'll do their own free television deal. And they have been putting up and controlling the P&A. The filmmakers are all invested in the film's success because Bleecker Street didn't have to put up any type of advance. They're working on a lower fee, obviously. It's been a good collaboration, but it is great to see filmmakers bet on themselves.
Filmmaker: Back in the early days of Filmmaker, it seemed like "American independent film" was its own appealing brand to overseas buyers. Young American filmmakers were making films cheaply and freely in a way that seemed unique. Over the next 25 years, the novelty of that brand has changed quite a bit. My question, then, to both of you is: How have you seen the brand of American independent film change over the years, and where is it today?
Basner: I still think that it has some value, but most countries now have their own variation of independent cinema, and we're competing with those movies made in the local language, sometimes subsidized in terms of P&A, sometimes given bigger budgets because of TV valuations supported by quotas from local governments. But I see so many great filmmakers continuing to come out of this country. American independents are just as vital and just as important in terms of our business globally as they've ever been. I just think there's a lot of different types of films that they are competing with and that therefore affects our ability to presell them around the world.
Kampe: I think that the American independent movement is less a movement these days than a product choice for consumers and for distributors in other countries. It's not to say that those films don't have an identity or brand. It just might be that audiences have to discover them at a film festival or online as opposed to finding them in a theater. And I think that it is because of a lot of the [foreign] subsidies. There are 14 or 16 theatrical releases every weekend in Paris, and a lot of those are being subsidized and supported not just by [French cinema funder] CNC but also by Cinema do Brasil for Brazilian films, or by a German or Irish film fund. If you're a small distributor, you can take the U.S. indie film, receive no support, raise your own P&A money and hope the film works. Or, you can buy a Brazilian or Colombian film and receive support for advertising or even just mailing lists from the embassies. These are things the U.S. government is not doing, and I think it's what makes these other cinema brands stronger.
So, I think that there still is a market for American independents, but not always at that first or second feature. It might be that third or fourth feature where a director will start to blow up, and those are the ones that all of the buyers will want. Filmmakers are building their own brands, and sometimes the studios buy into that brand and sometimes it's the independent distributors around the world. For a filmmaker, it may not be about a monetized "discovery film" anymore but more a developed career.