Back to selection
It's Really About You and Your Friends: Alex Henning on Creating Social Virtual Reality and Coco VR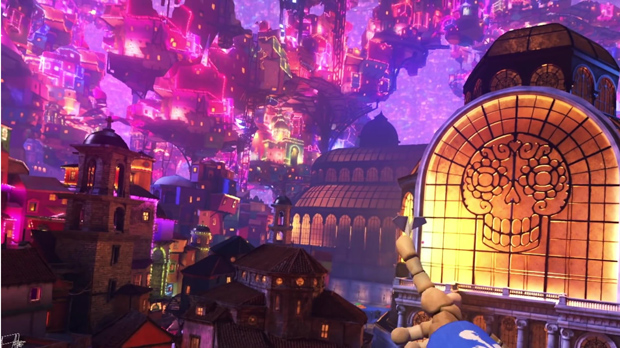 With the release of Coco last year Pixar created yet another film that won over critics and audiences with rich visuals and a compelling story; it's earned over $200 million so far and just took home the Best Animated Feature Oscar. Pixar wanted to use the property to push forward into new territory, though, and thus used Coco as the vehicle for its first virtual reality experience. To do so they tapped Magnopus, a Los Angeles-based VR/AR company that had previously produced Moana's virtual reality product for Disney. The result is Coco VR, a visually arresting gaming experience that also constitutes Oculus's largest foray into social VR thus far. Players control a customizable cartoon skeleton avatar through the Land of the Dead, interacting with other players and an in-depth world with games, videos, and activities.
On the eve of the Oscars, I spoke with Magnopus co-founder Alex Henning about the creation of the game, his company's collaboration with Pixar, and how the social elements enhance the experience of just hanging out in Coco's incredibly detailed world.
Filmmaker: How did Magnopus integrate with both Pixar and Oculus to make this project happen? You were tasked to bring a Pixar property into this new medium for the very first time, so that must have required a very close working relationship with them but also a great deal of trust on their part to give you the freedom you needed to explore and develop it.
Henning: It did require a lot of trust, and one of the first things that we did to build that trust was create prototypes to prove to the team at Pixar — and also to ourselves — that it would be worth everyone's tremendous effort to create Coco VR and that the quality level, both visually and from the perspective of having fun within the experience, would be achievable.
We really worked all as a single team; we very much collaborated and were in constant communication. We put our artists and engineers in direct contact with Pixar, and all of us teamed up to get the project done. One unique thing about Coco VR as opposed to some other projects is that we were all working with each other within virtual reality itself. The social aspect and the multiplayer functionality were some of the first features we built into the prototype, and that meant we could provide notes and adjustments to one another inside the world of VR, which we found to be tremendously helpful.
Filmmaker: When Coco VR came out last fall Pixar producer Marc Sondheimer told Variety that the primary goal was to let people go on an adventure. How did you go about working for that and, now that the piece has been out for a few months, how successful do you think it's been in that regard? Are there specific narrative or world-building elements that really broadened this out and distinguished it from the film?
Henning: Based on the reception from audiences, critics, and everyone else, I'd like to feel that we were successful. I think that our approach was to look at it from a theme park perspective and figure out, "What would a visitor to a theme park based on Coco want to be able to do?" You'd want to dress up, wear a costume and fit into that world. You'd want to explore different areas. You'd want to take photos and go on a gondola ride — but most of all, you'd want to do all those things with your family and friends, which is why everyone was so keen to make this a social experience. I really hope that people have found their own personalized experience within Coco VR because of the freedom to explore and come up with your own games, much as you might do if you were to go to a theme park and there was a Coco Land.
The thing that broadens the experience from the film is that Coco VR is really about you and your friends. It's an opportunity for you to express yourself and be there with people who are important to you. While we might not be following the very specific narrative from the film, which is about Miguel's journey, we've expanded that world by allowing you to have your own exploration there. We wanted to make sure we weren't trying to box you in by having you try to imitate one of the characters from the film.
The focus was on allowing people to find their own way and form their own connection to the Land of the Dead. But at the end of the day, we wanted to make sure people could take in this world, be amazed by it, and have fun. What we're trying to provide above all else is a good time.
Filmmaker: Can you talk about the design and construction of the physical space? Harley Jessup's production design for the film was incredibly rich and lush, so what was it like recreating that for a 3D virtual reality environment? The vistas from the elevated train look amazing, for instance.
Henning: From the first time we saw some of the early concept art, our team was really excited and felt like the world would be phenomenal for people to explore in VR. It's so rich, it's so colorful, and because of the design of the Land of the Dead, because it has this vertical stacking of architecture going from ancient civilizations to modern times, there's dimension in all directions. Whether you're looking up or looking down or into the distance, there's so much to take in from every angle, which really lends itself to experiencing it in 360 degrees. There's so much going on because the Land of the Dead covers a lot of ground. It really mirrors the land of the living in scope, and it's not a small place — it's big enough to hold generations of past ancestors. So really, our biggest challenge working with Harley Jessup's designs was to be careful not to bite off too much and be sure we could execute on the things we chose.
Filmmaker: What's the development process in general like at Magnopus? How was Coco VR different from previous projects you'd created, even narrative pieces?
Henning: The development process at Magnopus is that we like to put engineers and artists together starting in small groups and really just cut them loose. We like to do a lot of rapid prototyping, we like to iterate very quickly at the beginning and come up with lots of lots of ideas, and we really like our whole team to participate in that process. Because you never know where those "ah-ha" moments are going to come from. Above all else is a spirit of trying to push the limits, trying things that haven't been done before, and being aggressive in trying to do something new.
What separated Coco VR from other projects was just how closely we could work with partners like Pixar from the very beginning. To have such close involvement and to get to collaborate on a really involved level from beginning to end was a great experience for everyone at Magnopus. We also got to work that way with Disney when we did the Moana VR experience and found that it was a great way to work, so being able to work with Pixar in that way really expanded on that experience.
Filmmaker: You already mentioned the social elements of the piece. Like you said, it's rather open-ended gameplay, so what did making it social bring to the experience that couldn't be accomplished with individual players? Conversely, is there something about the world of Coco that gives us something new for social VR that we haven't seen before?
Henning: It's unique to have a social experience within a world that is so rich and so gorgeous, with a story and IP that is so well-developed. I think we've all seen that magic can really happen when you can combine some good, solid ideas with a piece of intellectual property that is really special. We tried to make sure that single players would also have a good time, but it really isn't the same as experiencing Coco VR with other people. It's a great exploration into the somewhat limitless possibilities that exist for social in VR and to use virtual reality as this space for imaginative collaboration. That started with the fact that we're working with Pixar in VR to build the piece, but it extends to the visitors as well. They can come up with their own games to play with another person, or ideally with three people.
Filmmaker: Were there any major challenges — technologically or creatively — that had to be overcome en route? What about the finished piece are you proudest of?
Henning: There were a ton of challenges technologically. The biggest challenge was probably figuring out a way to maintain as much visual fidelity from the film as possible. We were finding ways to work with these incredibly detailed and heavy film assets and trying to translate them as faithfully as we could to run it 90 frames per second on consumer hardware.
Most people, if nothing else, will agree that the experience is very pretty, which is a testament to Pixar for designing a wonderful world, but also a testament to our team who worked so hard to show as much of the world in VR on a very tight time table. I'm really proud of that. I'm proud of the fact that most people who go into the experience seem to have a good time. It's supposed to be fun, so when I see people do it, and they come out of it smiling and having a good time, that's how I know we're successful, and I'm proud that people seem to really enjoy it.