Back to selection
"One of the Rules Was To Not Centralize Whiteness in Any Way": On the Path Towards Terence Nance's New HBO Show, Random Acts of Flyness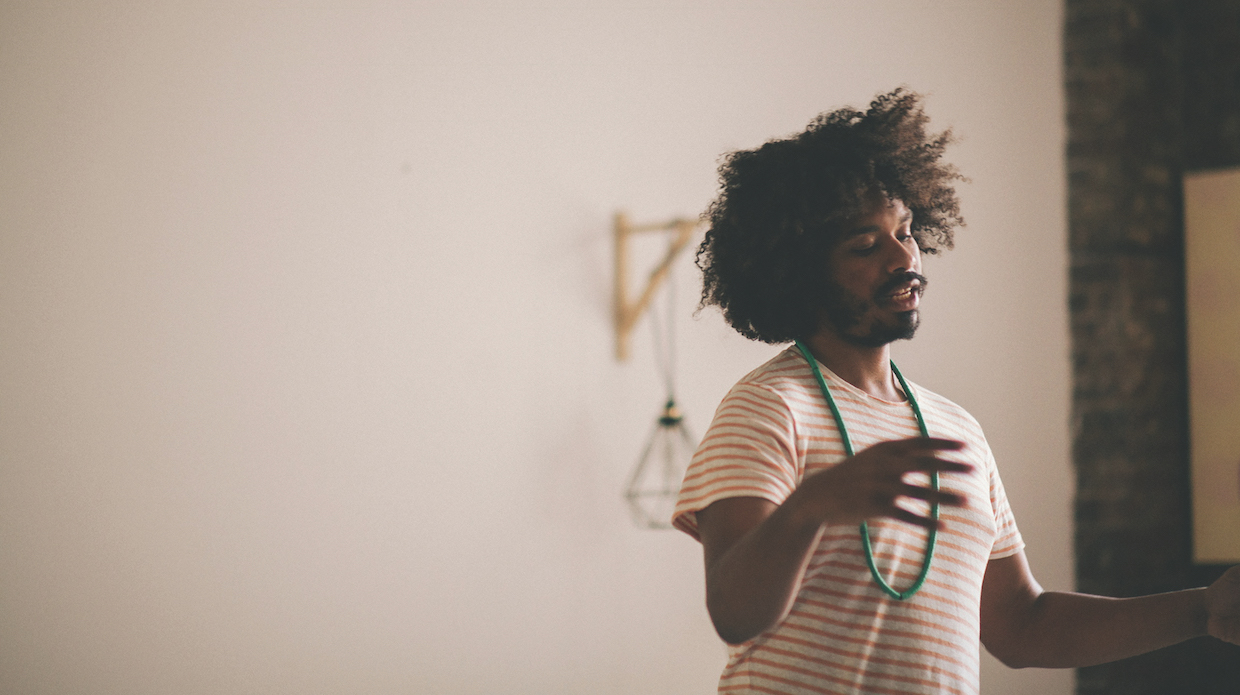 Terence Nance (photo by Tayarisha Poe)
The following article appears in Filmmaker's Summer, 2018 print edition and is being posted today to mark the premiere, this Friday, of Terence Nance's Random Acts of Flyness on HBO.
When Brooklyn-based filmmaker and musician Terence Nance last appeared in this magazine's print pages, it was in our 25 New Faces section — in 2012 — and he had been working on his debut feature, An Oversimplification of Her Beauty, since 2006. A loose-limbed autobiographical drama detailing Nance's own near-romantic relationship with an attractive friend (Namik Minter, who played herself in the film), the film unspools, I wrote, "like some improbable cross between Charlie Kaufman and the Czech New Wave." A doc hybrid before such a thing was fashionable, the film seemed to unexpectedly tumble from one thought to the next, but, Nance said at the time, "It was written in the form of a song: verse/chorus/verse/chorus. It seems freewheeling, but it's carefully organized."
Several months after his selection to our 25, Nance would win the Filmmaker-sponsored (and now, sadly, defunct) "Best Film Not Playing in a Theater Near You" Gotham award, which scored the film theatrical distribution. But another feature? Speaking one afternoon from his sprawling Fort Greene production office, Nance says back then he mainly focused on making sure his film was well traveled on the festival circuit and made it to theaters. "That process was all-consuming," he says. "I was willing to submit to it at the time, but with 20/20 hindsight I should have moved along to the next thing." 
After 18 months of touring with Oversimplification, Nance developed that next thing: The Lobbyists, "a very Obama-era, absurdist political theater movie," he says. "Essentially, it's about what's happening now, but it can't play as absurd anymore because the absurd has transpired." With The Lobbyists stuck in development hell, Nance turned back to music, shorts and performance. He says about this post-Oversimplification period, "I was focused on never stopping, taking advantage of anything just to keep making things. That's always been important to me. I heard the horror stories about the Black filmmakers of the 1980s and '90s, who did one feature and you never heard from them again. Love and respect to them, but I was like, 'You're going to hear from me!'"
Nance's career theory of perpetual motion — as well as his interest in unconventional dramatic structuring principles — has led to his latest work, one that's poised to connect him with his largest audience ever. Random Acts of Flyness is a six-episode HBO series scheduled to air this August, and, based on its pilot episode, it's an uncategorizable blend of urban fantasia, bracing political satire, loopy comedy, art installation and superior mixtape. In other words, it's very Terence. 
"I had the idea for it in 2006, while I was still in college, and it was just called Random," Nance says. "I read the little synopsis I wrote back then, and it's pretty much exactly what it ended up being. It said something about 'a stream-of-consciousness journey through my brain that was centered around a theme.' And I guess the thing now is that there is no longer a theme. There's no centrality of any kind. There's no organizing principle."
Random Acts of Flyness got its start when Nance was commissioned by 150, Time Warner's "incubator for storytelling." The program develops material by new artists for the conglomerate's various outlets, and 150's Tamir Muhammad, says Nance, "created a situation where I had to create a proposal — I had to write something that starts here and then goes there." Nance dug deep into his hard drive, into his video files on Premiere, and "sat down and started assembling stuff. I already had a lot of the segments — some were just pieces of my shorts, some were things that were conceptualized, and some were things I had shot already." The 150 pilot then led to a more formal pilot for HBO, which included about 40 percent more new material, and then, in fall 2017, the cable network picked up the series.
So, is Random Acts of Flyness, which now has Nance's MVMT and A24 as producing companies, really, truly random, without an organizing principle? Says Nance, "Well, there's no intentional organizing principle, but organization, or some semblance of it, arises naturally. The idea is to make it feel free associative."
Concepts and themes did emerge, though, as Random ramped up its own version of the TV writer's room. Nance brought in fellow filmmakers and writers as collaborators — "People like Frances Bodomo, Darius Clark Monroe, Nelson Nance, Shaka King, Mariama Diallo, Morgan Parker, Jamund Washington and Kelley Robin Hicks," he says. "It was probably more collaborative and active than most writer's rooms. It was like, 'This is your idea for a segment, but this person is going to write, and then this other person is going to do a polish on it.'"
Says Kishori Rajan, who is executive producer along with Jamund Washington, Kelley Robin Hicks and Ravi Nandan, about the writer's room, "Terence would lead a meditation every morning. It felt very family-esque, very intimate in a productive way." The first few weeks was just "watching random movies and talking through things," she says, "and then they all came up with 400 ideas on index cards. There was an internal voting down — we would keep winnowing it down until clear things started to emerge."
Rajan says that one way the group imposed order on what could have been a chaotic creative process was through the creation of rules. 
What kind of rules? 
Says Nance, "One of the rules was to not centralize whiteness or white people in any way. And to always decentralize the oppressor, whoever the oppressor is for you. That could be men, white people, or white men, or straight people, or black men — it could be anything. If there is a character or idea or theme where the oppressor is present to decentralize it as soon as possible — that's one key rule. Another is, the show can and should disagree with itself. And no laughs for the sake of laughter. If something is funny, it should be formally purposeful around the central message of that segment."
Nance says that others who have seen the pilot have drawn comparisons from Sesame Street to Mr. Show, but he was thinking more about the concept album — "albums that have all these interstitial skits, like To Pimp a Butterfly, DAMN., Innervisions…." 
After completing the pilot, which was directed by Nance, Bodomo and King, with its bracing satire and outside-the-box humor — in addition to vertical video, clay animation, chat bubbles, excerpts from not only Nance's Oversimplification but also Bodomo's "Everybody Dies," a "Sexual Proclivities of the Black Community" talk show and Jon Hamm hawking a product to cut down on "albinitis" (inappropriate white thoughts) — does Nance feel that the show wound up still feeling so random? 
"Well, I think there's a way you can describe the pilot as having a theme, but it wasn't a prescribed theme," he says. "After it was done, I described it as my subjective experience of moving through horror and sorrow in terms of Black death and then switching my brain to a space of joy and celebration. Getting to a tipping point to the amount of sorrow I could have in me in a moment." 
"But I wasn't thinking about that as I was making it."