Back to selection
Five Misconceptions of Errol Morris's American Dharma and Why It's Still Without Distribution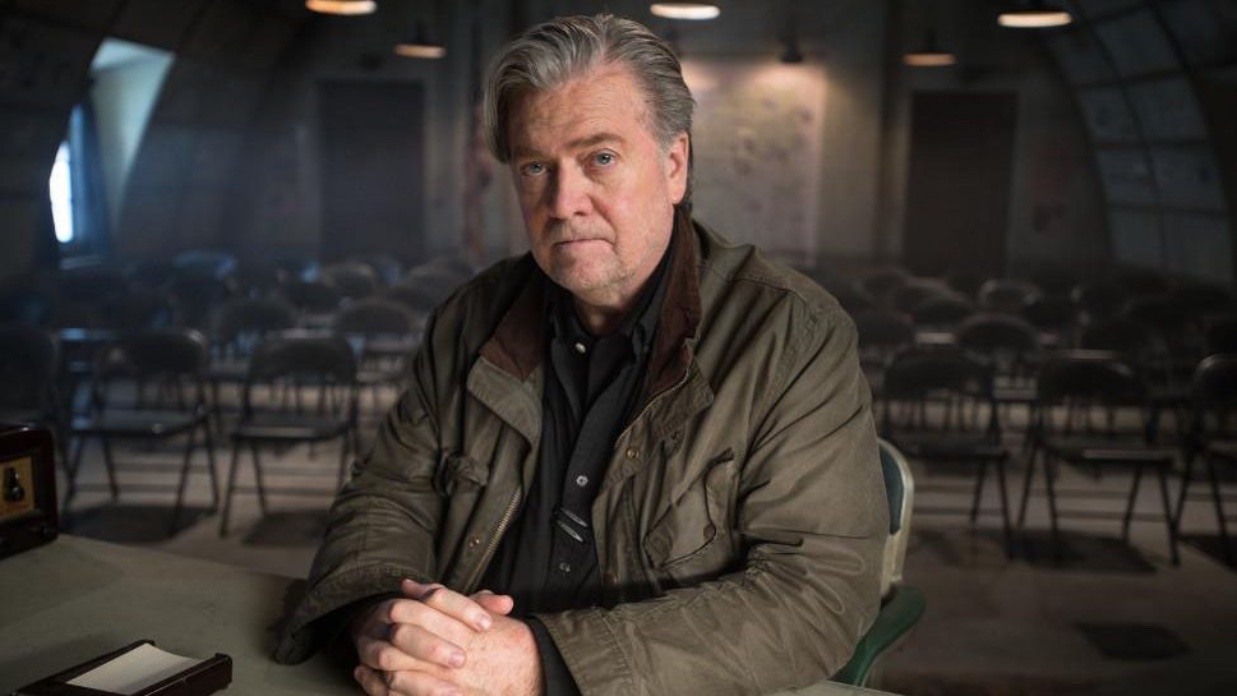 American Dharma
This past fall, the stage was perfectly set for the launch of Errol Morris's latest documentary, American Dharma: An Oscar-winning director takes on Steve Bannon, perhaps the most controversial figure of the Trump Presidency; the film nabs Oscar-season festival premieres at Venice and Toronto; and it's an acquisition title launching during one of the hottest documentary markets in a decade. On Twitter, excited fans declare, "Can't wait!" while the New York Times, Los Angeles Times, Boston Globe, and several other major press outlets all publish interviews with Morris where he sets up the project as a portrait of Bannon's "bullshit," "incoherent" ideology.
Yet despite all the buzz, American Dharma remains without distribution three months after its premiere. After the film was warmly embraced at IDFA in Amsterdam, Morris told me, "Still nothing, although there are a few post-midterm nibbles." While it sounds like a distribution deal will be announced by early next year, with both interest in the U.S. and especially in international markets, what happened to one of the season's most anticipated documentaries?
In many ways, the film's rocky start provides a cautionary tale about the fickle nature of public perception and how a movie's positioning can be altered or corrupted. Given that one of Morris's prevailing themes across his work is how people can interpret and misinterpret events based on their own proclivities — or how "believing is seeing," to quote the title of Morris' 2011 book — let's take a look at some of the fallacies that have dogged American Dharma since its premiere.
1. Is it the third in a trilogy?
Early festival audiences and critics going into American Dharma were quick to associate it with the filmmaker's famous portraits of former Secretaries of Defense Robert S. McNamara (The Fog of War) and Donald Rumsfeld (The Unknown Known). But to call the new film the third in a trilogy of famous conservative policy-maker portraits is off-base and misleading. Unlike those men, Bannon is neither a public servant, nor does he have any experience with global affairs 00 only simulations of it. He's more a caricature of McNamara and Rumsfeld — like the President he served — play-acting the role of a leader. To find more accurate equivalents in Morris's work, you need to go back to 2000's Mr. Death protagonist Fred A. Leuchter, Jr., the unwitting Holocaust denier and designer of execution machines, or the misguided couple in his 1981 film Vernon, Florida, who believe they have a jar of growing sand — in other words, depictions of "the human capacity for self-deception," as Morris told Frank Bruni in the New York Times.
2. Did it get bad reviews?
In the first review out of Venice, Variety film critic Owen Gleiberman lambasted the film for what he perceived as Morris' "softball" approach to Bannon. "What you see in American Dharma isn't investigative filmmaking," Gleiberman wrote. "It's a toothless bromance." For Filmmaker, Vadim Rizov was also negative. But all the other reviews were far kinder: "A perfectly frightening exchange of views" (The Hollywood Reporter); "a suspenseful and upsetting showdown between one man confident of his cause and another mortified by it" (Indiewire). According to Metacritic, which currently gives the film a score of 68, most of the reviews have been "generally favorable," with Vox's Alissa Wilkinson offering the most detailed and passionate defense of the film.
3. Does Morris let Bannon off the hook?
"It's hard to escape the feeling that Errol Morris got played," Gleiberman wrote in one of his review's most stinging lines. Morris has fully acknowledged the risk of the project, but he's far too shrewd to have been "played." Morris is a far subtler filmmaker, and wasn't ever going to make a Bannon hatchet-job. As Morris joked to me recently, "Was it going to make people happier if I hit him with a brick?" The Unknown Known, which faced similar criticisms, is arguably softer on its subject than American Dharma. Both films examine Machiavellian figures speaking in the language of misdirection, obfuscation, and disavowal, which has always been Morris' stock and trade. And yet, it still doesn't take long to see how American Dharma lets Bannon reveal himself to be the destructive farce that he is.
While it's true that Morris lets Bannon speak uninterrupted for most of the film, every time Bannon says something ridiculous, the film presents damning factual evidence—via a disconcerting display of social media pop-ups—to contradict him. Morris doesn't need to verbally argue with Bannon, though he does, even calling him crazy at one point. But Morris has something far more powerful at his disposal: Visual evidence. When Bannon says Neo-Nazis are a "meaningless" facet of his alt-right movement, the film cuts to a harrowing split-screen montage of the Charlottesville "Unity the Right" rally and the car that murdered a woman. In Bannon's Breitbart-ian propaganda war, words are easily manipulated and emptied of significance, anyway, so Morris has employed a more powerful parry.
4. Is the film less sought-after by distributors because it doesn't go after Bannon more bluntly?
Even if Morris hit Bannon with a brick, actually or metaphorically, would American Dharma have become a hotter property? Maybe left-wing activists would have held it up as a rallying cry, but that's never been Morris' core audience. And clashing with Bannon head-on hasn't proven particularly illuminating in the past; it simply allows him to voice his talking points — just watch Bill Maher's recent confrontational interview on Real Time.
So what's the problem? It's not that Morris wasn't severe enough; it's that severity isn't commercial these days. Arthouse spectators — Morris' typical target audience — have strayed away from troubling depictions of our current reality this year. (Haven't they always?) Not only have they flocked to inspirational portraits of Ruth Bader Ginsburg and Fred Rogers, seeking documentaries that provide sanctuaries of hope and catharsis, they've also sought out political satires such as The Death of Stalin and Sorry to Bother You. No one wants a downer when they're already down. Sure, film companies might have been scared off from a film starring Steve Bannon at a time when both the screaming news headlines and water-cooler conversations would have preferred his head on a platter, but there's always been a reluctance among buyers to take on films with unsettling subject matter.
5. Is it any less timely or relevant now?

In the heat of the mid-terms, when Morris originally wanted to see the film released, American Dharma could have provided a lightning rod for debate and potential action. Consider how much ink (including this article) that the film has already engendered. In the fall, Bannon himself was in the news in a big way, from his ouster from the New Yorker Festival to his reported canoodling with far-right leaders in Europe. But what does it mean for the film to exist outside of the inflammatory context in which it first appeared? With calmer heads prevailing, audiences actually may be able to appreciate Morris' skillful mix of moral outrage, apocalyptic imagery, and most of all, his cinephilic inquiry.
Indeed, one of American Dharma's chief pleasures is — and isn't — a political one, at all. Throughout the film, Morris and Bannon are repeatedly debating the meanings of various movies, such as Morris' own The Fog of War, Henry King's Twelve O' Clock High, Orson Welles' Chimes of Midnight, and David Lean's The Bridge over the River Kwai. Outside of the political bluster and rhetoric, the exquisitely interwoven film clips provide some of the most alarming and revealing examples of the way Bannon's screwy mind works — you'll never guess what John Ford's My Darling Clementine means to him — and just how dangerous one's misperceptions can be. As Morris replies to Bannon at one point, "I would never interpret it that way." American Dharma, too, has proven to be its own Rorschach test, and we can look forward to 2019 when film-watchers will finally get the chance to offer their own interpretations.