Back to selection
Mansion on the Hill: Jimmie Fails and Joe Talbot on The Last Black Man in San Francisco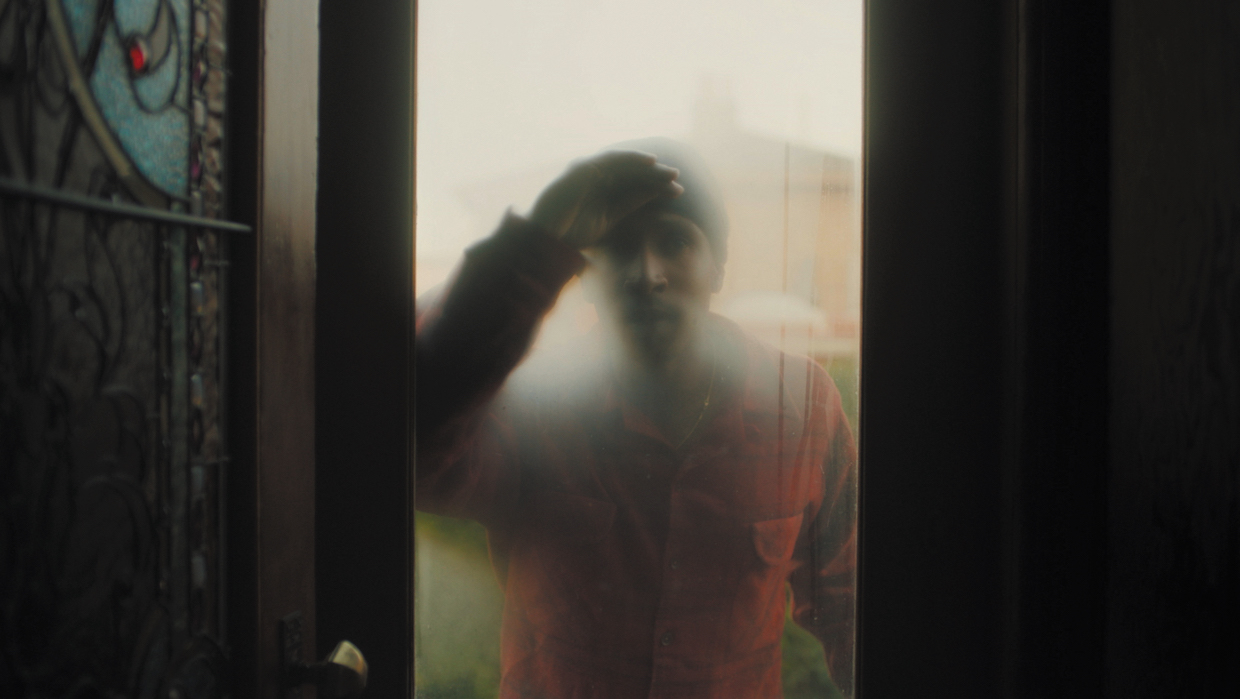 Jimmie Fails in The Last Black Man in San Francisco (courtesy of A24)
Jimmie Fails and Joe Talbot, the creative team behind The Last Black Man in San Francisco, have the kind of backstory that's the stuff of publicists' dreams, a compact anecdote that grounds their feature debut. Both are native San Franciscans and met around age 10: Talbot had gotten into a fistfight, and Fails came onto the street just in time to help. The two became lifelong friends, a relationship that mutates into new form in their film.
Fails (who cowrote the film's story with director Talbot; the script's cowriter is Rob Richert) stars as a version of himself: a lifelong San Franciscan obsessed with his family home, a Victorian mansion said to have been built by his grandfather in the Fillmore area. That's true to Fails's own life, with the house acting as a literal nexus for all his complicated feelings about a city whose gentrification pains—with attendant homelessness, economic disenfranchisement and ever-magnified structural racism—are widely known. In the film, Fails and his best friend Montgomery (Jonathan Majors) are obsessed with this house, which has long since passed from the family's care. When the (white) couple living there gets divorced and moves out, Jimmie and Montgomery see their chance and move in as squatters. 
With DP Adam Newport-Berra, Talbot and Fails travel far and wide throughout San Francisco's many neighborhoods, folding in an impressive cast that mixes new faces with veteran supporting performers. An aggressive visual language incorporating bold zooms and elegantly long dolly shots is supported by Emile Mosseri's equally assertive score, lending grandeur to an assured debut. 
Fails and Talbot's short film American Paradise premiered in 2017 at Sundance, where Last Black Man also premiered earlier this year. In addition to being 25 New Faces of Film selections from 2015, the duo have another connection with the magazine: Early in development, their project was selected for IFP Film Week (now IFP Week), the annual program run by Filmmaker's parent organization. We asked IFP's director of programming, Zach Mandinach, who's been tracking the project's evolution from the beginning, to speak with the pair. The film is in theaters now from A24.
Filmmaker: You guys met in those preteen years, and I think what's so important about the film is the vulnerability of these two characters. Was that a reflection of the early days of your friendship? Was it love and trust at first sight?
Falls: Man, that's a great question. I think it's always been the same and it's just developed over time. We already had that mutual agreement of being vulnerable with each other, being honest, being open.
Talbot: My house was the house where kids were always coming in and out, making music and movies. Jimmie was over with another friend of his; I was there with my girlfriend. We were both in a group home. We ended up talking all night, and Jimmie kept calling his group home. It was a Friday night, and it was getting late. He was like, "I'm staying out a couple hours longer, but I'm inside someone's home having a conversation. I'm not doing drugs, I'm not out drinking." They were really skeptical because what young teenage boys are inside a house just talking late into the night? But that was our initial bond, and it grew over time. We didn't ever articulate the movie as being a reflection of or influenced by that, in part because Montgomery's character is so different from me that it never felt like he was a stand-in anyway.
Jimmie and I often ended up making movies — [it's] one of the ways we bonded. The high school movie we made was this movie that Jimmie and I both starred in—I'm a terrible actor, it was my first and only time in front of the camera. It was based on this thing that happened to me and another friend: We met these girls and went out to the suburbs for a weekend to hang out with them. So, we're pulling from things that happened and fictionalizing other things.
Filmmaker: Were you two ever trepidatious about the scale of the story you're telling? Of course, there's this universal human core, but just from the title alone, it has a bigger ambition. Were you ever afraid of the idea of pulling off this in the way that you had originally envisioned?
Talbot: Constantly.
Fails: That was an everyday battle.
Talbot: Jimmie's story felt epic to me, ever since the first time [he] told it to me, and it continued to feel this way. This man trying to get this home back, this Odyssey-esque journey he takes from the outskirts of the city back to the heart of the city to visit this place and plot and dream—that feels very big. It taps into all of these feelings, and San Francisco is, for the imagination, a perfect backdrop for that, because these Victorians can feel palatial and regal. Ideas of this person who's a deposed prince trying to get the throne back, those kind of themes started to creep in. But, of course, when you're making independent films, you know that that's going to be really difficult to pull off—in terms of budget, schedule and getting the right people to help take that idea into something that can actually be realized. 
A really wonderful team of people came on, like my producer Khaliah [Neal], and a bunch of others who became creative producers, who worked tirelessly for years to do everything. We location scouted for a year-and-a-half in advance, longer than an indie would typically be able to, so [that] we were able to cast the perfect dream house. Because we had this multiheaded monster of a group that was just as dedicated as we were, I think we were able to do things that are typically hard to do, and especially hard to do in San Francisco, which has the unfortunate distinction of being one of the hardest cities in the entire country to film in, for a number of reasons. It's really, really hard to film here. Jimmie has skated portions of his life, so that opens your eyes up to different parts of the city, and Jimmie and I would talk about cuttier, more discrete locations that we liked that we wanted to showcase that weren't in other San Francisco movies that people are more familiar with.
Filmmaker: I was going to ask about Julia Kim, the casting director. You have people like Danny Glover, Rob Morgan, Mike Epps, but then you have Jimmie and Jonathan Majors, and other people who are probably discoveries for a lot of people. What was the process of putting together this group? 
Talbot: Julia was someone I met through Christina Oh, one of our producers at Plan B. It's an interesting movie to try to cast for. Someone like Danny Glover is one of our San Franciscan icons. He's from the Fillmore, he lived in Hunters Point when he was a kid; he was someone that we always had our eyes on, and he fits into the world even though he's more recognizable. But there were a lot of conversations, outside of people like him who are bigger but have a real tie to San Francisco, about who fills out the rest of this world. Julia, for instance, was the first person to turn me on to Rob Morgan, who's incredible. She really pushed for him. She understood the personalities that were needed for this movie. It was ambitious, it was really personal, Jimmie was being really brave to be so vulnerable—people needed to match that. Even though he's not from San Francisco, [Rob] really took it upon himself to try to understand the city, which is obviously very important to the movie. 
Falls: Yeah, he came on and did extensive research, which speaks to his artistry and his process, but also his humility. He's been in big movies already, and he comes in and treats this like something. That made me feel very comfortable. This is my first movie, so for him to be like that was big for me.
Talbot: Tichina [Arnold], it's a funny thing. In real life, she has that thick accent. She's from New York, but you hear that accent sometimes in San Francisco. I don't know if it's an old Giants connection coming out west or what it is exactly—there's something weird, where some people do sound almost New Yorkish in San Francisco, that me and Jimmie grew up with. Beyond being someone we all grew up watching, she was so loving and came to set and was so fucking humble. She had this loveliness that didn't end when the cameras stopped rolling. Danny, too. Danny felt like that character in a way. He was so sweet and encouraging. Directing these people I look up to [was] really touching. They didn't have to be that way. They still could've come in and delivered great performances, but in doing that they made all of us for whom this is our first thing feel really comfortable. 
Rob [Richert], my coproducer, helped us look a lot locally. In San Francisco, we also had this woman Nina Henninger who does a lot of local casting. Some of the Greek chorus [a group of locals Monty and Jimmie have a rocky relationship with] were guys that either Jimmie or I knew. Rob was looking for kids for the rock fight scene, and we went to this afterschool program called United Playaz that employs entirely formerly incarcerated [people] here in San Francisco. As we were having these kids throw folded-up paper at Jimmie to practice for the rock fight, this guy came in who was a counselor there, Jamal Trulove. He auditioned on the spot. He was really curious about what we were doing. He hadn't acted before; he was amazing and ended up playing Kofi [one of the chorus's most prominent voices]. He told us this whole story about how he had gone to jail for a murder he didn't commit and was released after six-and-a-half years. It was this big local story that was starting to get national attention while he was working at this afterschool program. We cast him, and a few days before we shot, he won $10 million from the SFPD for wrongful conviction and used some of that money to fly out his whole group of the guys who were with him in the film to Sundance so they could experience that as well. There are people like him, who are these mini-heroes of the production, [who] went above and beyond.
Filmmaker: Jimmie, could you talk about your working relationship with Jonathan? That relationship is so central to the film. It felt very lived-in, but I'm not sure if it was like "Let's meet on the first day" or if you guys did an extensive rehearsal period.
Falls: I mean, I think that speaks to his acting, because we both hate each other, but we were able to…nah, I'm joking. Me and Jonathan, that's like my brother, man. It was super easy. He came on and it was almost like the same sort of thing when I met Joe—how have we not known each other longer? Why does it feel like we're so close already, or we can be that open with each other? It's amazing. Joe and Jonathan are the only two people in my life that have that sort of dynamic. It was weird to meet that type of person so briefly and for it happen so fast. He taught me a lot. He's like my idol, man.
Filmmaker: You and Jimmie are such authorities on the look and feel of the city. What were the conversations like with cinematographer Adam Newport-Berra?
Talbot: Adam's incredible. He had the exterior of a drill sergeant, but beneath that he's like a Portland hippie who wants to be in the forest and wear flowers in his hair. He doesn't actually have any hair, but if he did, he'd have flowers in it. He came on very late because I had another cinematographer [who] was going to do it. I had been talking to him for such a long time and developing this language for him. [It was the guy] who shoots Aki Kaurismäki's movies, Timo Salminen, who I couldn't believe I was having conversations with—I've grown up watching his stuff. Timo couldn't get a visa because Trump. You know, Finnish. 
As much as I respect Timo, I now can't imagine it in anyone else's hands other than Adam's. Adam came on with 10 official days of prep. He hustles like crazy: He's done a lot of work in the commercial field, he's done features, he's really efficient and clever. He was one of the more experienced people on our crew, even being a younger guy, and every off hour of the movie he was still working—trying to help with the schedule, trying to help us make these crazy days that we had set out for ourselves. I looked to Adam in some ways similar to how Jimmie looked to Mont, as a really close ally and compatriot but also someone I looked up to. What was cool about both those guys was that they knew they didn't know San Francisco, and even though they had this story that Jimmie and I had been living with, they both wanted to honor that, too. That's part of why they hustled so hard. Adam was stressed at one point in pre-production, and I turned to him and was like, "What's going on, man?" He softened immediately and was like, "I really want to get this right because I know how long you guys have been living with this."
Filmmaker: One of the other carryovers from the short, American Paradise, was your production designer, Jona Tochet. Is that someone who's also Bay Area based that you've known for a while?
Talbot: She's part of our funky ragtag crew of locals that we met on American Paradise, and she's also done all this beautiful work that I was inspired by. Frankly, there aren't a lot of great local production designers in the Bay. A lot of people leave and go to LA. When they do movies, they fly in people here, or [they hire crew who've] mostly worked in commercials. Jona was this creative spirit who had done a lot of commercial work, but was really hankering to get back to the narrative space. We did American Paradise, and she was doing a commercial at the same time or something fucking crazy like that, going back and forth between sets. She has this great group of people that she works with, who I feel like are some of the last artists in San Francisco.
Jona and I talked a lot about this movie going back to American Paradise and how important the house was. She stretched her budget in crazy ways. Obviously, the house has to feel like this thing that you fall in love with as an audience to understand why Jimmie loves it so much, but also [we had to make] sure that nothing suffered in every other location. Jimmie's dad's place is in the SRO, which obviously doesn't have the same magic as Jimmie's house but had to feel like it was part of the same film.
She had a baby a week out from production. She didn't show until eight months, and she told us, "Hey, I'm gonna have a baby." We were like, "Jona, what the fuck? Congratulations, this is amazing, but also you shouldn't work right now. What are you doing?" Her water broke on our scout of Jimmie's aunt's house in the movie. She was in the hospital, had the baby and came back to set two or three weeks later, just running from the hospital. 
Filmmaker: I wanted to ask you about the music—your work with Emile Mosseri and choosing to have that cover of "San Francisco (Be Sure to Wear Flowers in Your Hair)".
Talbot: I grew up on a lot of old San Francisco music. My parents were here during that Golden Age of San Francisco music in the 1960s. I have inherited this nostalgia for a time I didn't live through, but also that music changes as the city changes. I wanted to take that music I had such a romantic association with and reimagine it in the voice of a new, darker San Francisco. It's funny: I love Harold and Maude, which I'm embarrassed to say I hadn't seen at all growing up. When we were at IFP for Film Week, [Cinereach head of grants] Leah Giblin was saying, "You really ought to watch Harold and Maude. I think you'd like it." I watched it, and it felt like this religious experience because it tapped into so much of that stuff for me—Cat Stevens' music and this optimism in the Bay Area that got really dark by the early '70s. 
So, I knew I wanted to use that music, but I also loved big Hollywood scores. It was something that I had been thinking about from the beginning because I grew up on a lot of old Hollywood films that had those big, over-the-top operatic scores. I was really nervous because I write a little bit, but I knew I couldn't realize that. I was trying to figure out how to do it with this limited budget that we were gonna have. I was thinking, "God, do I have to find someone like a Danny Elfman or Carter Burwell, these heroes of mine [who] made me want to make movies as much as any director, [who] will take some big risk on this movie and do it for nothing?" I started to realize the likelihood was that even if I somehow miraculously got someone like that interested, which was going to be hard because our schedule was so crazy to begin with, that we didn't have a full movie to show them—it was bits and pieces, and convincing someone like that to do a movie like this was gonna be rough. But even so, they'd probably do one or two rounds of revisions at best, and I wouldn't be able to get my grubby little hands on the music in the way that I wanted to and really work with someone and collaborate with someone on it the way that Jimmie and I did on the story, the way Adam and I did on the cinematography.
Emile had just moved to LA and had literally got an agent the day before he was sent our movie. The first thing his agent sent him was like, "Hey, why don't you try scoring the opening scene of this movie?" It blew me away because it had those shades of old Hollywood. It was big. It was bold. His instrumentation was cool and felt strange, using more woodwinds—that was something he did off the bat—and bassoons and English horns, which was something I really like for this feeling of regality. Part of the reason why I hoped it would work is, again, that classic feeling of Jimmie's story, trying to reclaim the family throne, wanting trombones and brass and all that. 
I feel like, sometimes, great movies live and die with a good or bad score—if the chord goes in the wrong direction, I am pulled out of it emotionally. Emile was really sensitive to that. He let me in the room, he let me sing some melodies I had in my head, some of them end up woven into the themes he wrote for the movie. He was incredibly confident for a first-time feature composer to allow me in there and trust I had good ideas, while also rejecting some really respectfully. He went as far as sometimes 15 revisions in to get it exactly right—because I also like editing to music, and some of those sequences I re-edited to his music once we had it because I wanted it to feel very synthesized. It became this weird, encouraging thing to get this music that felt so viscerally exciting […]. It pushed me to go even deeper in the edit sometimes because I just loved the way it sounded and the feeling that it had when I paired it with the images. He's a person like Adam, Jimmie and Jonathan, too, that I hope are lifelong collaborators. I pinch myself sometimes thinking about meeting all these guys and how nice it was that it worked out in the way it did.