Back to selection
Hits & Misses 2019: Surveying the Success of the Sundance Film Festival's Theatrical Releases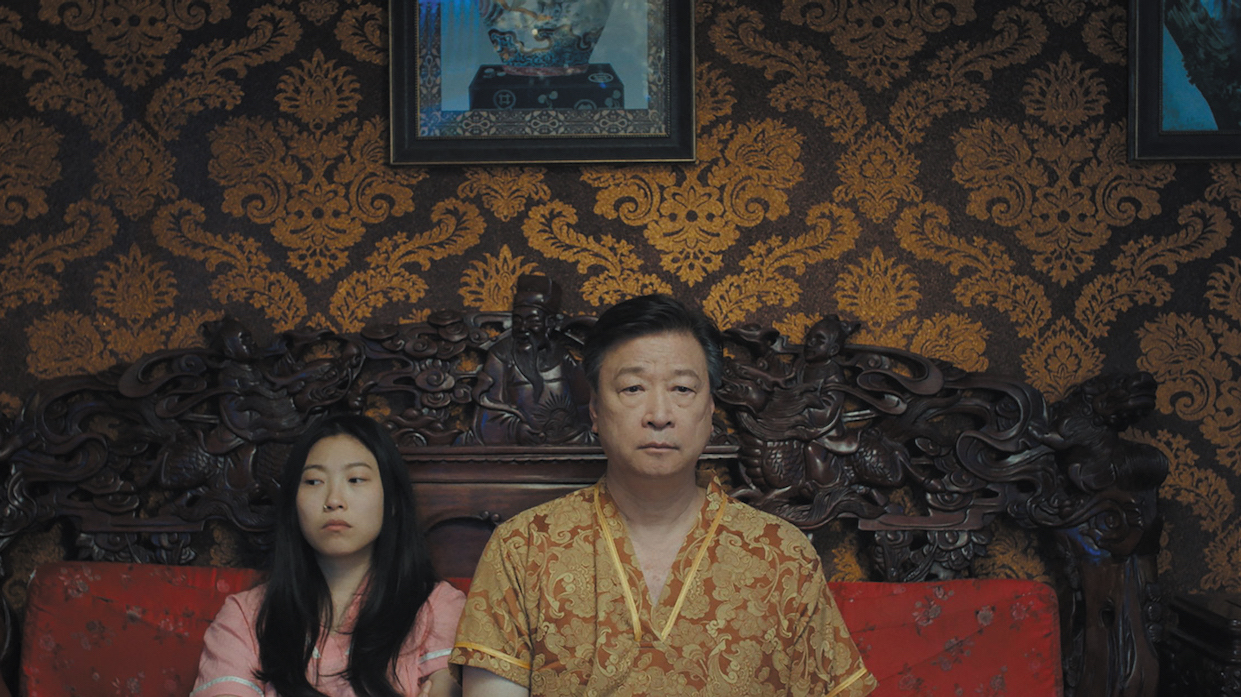 Awkwafina and Tzi Ma in The Farewell (courtesy of A24)
The times, they keep a-changin'.
In its immediate aftermath, the story out of Sundance 2019 was its bounteous acquisition market and record-setting sales numbers—from New Line's $15 million purchase of Blinded by the Light to Amazon Studios' $27 million splurge on Late Night and Brittany Runs a Marathon. By the summer, a different narrative began to emerge. While these top acquisition titles earned millions of dollars at the box office, they all still under-performed in theatrical release. Then, Amazon Studios' veteran head of theatrical distribution Bob Berney left the company, a departure that potentially signaled shifting priorities at what had been the festival's biggest buyer. 
Indeed, it's more challenging than ever to accurately take stock of the current indie marketplace, when no one knows Amazon and Netflix's data points regarding their number of eyeballs or total new users. Amazon Studios' new president, Jennifer Salke, has maintained that Late Night was a success for the company. Similarly, Netflix's $10 million Sundance purchase of the Alexandria Ocasio-Cortez indie doc Knock Down the House could be an example of capitalistic overreach, or it may have shown shrewd foresight of the film's worth. We won't really know until Sundance 2020—when the streamers either recalibrate or double down on their exorbitant offers. "It's not the new normal that films are going to sell at the same level," says Jason Ishikawa of Cinetic Media, which repped the AOC doc. "But these companies have massive acquisition budgets, so for a film that hits that zeitgeist, anything is possible."
But if we go back to conventional metrics, there have been only two Sundance 2019 runaway hits: Lulu Wang's The Farewell ($18 million in U.S. ticket sales) and NEON's documentary release Apollo 11 ($9 million plus). A24's release of Joe Talbot's The Last Black Man in San Francisco ($4.5 million) could also be considered a moderate success.
The other features in Sundance's Dramatic Competition—my usual barometer for the state of the indie film market—fall into four categories, none of which are particularly inspiring: distributor disappointments (Brittany Runs a Marathon, which made just over $7 million even after going out to more than 1,000 screens; NEON's Luce, which earned just over $2 million); negligible releases, earning less than $200,000 theatrically (1091's Them That Follow and Before You Know It, IFC's The Sound of Silence, and Oscilloscope's Ms. Purple); the un-acquired (Imaginary Order); and a raft of titles that were not theatrically released (such as HBO titles Native Son and Share) or have not yet been released as of writing (Big Time Adolescence, Clemency, Hala and Honey Boy). If any of these films break out, it could change the final outcomes of Sundance 2019. But sales agents and distributors are wondering whether the past year marks yet another readjustment, as the industry continues to adapt to the new media and cultural landscape. 
Cinetic's Ishikawa suggests streaming models may be indie's best foot forward, where "the emphasis is not about theatrical success, which is super dicey, but helping the career longevity of those filmmakers."
Neal Block, Magnolia Pictures' head of distribution and marketing, admits 2019 was "a tough year for the theatrical marketplace. Potential audiences are flooded with pretty bad news all day, and it's harder and harder to get them to pay to see a film that isn't sold to them as uplifting or as a piece of entertainment." Block adds, "But I think we, as an industry, are emerging from this downswing as we enter the end of the year."
NEON CEO Tom Quinn agrees that there are shifts, but not necessarily for the bad. "I don't think a lot of those films underperformed," he says. "I think the expectations were too high." While Quinn acknowledges that neither specific stars nor types of films may offer certain guarantees or blanket approaches anymore, "the good news is there are multiple films in the marketplace that disprove the old school approach to comps and values," he adds, referring to The Farewell or NEON's fall release of Parasite.
For examples of what's possible and what's not, consider these case studies from a smattering of Sundance 2019 titles, of different sizes and types, and how they fared in the uncertain commercial world outside Park City, Utah.
The Farewell
Budget: less than $5 million 
Domestic gross: $17.7 million  
Opening per-screen average July 12: $88,916 average (4 theaters) 
Widest release: 891 theaters
Total theatrical: 118+ days 
How it got made: When company reps at Big Beach and Depth of Field heard Lulu Wang's story on the podcast This American Life in 2016, they reached out to develop the script with her. Anita Gou's Kindred Spirit came on board to co-finance and produce the project in late-stage development. Through Gou, they brought on Jane Zheng's company Seesaw in China to facilitate the shoot. "A lot of the main production challengeshad to do with how to pull off a successful shoot in China, dealing with all the required bureaucratic procedures and managing cultural differences between crews," says Gou. "We also didn't have the luxury of time, as we were going into production in late June 2018 and working towardSundance 2019." After the film's rousing Sundance premiere, A24 acquired worldwide rights for a reported $6-7 million. In an interview with Vulture, Wang revealed a "streaming company" offered her "more than double."
How it got released: Before opening the film, A24 screened it extensively with Wang in attendance to build word-of-mouth, securing prime slots at festivals around the country. The film opened in four theaters on July 12, yielding at the time the best limited opening of the year. A24 leaned heavily into the "heart and humor" of the film—perfectly encapsulated by a special screening at New York's Metrograph theater, followed by an authentic mock Chinese wedding in nearby Chinatown. On August 9, the film hits 704 theaters, earning a fair $2,979 per-screen and well-positioned to be a crowd-pleasing counter-programmed summer indie success.
How it really did: In addition to strong box office numbers, international sales are also robust. In Australia alone, the film grossed $1.4 million. Digital releases began on October 29, 2019, and the film debuted at no. 3 on iTunes' Independent Movies chart. "The film's success," says Gou, "has proven that it is important and worthwhile to support new filmmakers with diverse points of view. You can feel change happening within the industry—in the projects that are getting green-lit and in what buyers are open to or looking for now." 
Apollo 11
Budget: Under $600,000
Domestic gross: $9,039,891
Opening per-screen average March 1: $13,392 average (120 IMAX theaters) 
Widest release: 588 theaters
Total theatrical: 143 days 
How it got made: Filmmaker Todd Douglas Miller was approached in 2016 to make a film for the fiftieth anniversary of the Apollo 11 landing for CNN Films, with whom he had already made Dinosaur 13 and a short doc, The Last Steps, about the Apollo 17 mission. With The Last Steps as "proof of concept" for something less typical—no talking heads—and more experiential, Miller moved forward with his archival-only-driven approach, thanks in large part to the discovery of NASA's never-before-seen 70mm footage and more than 11,000 hours of uncatalogued audio recordings. NASA provided the footage for free, but CNN Films had to pay for digitizing the footage, which took at least three months in round-the-clock work. Sales company Submarine took a 20-minute sample reel to buyers at Cannes 2018, where NEON acquired worldwide theatrical rights.
How it got released: NEON sets a March 1 launch date, exclusively available for its first week on 120 IMAX screens; the first Sundance premiere to receive an aggressive theatrical release. With stellar reviews (New York Times' Critics Pick, "entirely awe-inspiring") and the timeliness of the event's fiftieth anniversary, the film earns a stunning $1.65 million. In its second week, NEON expands to a total of 405 theaters (garnering a solid $4,530 per-screen average). "My favorite anecdote," says NEON CEO Tom Quinn, "is reading on Twitter that a father took his son to the movie, and the wonder on his boy's face reminded him of when his father brought him to see Star Wars—but this was real." The film appealed across different audiences and demographics with its triumphant experience and "bittersweet look back at what was possible," says Quinn. "I've seen it eight times—and I can't remember the last time I felt this patriotic." The company re-released the documentary in more than 100 theaters on July 20, the historic day of the moon landing—but the event boosted sales by only another $82,059.
How it really did: In addition to grossing more than $9 million in the United States, the film was the highest-grossing doc of the year around the world, reaching an apex of $16 million in global sales—boosted by another $1 million in the UK. According to NEON, digital distribution was also strong, in line with the theatrical box office. Because of the success of the film, NEON will relaunch a limited theatrical release again in December. For NEON and CNN Films (which worked together on Three Identical Strangers), the film offers more proof that bold documentaries have a place in the wider commercial marketplace. CNN Films senior vice president Courtney Sexton says the success won't necessarily give the company a mandate to create more than about five documentaries annually—there's only so much time in the news cycle to devote to docs, and less so in an election year—but, she says, "It's given the powers that be the confidence to give us a long leash to push the envelope creatively in the documentary form."
The Last Black Man in San Francisco
Budget: Low seven-figures
Domestic gross: $4,515,719
Opening per-screen average June 7: $33,610 average (7 theaters) 
Widest release: 207 theaters
Total theatrical: 77 days 
How it got made: Six years ago, filmmaker Joe Talbot, Jimmie Fails and a family of first-time filmmakers "banded together," recalls Talbot, "sometimes working out of my parents' house" to develop the project. In the summer of 2015, they shot a trailer to raise awareness and money through a Kickstarter campaign, which garnered a little over $75,000, much more than expected. Talbot's short film, American Paradise, which featured characters from The Last Black Man in San Francisco, got into Sundance 2017 and drew the attention of Christina Oh at Plan B Entertainment. The company agreed to develop the feature. A24 stepped in to fully finance in 2018. "Despite the support of two industry titans, the ambitiousness of vision pushed us to the brink in production," says Talbot, citing an unusually high number of speaking roles, an obsessive attention to aesthetic detail and plenty of stunts. At Sundance, the film received a range of reviews—some gushing, some mixed—but Talbot ultimately won two awards, for Best Director and a Special Jury Prize for Creative Collaboration.
How it got released: In the run-up to the early June release, A24 pushed such elements as a visually enticing and quirky trailer, which also emphasized the critical plaudits and the film's title; both go far in promoting the film, according to the company. The distributor also aggressively pushed special screenings across the country, from San Francisco, of course—with premieres at The Castro and in Oakland—to the National Museum of African American History and Culture in Washington, D.C. and BAMcinématek in New York. "There were some incredible advocates that used their power to help get our film out there," says Talbot. "People like Lena Waithe, who bought out multiple theaters so folks who couldn't shell out $13 could see the movie." By its fourth week in release, A24 expanded the film to 155 theaters (which generated its biggest weekend gross, for an adequate but not amazing $446,994 haul). On August 13, 2019, the film went out digitally.
How it really did: For a film with no stars and a quirky title, the film's more than $4 million gross is an accomplishment. According to A24, the film is doing well in digital release, popping up on the iTunes Independent Movie Charts at no. 9 during the week of September 8, and meeting company expectations. After his film's debut success, Talbot has reportedly been receiving offers for bigger projects, but he remains intensely focused on his community. He's developing a new film with many of the same key collaborators, and he's begun mentoring young filmmakers in San Francisco. "Our first group of mentees," he says, "a close-knit group of public school high schoolers who interned for us on LMBSF and who cite the film as inspiring their desire to make movies, just finished their frighteningly good second short film."
Luce
Budget: About seven figures
Domestic gross: $2,010,613
Opening per-screen average August 2: $26,597 average (5 theaters) 
Widest release: 235 theaters
Total theatrical: 56 days 
How it got made: Filmmaker Julius Onah (The Cloverfield Paradox) saw the J.C. Lee stage play in 2013 and decided to make it into a movie. CAA, which reps Onah, began to package the film, with Octavia Spencer as the first to come onboard the project. CAA clients Naomi Watts and Tim Roth followed suit. Meanwhile, producer and graphic artist Rob Feng was looking for projects for a new fund backed by Beijing-headquartered film company Dream Factory Group. Feng and Dream Factory signed on to produce Luce, which Onah shot on 35mm film. International sales company Bloom (now integrated into Endeavor Content) started selling international sales to non-English territories off a promo. At Sundance, where reviews ranged from strong ("smart provocative cinema") to middling ("a missed opportunity"), Focus Features acquired rights to the rest of the world, while NEON joined forces with Topic Studios to acquire U.S. rights. According to Feng, the total minimum guarantees for international sales ended up being more than the domestic sale.
How it got released: Buoyed by its A-list actors Spencer, Watts, Roth and rising star Kelvin Harrison Jr., who supported the release with interviews in major news outlets, the film started out strong in its opening weekend. But NEON's expansions in its third and subsequent weekends failed to catch fire. On October 29, the film entered into digital distribution with some strength, however, skyrocketing to no. 6 on iTunes for overall downloads, just above The Angry Birds Movie 2, and landing on the no. 1 spot atop Apple's Independent Movies chart.
How it really did: "It hit just below our targets," admits Tom Quinn, who blames the film's lower than expected box-office numbers on the current events at the time of the theatrical release—the film opened the same weekend as the mass shootings that took place in El Paso, Texas, and Dayton, Ohio. "We felt so beaten down," he says, "and people were retreating from everything." The film is more likely to recoup in digital release as a "smart arthouse thriller" during a different news cycle, says Quinn. For producer Rob Feng, the experience offered further evidence that "we're in a transition period right now where the whole landscape is changing." But even so, he's looking to get back into business with Onah again soon.
Hail Satan?
Budget: $1.2 million
Domestic gross: $424,284
Opening per-screen average April 19: $8,832 average (3 theaters) 
Widest release: 67 theaters
Total theatrical: 72 days 
How it got made: Initially, development was funded over the course of about a year with grants from Catapult, Sundance, Cinereach, Rooftop Films, Chicken & Egg and Colgate University. During production of the film, distributor Magnolia Pictures boarded to fully finance the film in exchange for a worldwide rights deal. "As soon as [director Penny Lane] said, 'Satanic Temple,'" says Magnolia Pictures' Neal Block, "we were hooked."
How it got released: Just a few months after its Sundance premiere, Magnolia mounted a steady platform release, relying on positive buzz from audiences and clever key art and a trailer that effectively messages the irreverence of the film. Magnolia also leaned into "the awesomeness of the Satanic Temple's official merch" for giveaways and contests, according to Block. "We also had an online photo booth set up at big screenings and during opening weekend. We learned that audiences really like posing with Baphomet." The film performed decently, but overperformed in Omaha ("Nebraskans love Satan!" suggests Block) and played in more places than the distributor had originally planned. 
How it really did: The box office numbers didn't crack a half-million, but digital and other ancillary revenue slightly exceeded theatrical sales, according to Magnolia. When it debuted on digital platforms on July 23, it landed at no. 5 on iTunes Independent Movie Chart, right below Tolkien. The film was also available on Hulu. International sales numbers in the U.K. and Australia were mostly negligible, but the film remains documentary auteur Penny Lane's most widely seen movie. For Lane, "It's been a great release, and I have been extremely satisfied with the response," she says. And for The Satanic Temple, she adds, they're "getting more attention than ever and are having to work overtime to manage this new wave of abuse and/or interest in signing up."
One Child Nation
Budget: less than $1 million
Domestic gross: $270,128
Opening per-screen average August 9: $10,262 average (2 theaters) 
Widest release: 36 theaters
Total theatrical: 42 days 
How it got made: With documentary veteran producer Julie Goldman from Motto Pictures on board the project, Nanfu Wang financed the film through a combination of grants, broadcast licensing, and investment from Chicken & Egg, Sundance, IDA, Fork Films, Chicago Media Project, ITVS and international broadcasters WDR/ARTE, BBC, DR, SVT, YLE and IKON. At Sundance, on the eve of the film's Grand Jury Prize, Amazon acquired worldwide rights. "We're very happy that the film could reach audiences on multi-platforms, from theaters to TV and the internet," says Wang. 
How it got released: Amazon's P&A campaign remained modest, with the company more focused on festivals, awareness-raising and awards than box office. After pushing for press and garnering great reviews and placement in the New York Times, for example—five weeks after release, Amazon ended the theatrical run and began planning for its Amazon Prime launch in the United States on November 8. Meanwhile, international Amazon partners were rolling out the film globally, while foreign broadcasters were premiering it this fall. The film is also set for U.S. broadcast on Independent Lens in March 2020. "It feels quite early in the launch and the life of the film," says producer Julie Goldman. "Amazon is mounting a sizable awards campaign to establish the film's reputation, and it's becoming part of the conversation around reproductive rights and women's control of their health and bodies."
How it really did: "We never thought this was going to be a big box-office film," says Goldman, "but it was about getting the reviews and articles written about it." As the accolades are beginning to roll out—the International Documentary Association, Cinema Eye, and Gothams have all nominated the film—Wang remains modest about her future options. "I believe One Child Nation would help funders feel more confident in me as a filmmaker when they consider my next project, but they still evaluate every project on its own merits and flaws," she says. "A career is slowly built, one film at a time. Each new project has its own set of challenges, creatively and financially."
Give Me Liberty
Budget: less than $500,000
Domestic gross: $222,000+
Opening per-screen average August 23: $11,087 (3 theaters) 
Widest release: 18 theaters
Total theatrical: 73 days+
How it got made: Director Kirill Mikhanovsky and writer-producer Alice Austen financed the project with private equity and a grant from Milwaukee Film's Brico Forward Fund, where the movie is set, and raised additional funding while they were shooting. They received additional local support from the Wisconsin African American Women's Center, Catherine and Jim Donnelly, Eric Wagner and the Lowlands Group, David Stamm, BrightStar Wisconsin, Greg Marcus and the Marcus Group, Dave Sobelman and Moshe Katz. Through CAA, the film's U.S. sales agent, they were introduced to foreign sales company Wild Bunch, which saw an early cut of the film in Paris during post-production. After Sundance, Music Box Films began to chase the film, finally closing a deal with an advance and distribution commitment after Cannes.
How it got released: Music Box Films relied on rave reviews from top outlets (New York Times, Los Angeles Times) to build awareness, along with festival slots at Cannes and the Centerpiece selection of BAMcinémaFest. Model and influencerLauren "Lolo" Spencer was a spokesperson for the film's virtues and casting ofactors with disabilities, while Music Box positioned the film as a timely snapshot of America in which diverse communities and empathy for one's neighbors are things to be celebrated as a source of the country's strength. They targeted distinct audiences: cinephiles, who had read the reviews; the Jewish community; people with disabilities and partners like the Ruderman Foundation and Easterseals to spread the word. Despite being told by one prominent exhibitor that the film was "unreleasable," they did four weeks in New York and three in Los Angeles, but the best run was, of course, in Milwaukee. In Chicago, a strong run at the Music Box's own theatre prompted return engagements at other local theaters (more than 80 engagements in all, including traditional venues, cinematheques, film clubs, and shows at two Jewish community centers). "It tended to perform best at independent venues that could boast in-house publicity operations and dedicated and loyal audience members," according to Music Box. "It's a special film, and in situations where established tastemakers and local programmers could step up to support it, the audience followed suit." The digital release is set for January 14, 2020.
How it really did: "There are no algorithms to run on a film with an unknown young black woman in a wheelchair as lead actress," admits Austen, who says she is "pleased to have gotten the film to audiences around the country." In addition to international sales and distribution across several territories—Wild Bunch's French release earned more than $314,000—other positive outcomes included recognition for Lolo Spencer and co-star Chris Galust, who was nominated for a Gotham Breakthrough Award and signed with an agent; and Austen and Mikhanovsky are moving forward with their next project.