Back to selection
The Music Inside: Siân Heder on Her Oscar-Winning CODA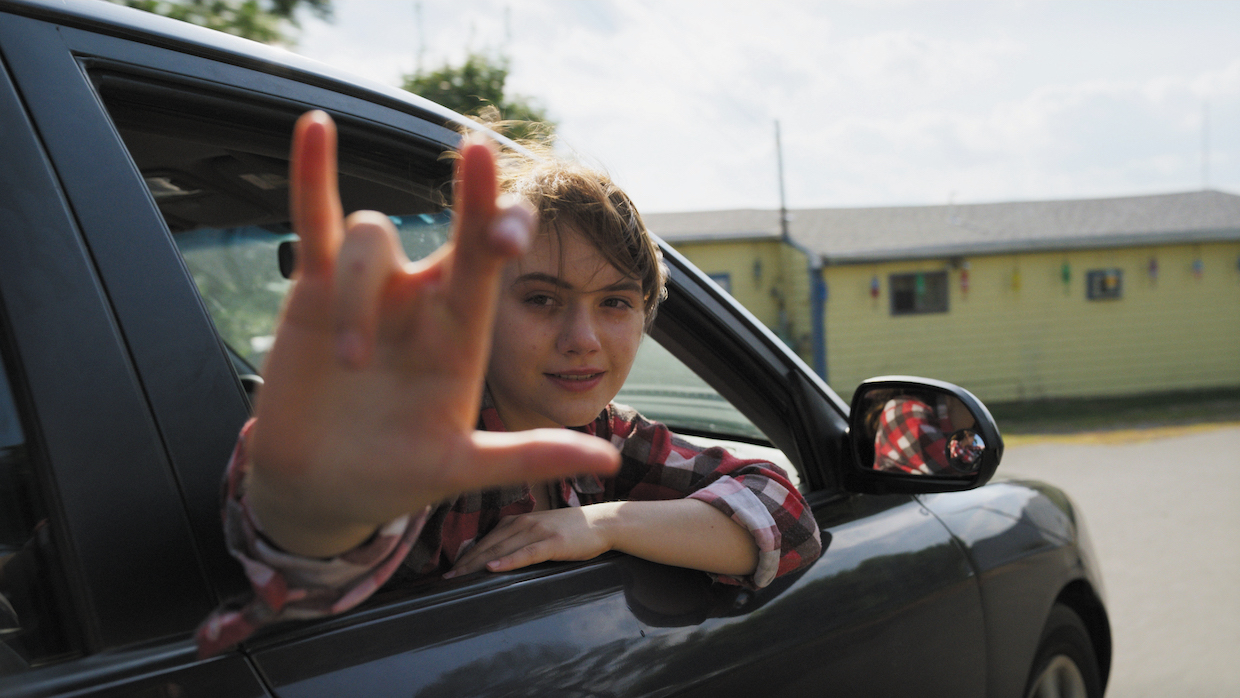 Emilia Jones in CODA (courtesy of Apple+)
Filmmaker's interview with Coda director Siân Heder originally appeared in our Summer, 2021 print edition, and is being reposted today following the film's winning Best Picture, Best Supporting Actor and Best Adapted Screenplay at the 2022 Academy Awards. — Editor
Ruby Rossi (Emilia Jones) belongs to a family whose business is selling their ground-fishing catch off the coastal city of Gloucester, Massachusetts. Her father Frank (Troy Kotsur), mother Jackie (Marlee Matlin) and brother Leo (Daniel Durant) all rely on the 17-year-old high school student to help negotiate the daily pricing of their catch so that the family isn't taken advantage of by local cheapskate buyers. Ruby takes it upon herself to look after and stoically stand up for her family, and she does this, at least in part, because of her identity as a child of deaf adults (CODA).
As the only hearing member of this four-person nuclear family, Ruby lives constantly in two different worlds—one in which she signs to communicate and relay the hearing world to her parents, one in which she's a senior at the local high school with a crush on Miles (Ferdia Walsh-Peelo), a nice young lad who just signed up for choir (so she will, too). That Ruby turns out to be an excellent singer is an unexpected surprise, even for her, and her choir teacher, Mr. V (Eugenio Derbez), encourages her to apply to the Berklee College of Music in Boston. But what if she gets accepted? Can she leave her family behind? How will that affect their already struggling business? Is Ruby destined for a life beyond the fishing community of Gloucester, and, if so, does her acknowledgment of that make her a bad daughter?
Siân Heder's CODA is rife with questions of the importance of familial bonds and their often constricting nature. Even so, this is not a film in which easy answers are given. It's also not a story that's as dire as you might expect. Based on La famille Bélier, a 2014 French comedy by director Éric Lartigau, CODA is often lighthearted and genuinely funny, the humorous moments accentuated by the comic timing of Kotsur, Matlin and Durant, its three deaf cast members. It's also a film that loves popular music, and there are a few hit songs from decades past in upbeat, foot-thumping, climatic moments.
Premiering at the all-virtual 2021 Sundance Film Festival, Siân Heder's film cleaned up at the festival's awards ceremony, winning the Audience Award, the Directing Award, Special Jury Award for Ensemble Cast and the U.S. Grand Jury Prize for Dramatic Competition. Soon after its world premiere, the film sold to Apple for a Sundance record–setting $25 million. The film will premiere simultaneously in theaters and on Apple TV+ on August 13th.
Speaking with me via Zoom while enjoying a summer stay in Gloucester, Heder discussed the origins of the project, learning ASL so that she could communicate with her actors as best she could, and the unique situation a film like this presents when it comes to directing performances.
Filmmaker: CODA is your second feature, and I believe your first, Tallulah, took eight years to get made.
Heder: Nine years!
Filmmaker: Nine! Well, that film's journey to the screen was longer and quite different than the one CODA experienced. I know Sundance (both the Institute and Film Festival) has a relationship with both of your features, but perhaps in different ways. What was the experience like getting Tallulah to Sundance, and how did that lead to you being approached for CODA?
Heder: Tallulah took a really long time. When you're starting out as a filmmaker, the thing that's hardest is that you're essentially the liability of your own movie. For example, there was a lot of interest in the screenplay for Tallulah, but as a director, I was totally unproven, as I hadn't made a feature before. It wasn't going to be a super expensive movie to make, but it can't be classified as cheap, either. The act of getting someone to hand you a couple of million dollars to go make your movie is not an easy task, especially when you don't have a proven track record as a director. I remember getting offers for other directors to make the movie for me instead, and that's when I realized that I would have to use my script as collateral if I were ever going to be allowed to direct. I felt like I was totally crazy, dragging around this dead movie year after year. There was always some interest, though, and it was always getting set up with different actors at different financiers, and that's what kept me pushing along.
I think the great thing that happened was that, while I was trying to get that first feature off the ground, I built a career for myself in television, writing on Men of a Certain Age and then Orange Is the New Black for multiple seasons. That experience provided me with a kind of production bootcamp. I was producing episodes [that I had written] and was on set, shadowing other directors to observe how they worked. By the time I finally got to make Tallulah, I had acquired a lot of production experience for a first-time filmmaker and was able to pull stuff off that maybe I wouldn't have been able to had I made the film eight years prior.
I remember applying to the Sundance Labs with the script for Tallulah, and it was ultimately rejected. My first short film was rejected by Sundance, too, and I was like, "I hate Sundance! They never take me! How does one break in there?!" [laughs] And then, after we made Tallulah, and it was selected to screen at the festival, the movie sold [to Netflix, days before the premiere], and we had this incredible screening at the Eccles Theater. I then participated in Sundance's FilmTwo Initiative, which was created to help filmmakers figure out what their second feature would be (the project I developed there, however, was not CODA). Sundance feels a bit like a family, where once they support a filmmaker and your work, they continue to support the sustainability of your career.
Premiering CODA at this year's Sundance Film Festival was really wonderful, even if there was some fear involved. We finished the movie during the pandemic, and I was extremely worried that the movie wasn't going to go anywhere, that it would sit on a dusty shelf and never be seen. I honestly wasn't sure it would find a release. Once we were accepted, we still went in with muted expectations, due to the newness involved in a virtual festival setting. We weren't sure if anyone was going to watch the film from their home [during the festival] or, if they did, how they would watch it and "participate" in the screenings. It turned out to be an incredible experience, though.
Filmmaker: You hadn't seen the original French film that CODA was based on until you were approached to direct an English-language version, is that correct?
Heder: That's correct.
Filmmaker: What were those initial conversations like? Were they looking to make something specifically American? And not only American, but a very specific slice of American life?
Heder: The movie was originally at Lionsgate, and they owned the rights to produce a remake. Patrick Wachsberger was running Lionsgate at the time and Philippe Rousselet, who had produced the French version, had worked out the [American] rights for them. I went in and met with Lionsgate right after I was at Sundance with Tallulah and realized that they were looking for a filmmaker who had a very specific take on the material. They weren't looking for a 1:1 remake of the French film, but rather for someone to come in with their own vision of what an American version could be.
I grew up in Cambridge, Massachusetts, visited Gloucester every summer and was made aware of the issues facing the fishing community. They faced a number of regulations that affected smaller, family fishermen in a much [bigger] way than they did giant corporations. The regulations were clearly decimating an entire way of life for working-class families in Gloucester, and, as a kid, I observed the eventual decrease from 700 boats out in the harbor to a mere six. I became interested in the reason for that decline, I suppose—the idea of a specific American working-class that's disappearing, in a trade passed down from parent to child, generation to generation. When exactly does that stop? It stops when the kids stop working the boats and proceed to move out of town. That's what made Gloucester a very interesting setting to me for the film. As we're Zooming this interview, I'm back in Gloucester right now, and it remains a picturesque, small town that has its own sense of nostalgia, while being New England all the same. It's gritty and working-class and houses an interesting mix of vibes.
When I went into my initial meeting with Lionsgate, my idea was to present the family as a fishing family that's based in Gloucester. I also thought it would be extremely interesting to examine how the Deaf community interacts with law enforcement. It's a [big] issue in their community, and it unfortunately ends in disaster far too often. You can imagine a cop pulling over a deaf person—the cop doesn't realize they're deaf and just feels that they're not obeying the officer's instructions and commands. The deaf person might make a sudden reach for something (most likely a card that indicates to the police officer that they are deaf), and as they make that reach…. Well, there are numerous ways that interaction could go tragically wrong.
Once I identified my want to explore what would happen to a deaf father and son fishing on their boat for years and years without being bothered by anyone, who one day face an unexpected interaction with law enforcement that completely upends their livelihood, it felt like an interesting concept to explore further. I used my initial meeting with Lionsgate to pitch that basic narrative structure and, luckily, they were interested in my take and hired me to write and direct the film. However, once Patrick Wachsberger departed Lionsgate, he took the movie with him, so we had to make it independently with French financiers (Vendôme Group and Pathé).
I was also interested in creating three-dimensional deaf characters and, more importantly, casting authentically deaf actors. From there, we could all collaboratively explore "Deaf culture" as a very specific culture within the world of our film. There were endless opportunities (that may not have been fully realized in the French film) to get into who these characters are and build their journeys accordingly. That was very important to me, as was making sure we used true ASL [American Sign Language] in most scenes.
What happens in so many movies where deafness is portrayed is that the "hearing character" will speak out loud the entire time. If you go back and watch Children of a Lesser God, William Hurt's character is speaking all the lines out loud. I did not want to do that! I wanted to provide the audience with the experience of what it's like to really watch an ASL conversation taking place. I didn't want to have Ruby vocally speaking through all of her dialogue scenes. I wanted to incorporate and blend in true ASL, and with that choice came the understanding that there was going to be a lot of silence in the movie. I needed producers who would be willing to take a risk, to fully believe that hearing audiences wouldn't tune out or not relate to our characters if they couldn't necessarily hear them. To my relief, the opposite of our fears came true, as audiences seem to be very drawn to the film's conversational ASL aspects.
Filmmaker: Were those moments of Ruby partaking in SimCom [simultaneous communication], switching between signing and vocally verbalizing her speech, written into the script? Or was that something that Emilia brought into the fold, letting it flow in and out of her performance organically?
Heder: I worked with two ASL masters, Alexandria Wailes and Anne Tomasetti, who are both deaf women. Alexandria worked with me as I was developing the script, helping to translate certain scenes into ASL. One of the things we talked about was Ruby's constant shifting between two worlds. She has one foot in the Deaf world and one foot in the hearing world, yet she's simultaneously a part of both and a part of neither. Like any typical teenager, Ruby has asides and experiences moments where she's annoyed with her parents and doesn't want them sharing in a particular moment. There are times where she's really frustrated, and a line might vocally come out of her mouth unintentionally as she finds herself in more of her "hearing personality." Alexandria and I played with scoping out those specific moments where Ruby might then speak with her parents, arriving at the conclusion that these would occur in moments of intense anger and frustration, where emotions are running extremely high and Ruby's disconnectedness from her parents forces her to speak out loud, primarily in moments where she wants to identify herself as separate.
We played with that on set, with Emilia figuring out when she would find it appropriate to sign certain dialogue. There are some signs that you'd rather speak out loud; then, there are other times where the ASL is much more powerful on its own. It was a creatively fluid process for the actors and ASL masters to map out moments where they should happen and where they shouldn't. Some of them were written into the script, and some changed on set when Emilia would say, "You know what? I feel like this would be so much stronger if I could just sign in this moment." That topic of conversation was taking place all the time on our set.
Filmmaker: Emilia felt skilled and comfortable enough with ASL in her personal life to feel comfortable making that decision?
Heder: She became so, yeah. ASL has a totally different grammar and syntax and word order [than spoken English], where a question that might traditionally be posed at the end of a sentence is placed at the beginning. For example, in English, you might verbalize, "Why are you going there?" But in ASL, you would sign, "You're going there, why?" Speaking ASL out loud is just not intuitive with the language because then you actually aren't speaking true ASL, you're speaking in traditional English word order. A lot of Deaf culture—and I mean, capital "D" Deaf culture—is about identity as well as reclaiming your language by removing much of English's influence on ASL. Many signs begin with a specific letter—"family" is two Fs that are signed in a circle—but there's been a recent movement to remove some of the English letters that have been incorporated into signs.
The casting of Ruby's parents and brother is extremely important to the film, especially as they are deaf actors themselves. I wanted to ask about their familiarity with one another prior to their working together on this project. I remember on the 2016 Tony Awards telecast, Marlee Matlin presented a musical number from the Deaf West production of Spring Awakening, a revival that featured Daniel Durant, who, of course, would go on to play Matlin's son in your film. Had you seen other
Deaf West theater productions? Of course, Matlin is such an iconic figure within this community and the greater film world as whole, but how did you go about casting the rest of the Rossi family?
I became very excited by the level of talent within the Deaf community. I remember our casting directors initially being like, "We're going to go out with this call and see who's out there." Sadly, there aren't too many deaf roles even being written for actors to play. You're not often seeing deaf characters on television or in movies. There was the ABC series, Switched at Birth, then the recent Sundance Now series, This Close, which actually originated with two deaf creators. Nonetheless, you don't see too many roles for deaf cast members. There's not a broad awareness of what the "deaf talent pool" is like, even though, if you looked, you'd find it to be very deep and artistically rich. There are a ton of actors to work with, and we had many choices for each of our three roles.
Let me make something clear: Troy Kotsur was not right for the role of Frank because he was deaf, he was right for the role because he felt like a working-class Gloucester fisherman. From the moment he walked into the room with his wild scraggly hair and super funny, very dirty humor, he felt exactly right for the part. He's got a vibe that feels like he's been on a boat for his entire life and often gets caught smoking weed and making wisecracks. I was more excited by that potential than by merely conceding, "We found two deaf actors in that desired age range and now we have to select one." It wasn't like that. We had a very rich talent pool to choose from, and that goes for Daniel's character, Leo, as well. I saw so many different potential Leos, who brought so many specific acting choices to their [audition], but I just loved what Daniel brought to the character, a simmering anger underneath everything he does.
I had seen Troy in two Deaf West productions. They're an incredible theater company and their work is equally exciting for Deaf and hearing audiences. They're finding a way to mesh the two together, and it presents a kind of heightened experience of language. They often produce productions of classic plays, so you might be watching Thornton Wilder's Our Town, for example, and having a completely heightened experience of a play you know really well but are now seeing a role signed by a deaf actor as well as a hearing actor voicing the role simultaneously. [Troy] was in an Edward Albee play [At Home at the Zoo] and played a very buttoned-up, intellectual type of neurotic professor. I then saw him in Our Town and could really tell that he was a chameleon of an actor. When he walked into our audition, he came in with his little fisherman's cap and was completely Frank.
I was excited to find the right people for this family, and the fact that they knew each other and had a relationship [beforehand] was extremely helpful. Troy had played Daniel's father in another production, and Troy and Marlee had worked together as well and had formed a strong bond before they even began work on CODA.
The hardest thing for a director to create is true chemistry. When you get the sense that your actors are gelling and vibing together, that they have a familiarity and a shorthand with each other, that's everything. As an actress, Emilia was the outsider of the group, and so Marlee and Troy and Daniel welcomed her with such open arms. They also were keen on providing generosity, in terms of getting Emilia up to speed on signing. She would go out to dinner with them and nobody would be speaking, and she would sign for them at the table, or Troy would tell her a bunch of dirty jokes and sign them to get her up to speed. They had to form that family bond offscreen before they could show it in front of the camera.
Filmmaker: What's the experience like of directing for performance on set? That's always a sensitive task for a filmmaker, not wanting to overstep their wants for an actor's performance in a particular moment, and I imagine that becomes a specifically unique conundrum when you're working with non-hearing actors. I read that your production designer provided advice, like, "the furniture wouldn't be in this direction—facing away from another chair or couch—in a Deaf family's home," and other logistical notes like that. But what was that working relationship like with your actors when you're needing to communicate very quickly in a fast-paced setting?
Heder: I was essentially directing actors who spoke a different language from me, and we didn't know going in how many interpreters we would need on set. I had visited the set of This Close (created by Shoshannah Stern and Josh Feldman and directed by my friend, Andrew Ahn), as they featured a number of deaf actors on the series, and I wanted to see how their process went. I wanted to identify the elements you need to make a set truly accessible, having it function for both the deaf actors and for the hearing cast and crew. They had an ASL interpreter stationed by the monitor, running an audio track where they're interpreting all of the ASL lines, so that the editor then has a track to work off of in post-production. I wouldn't have realized the need for something like that had I not visited the This Close set.
There were a ton of small details and questions like that; e.g., how do you call "Action?" How do you call "Cut?" How are we making sure that when we're out on the fishing boats, everyone is extremely safe and protected? If something goes wrong as we're filming a boat scene, do we have the hand signs, and does everyone have the correct sightlines so that when I call "Cut" everyone can see me call "Cut?" Adjustments had to be made throughout. I began the shoot by thinking I was going to be directing through interpreters and that really scared me. When I'm directing hearing actors, I've found myself using a word to a hearing actor that means one thing to me but, as I watch them implement the note into their performance, that obviously meant something different to them. That's how things can go a bit sideways.
"Directing language" is a very nuanced conversation anyway, and you have to be careful with how you give notes to your actors so that they don't take it in a way that's further removed from what you wanted. I assumed directing through an interpreter would then be similar to a game of telephone, where there would be another person, a middleman, placed in the center of the conversation, choosing the words and notes I delivered and adjusting it for ASL. Something could get lost there. Halfway through the first day of the shoot, I said, "No, no, this just doesn't work for me," primarily due to my seeing that our actors were looking at the interpreter more than they were at me. All of the emotion and expressions apparent on my face were getting completely lost in translation and was preventing a direct connection.
I had been studying ASL throughout pre-production, and although I wasn't very good, I had the basics of the language down well enough. I then asked Daniel, Troy and Marlee, "Can I just direct you? Can I communicate directly with you? I will sign with you as best as I can and that will be our initial interaction. From there, we will have the interpreter [right over there] to jump in in case anything is unclear and if we need to talk in further detail." They all responded, "Yes, please! We want that, too. The current set-up is too hard to involve another person in." We ended up with three amazing interpreters on-set, all of whom are CODAs themselves and whom we totally relied on when needed. My actors and I eventually developed a shorthand where we knew what the signs were for various performance adjustments and other specifics involved in their craft.
Emilia and I would even keep to signing on shooting days where the deaf actors had the day off. For the scenes of Ruby jumping off the quarry cliff and into the water, instead of shouting my directions up at her, I signed them, and we were able to then have a more private conversation in front of the crew. This technique also applied to our scenes out at sea on the fishing boats, where I would be signing boat-to-boat with my AD stationed in another boat several feet away. ASL turned out to be the best "set language" for us, and I think it could potentially be incorporated in every production moving forward. It eliminates the need for an overabundance of walkie talkies, and you don't need to worry about in-camera sound, as you can sign during the middle of a shot, and [it] won't be heard. A gaffer friend of mine recently revealed to me that grip departments have signs they use with one another on set. You might be in the middle of the shot and you sign, "I need C-stands over here." They have signs in place for those types of requests so that they can communicate when they're rolling in the middle of a shot. This is a very natural on-set language, and a number of sets would benefit from implementing it.
I remember filming a scene in the wheelhouse one day where Troy was steering the boat. I had wanted him to turn around at one point to the actor who was walking behind him, but we quickly realized that it would be hard to cue him because there could be no interpreter placed in his sightline—the boat space was so tight that the interpreter would have been in the shot. I decided to lay on the wheelhouse floor with a little monitor, holding onto Troy's foot. I squeezed his foot every time I wanted him to react to something that was happening behind him. It was fairly hilarious to us, but it was really effective and worked well in the finished film. You have to problem-solve in creative ways.
Filmmaker: That makes me think of the scene where the Coast Guard unexpectedly pulls up into frame, slamming up against Troy's boat in a moment of confusion and panic. That uninterrupted shot, of the Coast Guard's boat essentially commandeering Frank's livelihood, is quite unnerving, and that's partly due to how you filmed it.
Heder: That was a crazy scene to shoot.
Filmmaker: You're afraid for Frank and Leo, and your heart breaks for their momentary disconnect and confusion. It's as if pirates have just jumped aboard and are ready to take over.
Heder: And as Daniel and Troy are actually deaf, the exact moment where our Coast Guard characters jumped aboard the boat was a surprise for them every time. We would be rolling the shot, and Troy and Daniel are minding their business, tending to the fish, unaware of where we were in the screen time of the shot. They obviously know the Coast Guard boat is going to hit Frank's fishing boat, etc., but they can't hear it approaching (and don't want their performances to indicate in any way), and their characters obviously cannot anticipate it. Once the Coast Guard's boat slams up against the fishing boat, Troy and Daniel felt that vibration and that was the cue. Their reaction to that moment is completely authentic.
When people talk about casting authentically, I can't stress enough how much it brings as an added creative value. It allows actors to have a genuine experience of what that life is like, what it's like to be deaf and to be in a tense situation like the one in the Coast Guard scene. The authenticity of their reaction is something you can capture on camera, and it tells a better story than you ever could on your own.
Filmmaker: At the risk of sounding extremely obvious, sound—in all its forms—is incredibly important to a film like this. Emilia's choir rehearsals and subsequent end-of-year class performance was sung on set, I believe, rather than pre-recorded and lip-synced. The choir recital also provides us with a moment inside the heads of Ruby's family, unable to hear her performance but able to gauge her talent based on the facial reactions of other audience members. What was that balancing act like, of recognizing the rawness of vocal performance in-camera, while also stripping some aural information away to drive us further inside the Rossi family's daily lives?
Heder: That was certainly an extended process to figure out, both on set and in the edit. I love the balancing of the silent ASL scenes, which truthfully aren't very silent in the larger world of the film. I remember putting a lav mic on Marlee Matlin on the first day, and she quickly removed it, asking, "Why do I need this? No one ever lavs me." I responded, "But the sound and intimacy of ASL, where we're capturing these smaller vocalizations that are coming out of your mouth, and the sound of hands hitting clothing and hands slapping together is what we're trying to record." That's an integral part of sound design, and in their own subtle way, they bring those scenes to life. A conversation between deaf actors is not silent. They're full of texture and intimate noises, and we wanted to really raise those up in our shoot. I remember my sound designer going, "My gosh, I didn't realize how full and loud this language really is, when you really listen to the bodies moving and the shuffling of their clothes." We soon put the lav back on Marlee and told her, "You're wearing this. We need you to for the good of the sound design."
The balancing of the choir music scenes with the ASL-specific scenes was also fun for us. We were able to work with a live choir of Berklee students, as we were shooting in the nearby Boston area.
Filmmaker: The high school choir in the film are current Berklee students?
Heder: They are. They're in a group called Pitch Slapped at Berklee, but of course, we cast them as Gloucester high school students! I remember telling my music team, Marius de Vries and Nick Baxter, that they were almost too good for the roles. We needed to cast and mix in a few kids that are legitimately bad singers who just happen to love choir. We then wanted the Berklee students to not sing at their full potential, as they were just too talented.
Nick and Marius did the arrangements, and Nick worked with the choir on the Berklee campus. Once they came to set, we recorded everything live. What I loved about that was that for Emilia, everything is a bit sloppier, and you don't get a fully, overly produced sound. You capture a sound that feels like you're in the room with the voices themselves. You detect little mistakes or when someone goes off-key for a second, and that too is an authentic sound for a school choir.
As a character, Ruby is someone who's discovering her own voice. She's an untrained singer, and she's having vocal breakthroughs in real time. As an actress, Emilia was having those breakthroughs as well, as she also was never trained as a singer. There were moments on set where she would have a take where her voice would break through in some way that it had never broken through before. And then you see her expression, that realization of, "Oh yeah, that just happened," and our camera caught that live, and you see it on screen. Each of these choices, while perhaps making shooting a bit more difficult, add an authenticity that you otherwise can't capture.
Filmmaker: And Ruby is singing some very popular songs in the film, Marvin Gaye and Tammi Terrell's "You're All I Need to Get By" and Joni Mitchell's "Both Sides, Now" chief among them. As you were writing the film and making these songs incredibly integral to crucial scenes, was there ever a hesitancy or a fear of not being able to afford the rights the longer the life of your film extended? Festival licensing fees are one thing, but beyond that, music rights grow increasingly more expensive.
Heder: Yes, and music is, for any filmmaker, one of the harder things to wrap your head around. If you're someone who loves music, you write a ton of songs into your script. I actually had a Stevie Wonder song [in an earlier draft] and ended up writing a letter to Stevie Wonder that began, "Dear Mr. Wonder, can I please use your song in our movie?" [laughs]
Filmmaker: When The Shaggs are cited, I felt, "OK, now their catalogue is probably somewhat more affordable."
Heder: Oh yeah, everyone should just throw some Shaggs songs into their movie. That is relatively affordable! Navigating music rights is always a challenge. Anyone who has ever worked as music supervisor on a film knows that part of the job involves breaking a filmmaker's heart a little bit, telling them "I'm so sorry, but that song you wanted costs $100,000, and you're just not going to get it." That being said, Alex Patsavas, my music supervisor on the film, was wonderful and was really crafty and had a ton of connections with some of the music houses. She ended up making a deal with Sony on a package for us.
The "You're All I Need to Get By" duet is heard five times in the movie, and I wrote that song directly into the script. It's incredibly hard to find a duet that isn't completely cheesy and cringey, but that is incredibly emotional and lyrically relevant to the story of our film. It needs to play in so many different ways, whether that's as a romantic duet between Ruby and Miles or as a song of connection between Ruby and her father late in the film. So, with the song written into the script, I remember Alex making a package deal with Sony and sending me a list of songs that were available to us at the price and budget we had. I quickly scanned through the list and "You're All I Need to Get By" was on there! I screamed out loud when I saw that.
I originally wrote Ruby's Berklee audition song to be "Landslide" by Fleetwood Mac, but to be honest, after I heard about a hundred girls audition for the role with that song, I never wanted to hear it again! The audition process alone may have killed the song for me, as we saw so many girls throughout the casting process, over and over again singing "Landslide."
Although I love Joni Mitchell, it was actually Alex's idea to use "Both Sides, Now." She mentioned to me that Joni Mitchell had talked about that song as kind of marking the end of her childhood, that it represented a childhood fantasy butting up against an adult reality. That's what our movie is about, too. It's a film about perspective, being in both the hearing world and the deaf world, being in both her own perspective and her parents' perspective. Ruby is a constant go-between, a daughter who has to be aware of both sides, and so lyrically, the song was a perfect match. Emilia was a bit intimidated to perform it though, like, "Really? It's Joni Mitchell. You want me to sing Joni Mitchell at the end of the movie?!" However, Emilia did such an amazing job in the end, and Alexandria created specific ASL signs for Emilia to use as she performs the song.
The "music life" of this film was a total journey, searching for popular songs that fit well within the narrative of the story while also complementing Emilia's voice and the voice of the larger choir. I owe a lot to my music supervisor, who pulled off a real miracle for the price we had to work with.