Back to selection
After the Goldrush: NFTS, the Blockchain and Independent Film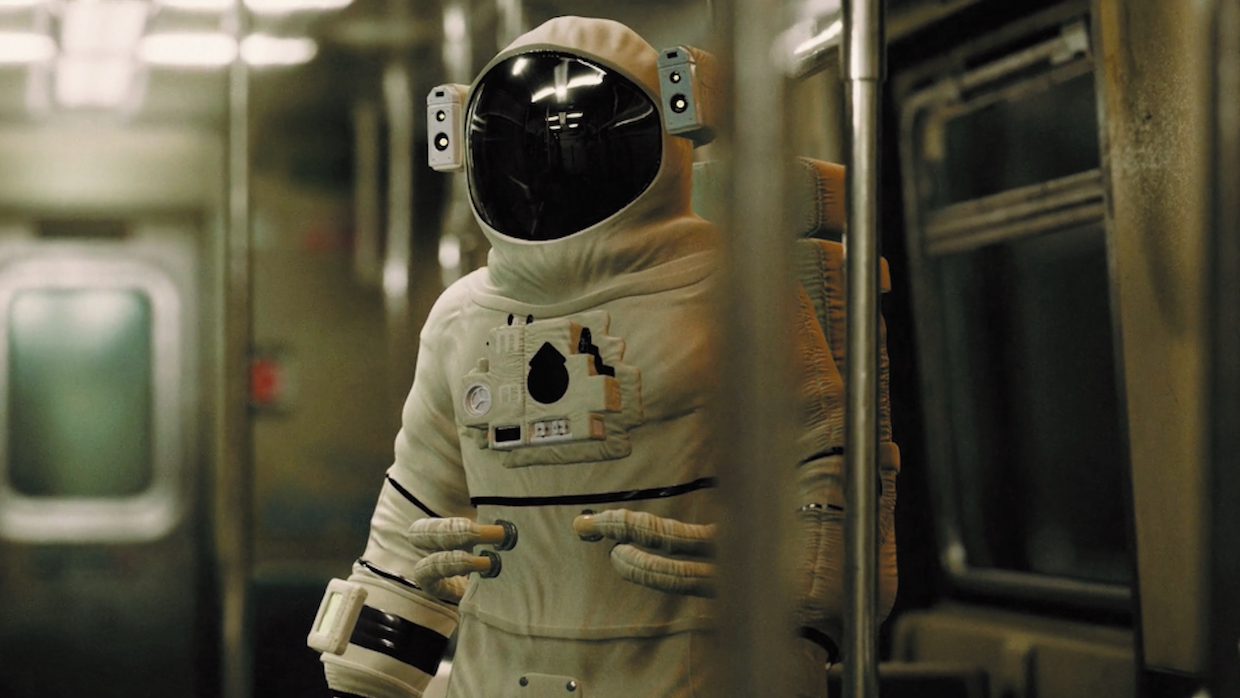 Silhouettes
"One week, I didn't know what an NFT was," says producer and director Adam Benzine. "Seven days later, I had the first film out as an NFT, and seven days after that, CNN wanted me on as an expert on NFTs."
Benzine is referring to a time just a few months ago—March 2021—when his documentary, Claude Lanzmann: Spectres of the Shoah, a 2015 short about the maker of the classic Holocaust documentary Shoah, was announced as the "first Academy Award nominee to be released as an NFT." Issued on the Rarible NFT trading site, Benzine's NFTs (they were released in a limited edition of 10) went for 200 ETH (Ethereum coin) each, which, at the time, equaled about $375,000. (Buyers also received a director's cut download and a signed digital poster.)
"I have an undergraduate degree in computing, so I was able to get my head around the technicalities fairly quickly," Benzine says. "The main thing was getting around what went inside the NFT—the token—itself. One of the reasons film people have been slower than music or visual arts folk to adopt NFTs is because the allowable file sizes are so small. The maximum upload size on Rarible is 30 mbs. So, what people are buying is really a digital certificate of authenticity—the right to say they own one of 10 first-edition copies of a documentary about the maker of Shoah."
But while Benzine was able to enter the NFT history books early, he hasn't yet cashed in on his status—none of the NFTs have sold. "Kids will pay $200 for an NFT of a fart," he says, "but they don't necessarily want an Oscar-nominated Holocaust film." That said, the venture was more about experimentation and promotion—the film was released on Vimeo on Demand in April—as about re-monetizing his film. "It was an opportunity to stake out a little corner of movie-making history at a moment where the excitement of radical innovation intersected with the prestige of an established cinematic pedigree," Benzine says.
Benzine's NFTs may not have sold, but successful NFT sales of everything from farts to Tweets to copies of New York Times articles to visual art has fueled something of a gold rush—or, as the director says, "a tulip mania"—across the media landscape these past six months. But what is an NFT—or, properly, a non-fungible token? It differs from a fungible token, which, like a unit of currency, crypto or otherwise, is interchangeable. One dollar equals another dollar; one bitcoin equals another bitcoin. Existing on the distributed internet ledger known as a blockchain, a non-fungible token represents, theoretically, a unique asset, whether that's a digital work of art embedded within the token or, as in Benzine's limited edition, a certificate of authenticity referring to something outside the token. Within the film world at the moment, NFTs are one part of an evolving conversation around a variety of new technologies and protocols (cryptocurrencies, smart contracts, the blockchain) that hold the potential for solving longstanding business, distribution and even creative challenges. "You're behind if you don't know what they are," says Elizabeth Strickler, director of Media Entrepreneurship and Innovation at Georgia State University's Creative Media Industries Institute, about the role NFTs have to play in the creative industries. "To think that NFTs are going to solve all your problems would be naive, but it would also be naive not to understand these new developments and to not pay attention to what's going on."
Depending on who's writing it, the history of NFTs goes back to 2012, with the development of Colored Coins—small units of currency on the Bitcoin blockchain that could represent digital assets. Two years later, in 2014, the Counterparty peer-to-peer financial platform, also built on the Bitcoin blockchain, allowed users to create their own assets and trade things like digital memes and Pepe the Frog trading cards. Also in 2014, technologist Anil Dash collaborated with artist Kevin McCoy at a New York hackathon, where they decided to create a solution for a problem faced by McCoy: the widespread copying, without attribution or royalty, of the artist's images across Tumblr. Their answer—what Dash described in The Atlantic as "a blockchain-backed means of asserting ownership over an original digital work"—led to the creation of what is often called the first NFT, McCoy's "Quantum." 
Cut to today, and, in addition to a Holocaust documentary, one can buy as NFTs digital kittens (CryptoKitties), punk rockers (CryptoPunks) and virtual sneakers (Nike). A collage work by digital artist Beeple sold at a Christie's auction in March for an astounding $69 million. One can even buy an NFT of a dunk by LeBron James (one, from a game against the Sacramento Kings sold for $208,000) as part of NBA Top Shot, one of the most mainstream NFT platforms, with more than 800,000 users. 
There's been a rush toward NFTs from individual filmmakers like Benzine as well as film companies. Just a few of the former include Jillian Mayer, a Filmmaker 25 New Face, who issued an NFT of her short film, I Am Your Grandma, on its tenth anniversary in April; Romanian director Andrei Ujica, whose NFT, 25 Pieces of Space Time, represent the first second of images captured by a 35mm camera in outer space; and Kevin Smith, the veteran director (Clerks, Red State) who, with his podcast and other ventures, has been adept at extending his independent filmmaker brand to other mediums. He plans to sell his latest film, the horror anthology Killroy Was Here, as an NFT, with the token purchaser receiving the hard drive files of the film as well as Smith's obligation to do publicity. "This way, we bring somebody else into the game, somebody who's never done it before, and you become an instant distributor—you get to monetize in the real world," Smith told Input Magazine of the strategy. And what if nobody bids up the price? "So, even if somebody wants to buy the NFT for like 10 bucks, it's a huge fucking story, even if it's a story of failure."
---
Another independent filmmaker using NFTs as both a distribution mechanism as well as a publicity tool is Matt Hartley, who made his science fiction film Silhouettes using live actors, CGI and stock footage during the pandemic. With producing partners Arpine Nazaryan and Shiv Rajagopal, he's teaming up with executives from Blockstream, Pixelmatic and the Litecoin Foundation to release the film this summer as an NFT, as well as develop an audience base for future projects. NFT purchasers will receive some sort of access code for the film, as well as "tokenized goodies and collective digital assets." To avoid the high "gas fees" (transaction costs) of platforms using Ethererum, the Silhouette team is creating their own "state-of-the-art" platform that will connect to users' existing crypto wallets and will accept Litecoin and liquid bitcoin at a modest cost. "I think cryptocurrencies and NFT is a place for unconventional media to really thrive," says Hartley. Noting that much of the art sold on the blockchain is "overpriced and expensive," Hartley says he and his team are trying to create "a little bit more of a next-Netflix model, for lack of a better terminology, in the blockchain space." As for the digital collectibles, Hartley says they'll be issued in tiers, where "the first 100 purchasers get one kind of goodies and the next 2,000 get another set. We're going to reward the initial people with more extra stuff. We're hoping to build a fan base, and we want to continually bring out new content, including another project we're hoping to shoot in the fall."
Companies exploring the potential of NFTs and the blockchain with recently announced new divisions and initiatives include tax credit lender Forest Road, which is creating a platform built around its own token, IndieNFTs, allowing clients to enter the NFT market; distributor Cinedigm, which has launched Fandor Selects, an NFT label available across different marketplaces that will feature classic films from the library of the indie streamer in limited edition packages; and talent agency UTA, which, as reported in Forbes, is creating a "digital assets practice" to advise clients. Said UTA Chief Innovation Officer Brent Weinstein, the agency will advise clients "on whether they should do an NFT drop and, if so, how to do it in the most successful way."
Independent filmmaker H.P. Mendoza (Bitter Melon) reports being contacted by several tech-savvy filmmaker friends, who suggested he turn some of his existing IP—but not his feature films—into NFTs. "I've made humorous pandemic pieces that live online as tweets and pandemic videos," he says, "and a lot of it seems culturally relevant in the landscape of NFTs." When he spoke to his agency, A3, about these plans, it connected him with its own new NFT division. He's currently preparing an "influencer video" introducing himself as a creator to NFT marketplace Nifty Gateway, as well as considering releasing a film commissioned by the Svane Family Foundation about Noah's Arc as an NFT this fall.
Attorney Steven Masur, partner and founder at MGA, affirms Mendoza's strategy, recommending filmmakers look beyond their own features when considering NFTs. Saying that NFTs are not a "re-creation medium," he urges independent filmmakers to think of new assets that could be minted as NFTs. "For example, outtakes," he says, "something unique that nobody has seen before and that might have a celebrity in it, because you have to have something to drive interest." He also cautions filmmakers to understand the rights issues that could undergird an NFT—music rights, for example, or actor reuse fees. "People are minting film and music as NFTs and then selling them, and in some cases that involves copyright infringement."
Karol Martesko-Fenster, chief operating officer at Abramorama and Filmmaker's founding publisher, has been working with different companies in the blockchain space and concurs: "Like the original dotcom days, there's a lot of hype and a lot of not-ideal practices out there. The only way forward in the film space is to not get mired in chaotic rights situations." He cites NBA Top Shot as an example of the sort of licensing that needs to occur, as the National Basketball Association and developer Dapper Labs, the company behind CryptoKitties, worked with the National Basketball Players Association to license the performances of individual players. 
But looking beyond the current wave, a number of producers and executives are looking for NFTs, crypto and the blockchain to do more than offer new ancillary revenue streams and marketing possibilities. Talent discovery, financing and more efficient, equitable and transparent payment and royalty mechanisms are the goals. Says Strickler, "All those people that scroll by in the end credits of a film: How can we use technology to be more nuanced, or more granular, about their contribution and what they receive in return?" She continues, "The idea is that smart contracts"—computer code that automatically executes an agreement—"could say that people in one category get five percent every time a movie is sold, and people in another get one percent or .01 percent. Or, if a film plays on television after midnight, the royalty is .001 percent." 
With such innovation could come structural changes in the distribution business itself. For example, the moving of film sales to the blockchain could further weaken traditional territorial sales models, already under attack by streamer global rights deals. "With cryptocurrency, there isn't really a nation-state anyway," says Strickler. "Talking about selling a film to Taiwan, for example, is kind of laughable because, you know, the cloud? I think of each of these blockchains as a nation more than I would think of Taiwan as a nation."
One tech company making blockchain-based applications to address film distribution and sales issues is Breaker, whose sister company, Breaker Studios, develops and finances a slate of films. "We've developed a framework for smart contracts that actually reflects the complex logic of entertainment contracts," says Jake Craven, vice president, content partnerships. "Gross percentage fees, recoupment of negative costs, distribution fees—and all the way down to last-mile net participants—we're looking at the full waterfall for the asset."
Rather than tie a film to an NFT, Breaker is "focusing on fungible tokens," says Craven, "because they represent a better use case for managing rights and intellectual property. A film is a bundle of rights, and you're splitting up each right with different participants. Being able to actually have multiple tokens that represent a percentage of an asset, or a piece of IP, makes more sense to us than using an NFT." 
Craven describes Breaker's application as "software as a service, a platform where any creator can manage the flow of revenue, accounting and participations tied to their film, project or album." Addressing issues of currency fluctuation and ease of use, the Breaker software has "what we call the dollar, or fiat, on-ramp, so it can collect revenue from different sources. If you have a tokenized asset that's only available on one marketplace, that doesn't reflect the reality of film distribution. Audiences are everywhere, and you need to be able to exploit your film everywhere." 
Breaker's platform also uses what's known as a stable coin, USDC, an Ethereum token that's tied one-to-one to the U.S. dollar. Says Kim Jackson, an independent producer (Blue Caprice, Antarctica) who is Breaker's CEO and co-founder, "We're very focused on the independent creator because it's almost impossible these days to sustain a business revenue source to be able to continue to make movies on a consistent basis. There's got to be a better way for us to track revenue and be able to tell our investors in real time what's going on. And as a businessperson and producer, it would be nice to have access to the business information, which we immediately get cut off from when we sign on the dotted line."
"This is a long game we're playing here," continues Jackson. "This is the future. The technology is undeniable, and it's coming, whether we like it or not." 
The Breaker platform is currently in closed beta, but it's being used to manage all the revenue for Breaker Studio's productions and acquisitions, including Down with the King, directed by Diego Ongaro, which premiered this year in the ACID section at Cannes. 
American Zoetrope, the legendary production company established more than 50 years ago, has founded a nonprofit, Decentralized Pictures, that is coupling a film fund with a platform built on the blockchain that will grow a community around the discovery and support of new artists, with a particular focus on underserved and underrepresented communities. NFTs will just be one part of Decentralized's larger platform. Explains Roman Coppola, co-founder and director, "The proposition is to create a user-friendly site that allows budding filmmakers to put their material up, share it with the community and have it be recognized for its virtues through what we call a 'user consensus algorithm.'" Adds Primavera Di Filippi, a permanent researcher at the National Center of Scientific Research in Paris who is on the company's board of directors, "Value can be extracted by the people who have been contributing to the discovery [of filmmakers] based on the quality of their consultation."
Says Michael Musante, American Zoetrope vice president of production and acquisitions and co-founder of the Decentralized Pictures Foundation, "We are using the efficiencies of the blockchain to curate talent and content and, hopefully, a new generation of filmmakers. In a year or two, we would love to say that we have launched careers and found artists who otherwise wouldn't have been able to break into Hollywood, which is somewhat, relatively speaking, an insular community. Decisions about who and what gets financed are centralized and made by a small group of people. We're trying to open that up, create a new lane to allow filmmakers to get noticed. One of the great things we intend this application to do is create a constituency behind a project, a film proposal, before it's been shot or introduced to the world."
Decentralized Pictures shared a demo of their platform, which they plan to launch this fall, with Filmmaker. It's reminiscent in parts of other platforms that also connect projects to financiers, fans and audiences, but with a far greater use of data analytics and with an incentive structure that looks to solve what co-founder and developer Leo Matchett calls "the drinking from a firehose problem" that has affected other sites with public submission portals. All activity on the Decentralized platform revolves around a new "film credit." It costs film credits to submit a project, which could be a treatment, sizzle reel or other materials, and members of the community can earn film credits—which can be cashed out as dollars—based on their early support of a project, the quality of their feedback and, really, any interaction on the blockchain. Users are able to build their own reputation scores; projects can receive scores based on the perceived worth of particular qualities, such as, for a doc, social impact. Decentralized Pictures will create rewards that will go to projects that rise to the top, and when projects attract the attention of industry, those deals, which can occur outside the platform, will return revenue to Decentralized Pictures itself, allowing the community of projects to grow. When projects are submitted, Coppola underscores, "All the rights are retained by the artists. If we wind up providing finance for a project, then we're just like any other financier—we get a return on that investment. But that investment goes back into this pool of funds housed by this charitable organization." When Decentralized Pictures launches, they'll have partnerships in place with many film schools as well as studios, production companies and agencies.
While many blockchain-based companies in the United States are being careful around equity fundraising within the crypto space, as the Securities and Exchange Commission's regulations are evolving, one company that is explicitly using the blockchain to enable various financing models is Canada's BlockFilm. In March, the "producer-driven" financing platform announced an exemption order from the Ontario Securities Commission "to launch 'tokenized' production financing opportunities for the content creation industry by leveraging TokenFunder, Canada's first regulated digital securities issuance and trading platform," according to the company's press release. "The decision allows BlockFilm to bring content producers—both established and emerging—together with accredited investors to finance independent media productions. The platform supports the creation of compliant financial instruments (security tokens) to fund and support project budgets. The security tokens (covering equity, debt and/or revenue share methods of financing) represent the underlying fractionalized ownership or debt instruments that provide content producers with unprecedented and efficient access to new sources of private capital…. Investments in BlockFilm projects are transferable among accredited investors." A number of established producers are working with the company, as well as industry players such as co-founder Charlotte Mickie, a veteran of the international foreign sales scene.
---
Then, there are the filmmakers who are thinking about the ways NFTs and the blockchain can transform not just production, financing and distribution but the very definition of an audience, and even the definition of a film itself. Talking to a number of people thinking along these lines, there's an echo of Kevin Kelly's influential 2008 essay, "1,000 True Fans," which argued that creators needed to have direct relationships to just 1,000 hyper-motivated (and paying) fans to build and sustain a career. Blockchain technology offers the possibility of involving these superfans in more meaningful ways, which include not just financial participation but also authorship roles. Asks filmmaker and technologist Lance Weiler, "Can films be art prior to their completion?" He cites Zia Anger's performance piece, My First Film—which was developed iteratively, changed with each performance and, through the use of AirDropped photos to audience members, involved the audience in the actual piece—as the sort of work that could combine ticketing with smart contracts and the connecting of crypto wallets. Weiler is working on his own "crazy experimental deep-fake horror film" and says, "What if I took 40- to 60-second loops, and the only way it could be shown is in the way different audiences assembled it? And what if audience members could see royalties from the way they recreated the piece?"
Not surprisingly, the production company MEMORY (Riel Roch-Decter and Sebastian Pardo), which got behind Anger's piece, is in the midst of developing work involving NFTs and the blockchain that it will announce later in the year. Writes Pardo, "We've been aware of the disconnect between the cultural value of a work and its financial value, and I think NFTs are an attempt to bring those values closer in line with each other. And that works both ways—there's cultural value in being an early adopter of something innovative, important, transformative that previously could never transcend anything other than 'having good taste' or maybe becoming an 'influencer.' By directly participating in the creation of something, you can have not only a spiritual sense of investment but [a] financial one, too. And the system can create things that have the potential to be a reflection of a medium, of our times, of ourselves in ways never before possible."
With established Hollywood entities rushing into the NFT space, setting up new divisions and companies, some producers are looking forward to new entities that would be truly independent, with no middleman, using the blockchain coupled with what's known as a Decentralized Autonomous Organization, or a DAO. A DAO is a nonhierarchical organization whose rules of governance are developed by its entire community of participants and executed according to smart contracts. Bankless, for example, began as a newsletter and then podcast about decentralized finance. Subscribers to the newsletter got badges, and when Bankless started a DAO, every subscriber who had a badge got tokens in the new DAO and could vote on the company's future direction and financial decisions.
Says Martesko-Fenster, "DAOs are key for us as filmmakers" going forward in the blockchain space. "When you combine the use of blockchain technology to raise funds, then combine that with a DAO, you have an interesting situation for independent storytellers," he says. "You could replace the idea of raising funds through an LLC. The mechanisms are all electronic based, completely secure, and if you're investing in a piece of the IP, your piece would be apportioned and paid out directly." 
Martesko-Fenster says that integral to the creation of functioning DAOs in the film space "will be, first, the legal aspects; then, the financial technology; and then, the player aspects." For a film to live entirely within the blockchain—as opposed to some of the ventures written about here, where the films ultimately reside across the broader distribution landscape—he believes that a highly secure NFT player and a system of copyright stamping will be needed.
Then, of course, there are the more basic and immediate issues surrounding the "gas fees" mentioned by Hartley. "Putting something up on the blockchain and then making a transaction around it, the fees were anticipated to be minimal, like .001 percent," says Strickler. "But so many people have come in at one time and the energy consumption is so large that the gas fees have become really high." File sizes allowable on the blockchain will have to increase. Then, there is the high energy cost of mining cryptocurrency, although Ethereum, upon which many platforms are being built, is moving from the energy-consuming proof-of-work protocol to a proof-of-stake protocol, a switch that could be complete by the end of 2021 and reduce the currency's power consumption needs by a factor of at least 100, according to Ethereum founder Vitalik Buterin at a Hong Kong conference this year.
If all this potential for independent filmmakers seems exclusively tied to the work of technologists, developers and regulators, that's not entirely the case, says Strickler. "For every industry this technology touches, there ha[ve] got to be very knowledge people about the industry itself involved. It requires so much collaboration to make something 'smart.' So, I want independent filmmakers to know and understand that their knowledge is really valuable. It's not like there's a whole new group of people who are going to do NFTs, and they'll be left out. A filmmaker's understanding of how the current ecosystem operates is completely necessary, and this is what needs to be matched up with the coders."