Back to selection
Hits and Misses, Pandemic Edition 2.0: Anthony Kaufman Breaks Down Six Sundance 2020 Films' Theatrical Releases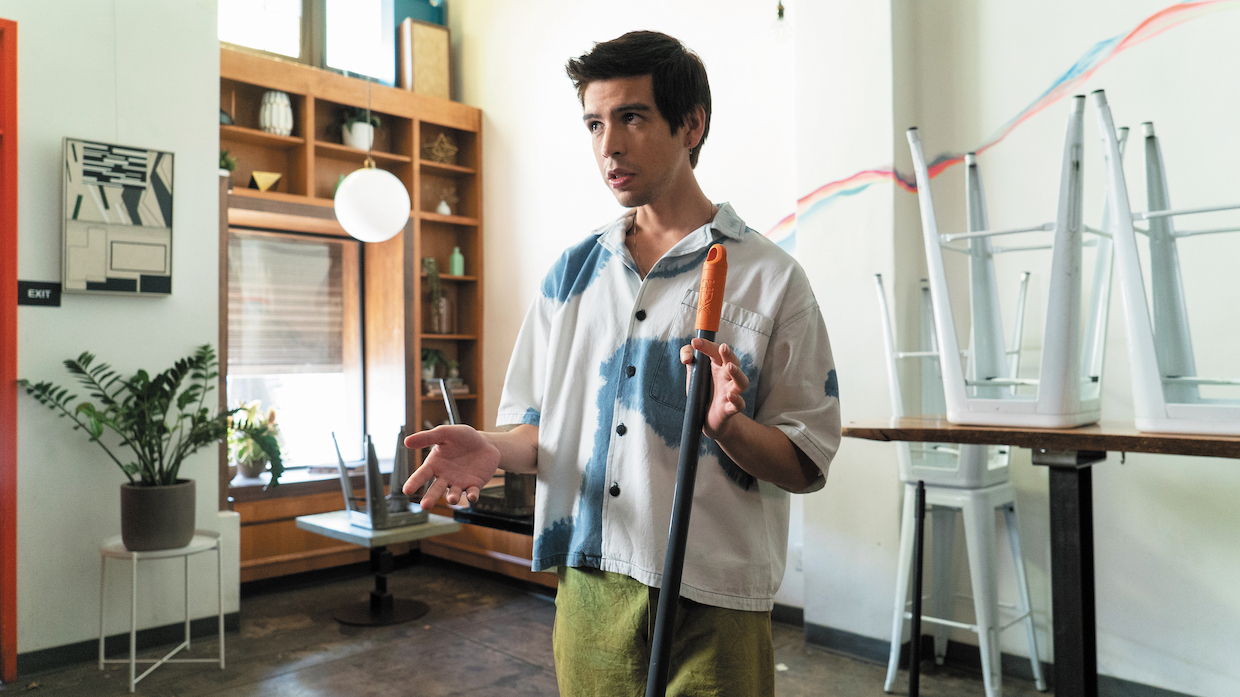 Together Together (courtesy of Tiffany Roohani/Bleecker Street)
According to Box Office Mojo, our contemporary plague ended on June 14, 2021—the last day the label "COVID-19 Pandemic" was included on its daily box office reporting. But don't tell that to anyone trying to release a film in the second half of 2021, as viral variants spread widely across America, plunging the hopes of many filmmakers and distributors. Welcome to Pandemic: Year 2.
The merciless persistence of the coronavirus and its wide-ranging impact on theatrical moviegoing and home viewing habits became more entrenched over the past several months—with indies on the losing end of the stick. Struggling to gain traction in theaters, in the media and, in many cases, across digital distribution, new indie movies took an even bigger hit during the past year than their studio counterparts, with box-office pundits speaking of the off-Hollywood "sector's real-time collapse" and "shrinking audience." (According to unofficial number-crunching as of press time, overall North American box office for 2021 will be down some 60 to 65 percent from pre-pandemic levels, whereas indie films' ticket sales will have plummeted more than 75 percent from a normal year.) As one distribution executive noted, "We're living in a time when the winner of the Academy Award for Best Picture [Searchlight's Nomadland] made just $3.7 million."
Back in January 2021, however, the mostly virtual Sundance Film Festival—the independent industry's annual pacesetter and home to the year's most fertile independent film harvest, still managed to generate buzz and headlines ("Apple Studios Wins 'CODA' in Record-Breaking $25 Million Sale"). But the marketplace had different ideas. As indie mogul David Garrett of Mister Smith Entertainment told Variety recently, "During COVID, survival has become the new success." 
But what constitutes survival these days? For Sundance 2021's slate, it's a bit too early to say. Of the 10 films that premiered in Sundance's U.S. Dramatic Competition, a few were acquired for negligible releases (I Was a Simple Man, John and the Hole, Mayday, Wild Indian); a couple received larger commitments but had not been released before publication (Sony Pictures Classics's Jockey, Annapurna's On the Count of Three), while only three garnered a significant level of traction: Nikole Beckwith's Together Together seemed ready-built for a moment that thrived on stars and laughs (see more below); Netflix's Oscar push for its high-profile acquisition Passing vaulted the film into the cultural conversation; and Apple's day-and-date August 13 release of CODA got a lot of hype and awards (though it didn't endure in the marketplace as the summer crowd-pleaser many were anticipating, earning just $1 million theatrically and who knows how many views on Apple TV+). 
But there weren't zero Sundance box-office breakouts. It's just that for whatever reason, they came from a year prior, Sundance 2020. Led by Searchlight's horror/thriller acquisition The Night House ($7.1 million), other top Park City-purchased independents included the Cold War thriller The Courier ($6.6 million), starring Benedict Cumberbatch, which was bought by Lionsgate/Roadside Attractions out of the Premieres Section two years ago under the now forgotten title Ironbark, and A24's Zola ($4.8 million; see more below).
All three releases opened wide, with The Night House dawning on 2,240 screens, and The Courier and Zola both launching in more than 1,400 venues. For much of the year, the buzz-building, critic-buoying, slow distribution rollouts that used to define the art house market were few and far between. The pattern continued into the winter with a number of other high-profile indies such as Last Night in Soho, Belfast and Spencer all accelerating their releases quickly to above 1,000 screens.
As Roadside Attractions's Eric d'Arbeloff explains, the company "tried to mainstream the release" of The Courier and, in so doing, set it up broadly "to help audiences understand what the film is and prioritize it on all windows." Such releases require a lot of investment, but d'Arbeloff says the indie industry shouldn't be nostalgic for the once preferred model of careful "platform" distribution. After all, he suggests, you have to go big if you want to "compete with even run-of-the-mill [TV] series, because everything is on the same playing field." 
IFC Films's Arianna Bocco, whose company is known for ample digital launches, agrees theatrical is "still valuable." Even for the VOD hits The Dry and Werewolves Within (which opened on 186 and 270 screens, respectively), she adds, "The theatrical release and the attention they received vis-à-vis publicity and marketing elevated the films in their digital windows."
To get a more granular sense of what it was like for the past year's Sundance films (and what it might be like during "Pandemic Year 3: The Rise of Omicron"), below find case studies of several films produced and released in varying ways, to varying degrees of success, during varying periods of upheaval, from Delta spikes to extreme weather events (in the order in which they were released).
Together Together 
Release Date: April 23
Origins: After Nikole Beckwith's debut feature Stockholm, Pennsylvania was acquired by Lifetime Television out of Sundance 2015 and received several accolades, Stockholm coproducer Anthony Brandonisio brought her next project—originally titled Togetherish, a comedy about a single middle-aged man who wants to have a baby—to frequent collaborator and prolific producer Daniela Taplin Lundberg (Harriet, Honey Boy, Patti Cake$). "It took me a minute to see the path and the market for it," admits Lundberg. But after recognizable name Ed Helms signed to star, Lundberg recruited Anita Gou (The Farewell) and Tango Entertainment's Lia Buman (Never Rarely Sometimes Always) to put together their female-run equity-financed comedy for under $2 million. The film shot pre-pandemic in 2019 and was in post through the 2020 lockdown.
Sales & Distribution: When the film was completed in the fall of 2020, the producers were confident that the film's feel-good quality was "a breath of fresh air" during the pandemic, so they felt they didn't need Sundance to land a sale. "Because the market was so quiet during COVID, I thought opportunistic buyers would be hungry for feature fare," Lundberg says. So, one Friday night in October 2020, they sent movie candy and gift baskets to buyers, along with the screening link. Within days, numerous companies bid for the movie, with Bleecker Street Films closing a North American deal a couple of weeks later. Meanwhile, Sony Worldwide took international rights. The digital Sundance premiere was then mere icing on the cake, with enough positive reviews to help propel the release.
On April 23, 2021, Bleecker opened the movie on a hefty 665 screens, which earned a total box-office take of $532,773 (coming in eighth place for the weekend). After 14 weeks in theatrical release, the film eventually crept up to a total gross of $1.4 million. The distributor tacked on a 10-minute video Q&A with Beckwith and actors Helms and Patti Harrison, which sparked strong social media buzz, according to Tyler DiNapoli, Bleecker's president of marketing, media and research. While the box office numbers don't sound that impressive, Bleecker Street's Kent Sanderson points it out that it was one of the first non-saturation releases to crack a million dollars in 2021. 
The film's digital release in May was robust, opening at no. 3 on the Apple Store movie charts, just behind studio entries The Marksman and Love and Monsters. DiNapoli acknowledges Ed Helms was a factor. "Certainly, he makes it a lot easier—with over a million Twitter followers and recognizable from The Hangover franchise, Ed was a critical part of it," he says. Trans actor Patti Harrison, who nailed her performance as a cis surrogate mother, was also an asset, according to the team. When the trailer dropped on March 31, for example, Vulture ran the headline, "Patti Harrison Is a Goddamned Movie Star." 
Recoupment: Lundberg acknowledges that independent producers with marketable films are forced to make a choice these days: the large upfront payday of a global streaming deal or the slower path to profit with a theatrical-driven distribution company. Despite the continuing uneasy status of the theatrical marketplace for indies, Lundberg remains confident in the model—and their Bleecker/Sony deal—where the "potential to participate can be more exciting," she says. "It was a really good deal, and because the budget of the movie was so low, it didn't take much to go into profit."
Zola
Release date: June 30
Origins: A few months after Detroit-based exotic dancer A'Ziah "Zola" King posted her explosive 2015 tweet-storm about an ill-fated roadtrip to Florida, it was announced that actor James Franco was set to direct a feature based on the events, from a script by Andrew Neel (Goat), and produced by Killer Films and Gigi Films. After Franco exited directing the project in 2018, the film was infused with new life when Killer hired Janicza Bravo (of the Killer-produced Lemon) to direct. A24 had previously agreed to finance for under $5 million, and newly-hot new playwright Jeremy O. Harris came on as co-writer. Production took place over approximately five weeks from October to December 2018. 
Sales & Distribution: During pre-pandemic Sundance 2020, Zola premiered with much fanfare, generating buzz, photo layouts for breakout star Taylour Paige and critical debate (Variety derided it as "hollow," while Indiewire hailed it a "rambunctious crowdpleaser")—everything distributor A24 could use to launch the film that summer. But then COVID hit, and the film sat on the shelf for nearly 18 months. 
In 2021, A24 attempted to revive the buzz for the film's late June wide opening. Playing up its based-on-a-true-Twitter-story source material, A24 targeted a younger demographic by feverishly marketing on social media. On July 9, for example, plus-size model and co-star Sophie Hall (1.6 million followers) posted a TikTok about the film's release to her social media accounts, generating hundreds of thousands of views. (Paige and star Riley Keough also tapped their considerable online fanbases.) At a time of year when young people were the majority of the moviegoing audience, Zola—framed as fun, sexy and outrageous—appeared to arrive at the right time. But after two weeks in release, $3.5 million in ticket sales and diminishing excitement, A24 made it available on Premium VOD. The film's digital debut wasn't stunning—ranking 4th on Apple's "Independent Charts" and failing to make it into the top 40 overall, according to Indiewire. All told, the film grossed $4.8 million in U.S. theaters, with commensurate digital sales, and nearly $5 million internationally: solid for a pandemic indie, and yet even so, likely on the low end of hopes. 
Recoupment: Zola may not have been a Spring Breakers–like sensation, but A24 sold international distribution rights to Sony Pictures Worldwide Acquisitions, as well as Canadian rights to VVS Films, thereby padding their bottom line. Everyone involved in the film appears to be flourishing: Janicza Bravo has a feature set up at Annapurna and a TV job on FX's new show Kindred, while Harris has signed writing deals at HBO and Warner Bros, and Paige is on a major streak, locking up gigs for Lena Dunham, a Toxic Avenger reboot and other projects alongside the likes of Diane Keaton and Idris Elba. 
Summer of Soul (…Or, When the Revolution Could Not Be Televised)
Release date: July 2
Origins: Some 50 years in the making, Summer of Soul originated with about 40 hours of footage of the 1969 Harlem Cultural Festival recorded by TV producer Hal Tulchin, who shopped around the material for years. In 2004, via Historic Films he licensed some of the footage to Sony and made a sizzle reel along with archivist Joe Lauro, who had engaged documentary filmmakers Robert Gordon and Morgan Neville to make a feature. But it wasn't until Robert Fyvolent acquired the footage in 2009 and Ahmir "Questlove" Thompson came on board to direct in 2018 that the project, originally known as Black Woodstock, gained momentum. In 2019, Fyvolent, working with David Dinerstein, tapped Radical Media's Jon Kamen and Dave Sirulnick to executive produce. With a raft of other coproducers, including Vulcan Productions, Concordia Studio and Play/Action Pictures, and executive producers, including Beth Hubbard and billionaire Sheila C. Johnson, work on the film occurred throughout 2020.
Sales & Distribution: Two days after winning Sundance's U.S. Documentary and Audience Awards, Cinetic Media made a record-breaking $12 million worldwide sale to Disney's new BIPOC creator initiative, with Searchlight handling theatrical and Hulu exclusive streaming. The film opened simultaneously on Hulu and across 752 theaters on July 2, a low point in the pandemic (with a seven-day-average national caseload of just above 20,000 new positive tests). Even with an A+ Cinemascore, 99 percent on Rotten Tomatoes, Disney's marketing machine and Questlove's more than three million Twitter followers, the film's launch earned a total of $674,000 for a per screen average of $861, suggesting prospective audiences may have opted for a free Hulu trial to see it. Or they weren't in a hurry: The film stuck around for more than 10 weeks in theaters and earned a total gross of more than $2.3 million, particularly strong for an indie day-and-date release and the second-highest grosser of any documentary in 2021 (after the Anthony Bourdain doc Roadrunner). International box office sales reached more than $1.3 million.
Recoupment: The film's $12 million acquisition price tag and marketing costs may make the film an expensive proposition for Disney, but the producers are smiling, notching their record-breaking deal as a rare lightning-in-a-bottle moment when the pandemic (with its desperate need for live music), politics (the resurgence of Black Lives Matter) and the marketplace (low supply, increased demand) all drove up the value of an upbeat archival concert film. End-of-the-year accolades and high Oscar prospects should only further elevate its stature for all involved.
Cryptozoo
Release date: August 20
Origins: After graphic novelist Dash Shaw made the 2016 animated indie My Entire High School Sinking Into the Sea, he and his team set out to get their next project off the ground. Producer Kyle Martin acknowledges Shaw's unique brand of hand-drawn animation, which doesn't fit into a typical generic box, was difficult to finance. "Companies just didn't understand or couldn't see what the audience for the film would be," Martin says of Cryptozoo, which follows a pair of lovers who stumble onto a zoo filled with mythical beasts. But nonprofit Cinereach had faith in the project, putting in the first money (a low five-figure grant) early in 2018, which allowed the team to record some material and create a teaser with star Michael Cera. Additional equity financing came in fits and spurts while Shaw continued to draw, and the final piece of the mid-six-figure budget arrived in August 2020. 
Sales & Distribution: At the film's Sundance 2021 premiere, where it won a special "Innovator" award in the NEXT section, Magnolia Pictures acquired North American rights, while leading German sales company The Match Factory took international rights. Magnolia had originally planned a full 90-day theatrical window for the film, but as the company saw Delta cases surging as it neared the August 20 launch date, it quickly shifted gears to include a simultaneous VOD release. Opening in 45 theaters, the film earned less than $13,000. After several weeks in theaters, ticket sales stalled out at just over $32,000. Martin admits, "We knew all along that the film wasn't for everybody." But to be fair, audiences weren't taking the extra risk to see offbeat films in theaters, particularly in August. Unfortunately, this also affected the film's less-than-expected digital sales. On the international side, however, The Match Factory was able to make a raft of small deals across the world ("I've never sold a movie to Russia before," says Martin.) 
Recoupment: Despite the slow sales, Martin says, "between the North America and international sales, we've pretty much been made whole." He seeks solace in the fact that Cryptozoo was a critical success, he says, "but I thought that would have made a difference in the market." As he develops Shaw's next project, he admits, "I'm managing my expectations."
Ma Belle, My Beauty
Release date: August 20
Origins: For her feature debut, Ma Belle, Ma Beauty, a polyamorous queer love story set in the south of France, New Orleans–based filmmaker Marion Hill started a crowdfunding campaign on Seed&Spark, where she raised the first $30,000. Additionally, she tapped some New Orleans donors, received a grant from the Sundance Institute, some other small grants from the New Orleans Film Society and finally secured some private equity before going into production with $100,000. Marion and her team continued to solicit additional funds to finish the film, while she also worked full time at a local jazz radio station. "We were actually using our Sundance acceptance to find new investors," she says. "We were freaked we wouldn't be able to cover our delivery of the film."
Sales & Distribution: Ma Belle, Ma Beauty premiered in Sundance's NEXT section, where it was repped by Submarine Entertainment and won the Audience Award and some mostly positive trade reviews (Variety: "lovely… traditional, if compelling"). Shortly after the festival, Ohio-based boutique distributor Good Deed Entertainment (Loving Vincent, Lucky Grandma) pursued the film and, thanks to a preexisting output arrangement with Starz, were able to make a solid deal for North American rights. "Given the size of our film, we were very comfortable with what they were offering," says the filmmaker, "and excited about the promise of a late summer theatrical release." In May, international sales agent WaZabi signed on and made sales to Spain, Germany, Austria and Scandinavia.
While Hill received ample support for the film's August 20 U.S. debut (she was flown to premieres in New York and Los Angeles, where the film earned a healthy $4,000 per-screen average), the twin scourges of COVID and climate change soon curtailed the release—just as news reports declared that vaccine effectiveness was waning, Hurricane Ida was approaching New Orleans on the eve of their August 27 hometown premiere at the Broad Theatre. "We had 20 people there because everyone was evacuating," says Hill. 
The New Orleans interruption was particularly devastating, according to Good Deed Entertainment's Kristin Harris. "We had done a lot of field publicity there," she says, "but what do you do if people don't feel safe to go to the theater?" Good Deed nevertheless brought the film out to around 50 venues across the country, where it grossed nearly $30,000, before the company "pushed the pause button and pulled back on our ad spend," says Harris, to focus on the film's digital release. Marketing dollars pivoted from targeting an older female demographic to Instagram users and influencers in the polyamorous community, emphasizing the film's romantic escapism. "I do have hopes for the on-demand release," notes Harris, "as lesbians notoriously stay at home." According to her, digital numbers will exceed theatrical revenue. "We've been seeing consistent performance on Amazon and other digital platforms that indicate that the title should have a long tail," she says.
Recoupment: For Hill, the film is very close to being in the black. "I'm very optimistic because there was so little money spent on the film," she says. Hill was also able to finally pay herself for two years working on the film and now has a manager at Brillstein Entertainment Partners.
El Planeta
Release date: September 24
Origins: Argentina-born, Spain-bred and New York-based artist Amalia Ulman—whose art, media, and Instagram work has shown around the world—couldn't get funding from Spain's Ministry of Culture to make her deadpan black-and-white portrait of a mother and daughter in post-recession Gijón. "So, I produced it in the same way I produce my artwork," explains Ulman. She received some funds from a London gallery, a grant from a Venice art workshop and additional funds from a Chinese art collector and founder of the gallery TANK Shanghai. With a crew of five people and a 17-day production schedule, Ulman shot the film in October 2019, then ran out of money. L.A.-based indie studio MEMORY (All Light, Everywhere) came on board to advise on legal issues, with Kathleen Heffernan's Operator Media fronting the finishing funds for post-production and completion. 
Sales & Distribution: The film's Sundance 2021 virtual premiere in the World Dramatic Competition sparked positive accolades, drawing comparisons to Greta Gerwig, Lena Dunham and Pedro Almodóvar, and attention to the movie's craft ("tender and playful," "a fine-grained portrait," "visually stunning"). Repped by UTA, the film sold to Utopia for North American rights with a theatrical commitment, while Visit Films took on international sales, closing deals for Japan and Australia, among others.
On September 24, El Planeta opened solely at New York's IFC Center—where it earned a solid $7,181—followed the next weekend by playdates at The Landmark Westwood and New York's Museum of the Moving Image, and across additional major markets on October 8. It stayed at the IFC Center for over seven weeks and ended up playing on more than 26 screens with a cumulative gross just over $26,000. It's a small box-office take, but Ulman and Utopia were pleased with the release. 
According to Utopia's Kyle Greenberg, the film benefited from strong reviews (the film remains at 95 percent on Rotten Tomatoes), and Ulman's own audience and art-world support helped drive audience turnout in Manhattan, with Delta cases leveling off at the time. Recent Gotham Award and Cinema Eye Honors nominations helped spark continued interest in the film. For the digital release on October 8, it received strong curatorial support from Apple TV+, but the film's biggest potential audience may be yet to come: Utopia closed an exclusive Pay 1 SVOD deal for the film on HBO Max, which provided a nice chunk of change and is expected to increase awareness for the film.
Recoupment: Despite launching her film career in the pandemic, Ulman feels like it's all going well. While theatrical and online sales were slow, the attention she received for the project has propelled her career: She's already prepping her second feature, which is being produced by a U.S. company ("Thankfully," she says, "we have more of a budget this time"), and continues to develop ideas for video art, a TV series and even a third feature film.