Back to selection
"This 'Space Problem' Became Our Problem": Ido Mizrahy on The Longest Goodbye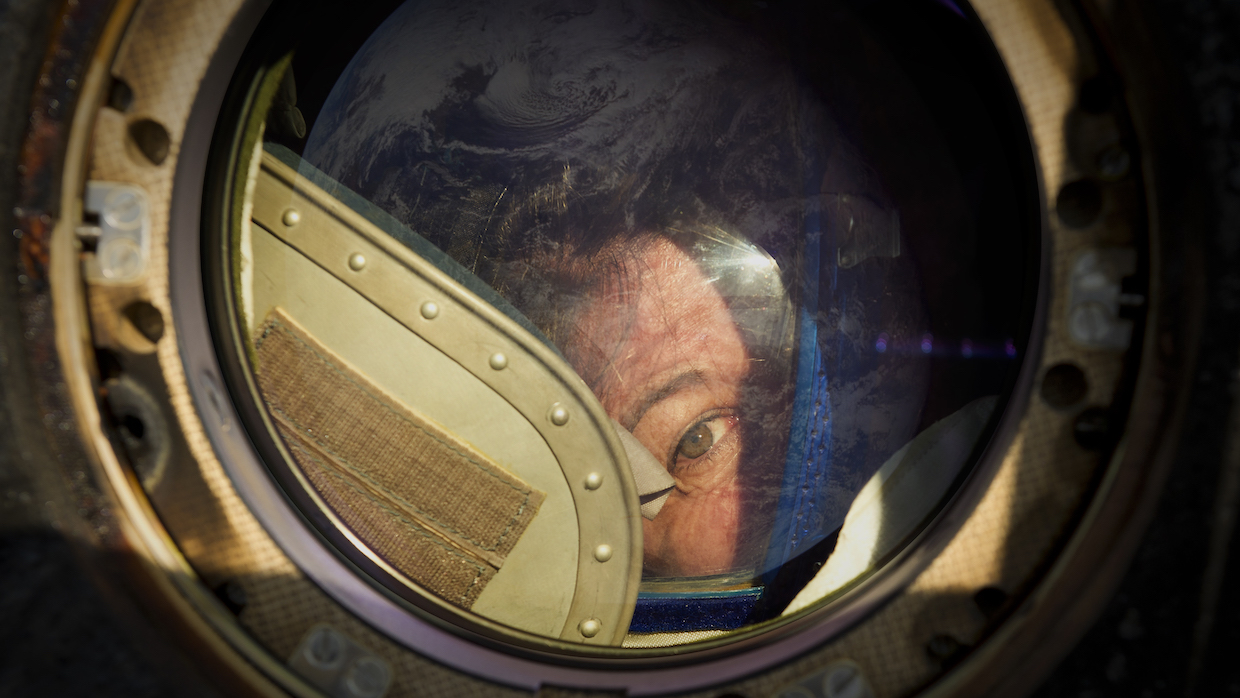 The Longest Goodbye. Photo Credit: (NASA/Bill Ingalls)
With NASA under "presidential orders" to land humans on Mars by 2033—and the industry titans of Silicon Valley rushing to make space exploration sexy again (not to mention cash in on that lucrative action)—it might be a good time to stop and ask not when our long-mission astronauts will launch, but rather who should be going and how they will survive. And not just physical survival, but mental and emotional, for even the Trekkiest among us may give pause before signing up for a years-long journey that requires relentless isolation, being stripped of any semblance of privacy and deprived of social contact with family and friends. (Really, how sexy would confinement to a small and inescapable space with Elon Musk actually be?)
Fortunately, award-winning director Ido Mizrahy (Gored) has not only pondered such otherworldly predicaments, but gone to some truly deep thinkers for answers. In his Sundance-premiering The Longest Goodbye, Mizrahy sits down with everyone from a potential Mars missionary and her earthbound husband to a longtime NASA psychologist in order to delve into the unvarnished reality behind sci-fi travel. Mizrahy found the time to answer some questions for Filmmaker just prior to the film's Sundance debut.
Filmmaker: So can you discuss the origins of this project?
Mizrahy: My longtime producer Valda Witt called me up one day with a pretty enticing offer: She had met these folks from NASA's public affairs office, and asked if I would join her on a visit to the Space Center in Huntsville, Alabama (which we followed up with trips to the other NASA hubs). We knew we wanted to do something about the mission to Mars, and were casting a pretty wide net to say the least. Fortunately, the NASA reps were very patient, helping us find our story by introducing us to astronauts, engineers, flight directors and other folks involved in planning the first manned mission to Mars.
At Johnson Space Center, we were introduced to Dr. Al Holland, an operational psychologist who was hired to assemble a team that would keep astronauts mentally stable in space. His job was about to get that much more challenging. With a three year journey to Mars in the works, Holland knew the psychological implications of the prolonged separation were dangerous and impossible to fully prepare for.
So all of a sudden I had a story—and it wasn't going to be a movie about the mission to Mars, at least not in a traditional way. We were so taken with how NASA, while trying to combat these psychological hazards to the mission, inadvertently became the world's biggest isolation laboratory. Then COVID happened, and suddenly we all knew what it felt like to be removed from our social support systems. In other words, this "space problem" became our problem. If any story could be bigger than space, this was it.
Filmmaker: How did you choose your main characters? Did you have to jump through bureaucratic hoops to even get access to all these NASA folks?
Mizrahy: In order to gain access to our NASA subjects, we had to get NASA's stamp of approval, which wasn't going to be easy. The public affairs folks at NASA HQ are really smart people who receive literally thousands of requests every year. We knew we had to have a solid case.
Inevitably, the clincher was getting ITVS and PBS onboard. That put NASA at ease that we weren't making a spec project, which they never approve. It was an arduous process, but in retrospect we owe NASA HQ a lot—both for opening their doors to us, and for forcing us to be better filmmakers. There was no way to wing it. We had to know and be able to clearly explain what our story was going to be. That's never a bad thing.
By the time they approved, we were ready to pounce and knew exactly who we wanted to film. I knew that if Dr. Holland, NASA's operational psychologist, would agree to be in the documentary he would become the story's anchor. Holland is a very discreet and unassuming man, so it was hardly a given he would say yes. We then started pursuing astronauts Kayla Barron, Cady Coleman and Matthias Maurer. We'd been told by a number of sources that they might be open to talking about these sensitive topics that have little to do with the science of going to space—and everything to do with relationships, family and tough life choices.
I was so blown away by how open they were once we were permitted to film them. Sometimes it felt like they were pushing us to get more personal and dig deeper. It's as if they'd been waiting to be asked some of these intimate questions about leaving family behind, parenting from space, fears of being monitored and other very private confessions, or didn't realize how much they wanted to talk about these things.
Filmmaker: Did the US government set up "rules" for filming, or perhaps attempt to influence the documentary in any way?
Mizrahy: Once the public affairs officers at NASA HQ approved the project, everything became much easier. There was never any attempt to influence the documentary or even ask to view our footage. There were certainly lots of rules we had to follow while filming on NASA premises, and things we couldn't film, because for a variety of reasons they were not cleared for public viewing.
I have to say, the folks at the public affairs office at Johnson Space Center and the European Space Agency were real allies from the very beginning. They were the ones who facilitated most of our shoots, and they were incredibly resourceful and trusting. I think that the fact that we weren't there to ask typical space exploration questions was refreshing, and they loved the idea that there was another very different way to tell a space story.
Filmmaker: It struck me that 2015's Gored (which centers on bullfighting legend Antonio Barrera) and The Longest Goodbye both have a specific focus on the family members that are affected by their loved ones's daredevil callings. Why do you tend to pursue this storyline in your films?
Mizrahy: I think that friction between our desire to go as far as we can and our need to stay connected to our roots is such fertile ground for good storytelling, because so many have felt it at some point in their lives. When I left home as an 18-year-old and moved to the other side of the globe, I thought I'd never look back. Wow, was I wrong. The loneliness I felt while chasing my dreams in a foreign country was overwhelming. But quitting on my dreams and going back home wasn't an option.
Nor did home seem like the place I remembered when I did finally visit. The extremity of Antonio Barrera's or Kayla Barron's line of work—bullfighting and space travel, respectively—allows us to identify with a bigger than life version of ourselves. We might not sacrifice our lives for our goals on a daily basis, but we regularly make very difficult life choices that involve negotiating our allegiance to our dreams and our promises to our loved ones.
Filmmaker: I'm also quite curious to hear more about this "fictional virtual reality experience that's equal parts family-drama and space-thriller" that you're currently in production on. I'm guessing it's connected, or at least inspired by, The Longest Goodbye.
Mizrahy: One of the first people Dr. Holland introduced me to was a VR creator named Peggy Wu, who was commissioned by NASA to create virtual environments for astronauts and their families where they could meet during future Mars missions. I found the idea both wonderful and surreal and had to meet this person.
Peggy, Nir Sa'ar (my writing-producing partner) and I dug each other's ideas right from the get-go while working on the documentary, which Peggy helped us with on so many levels (intros, ideas, etc.). We started talking about how cool it would be to develop a story about space travel and the future of communications, using the medium NASA was counting on as their future communication device for long duration space missions (VR).
Sa'ar and I then started collaborating on an animated, fully interactive, virtual reality experience about an astronaut who is selected for the first manned mission to Mars and has to decide whether to leave her family to pursue this dream. In the experience, titled Winterover, the player/user embodies the astronaut's spouse and has to help her make this decision. The story then develops in countless different ways based on the user's actions and reactions—and can remain as contained as a family drama, or as wild as a space travel thriller, or both. It's quite an ambitious project, heavily based in natural language processing, so we're lucky to have two very experienced VR producers—Nimrod Shanit from Toronto and François Le Gall from Luxembourg—shepherd this project. We actually created a short demo last year that was surprisingly effective, and not that clunky!