Back to selection
"I Like to Channel Musicality Into the Act of Editing": Editor Adam Dicterow on Mutt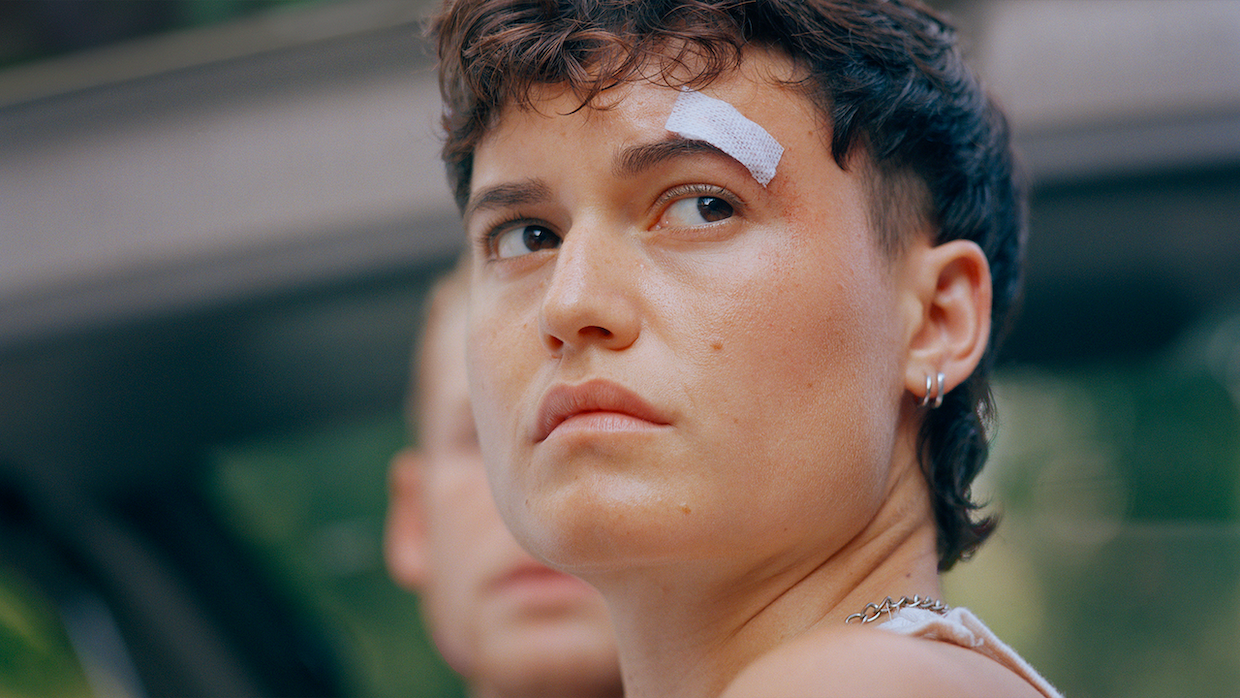 Lío Mehiel in Mutt.
Feña (Lío Mehiel) is a 20-something trans guy living in Brooklyn in Mutt, the feature debut from writer-director Vuk Lungulov-Klotz. His life is instantly thrown into tumult when a series of people reenter his life unexpectedly, leading to the opening of old wounds.
Editor Adam Dicterow talks about the process of cutting Mutt, also offering insight on how lucky he felt to work on the film in the first place.
See all responses to our annual Sundance editor interviews here.
Filmmaker: How and why did you wind up being the editor of your film? What were the factors and attributes that led to your being hired for this job? 
Dicterow: Vuk and I were actually initially connected by one of our producers, Stephen Scarpulla, who's a film school friend of mine. Stephen knew I was looking for an indie feature to cut, and about a year ago he told me about this incredible project he was set to produce. He sent me the script for Mutt, and I honestly couldn't get it out of my head. So much so that I used my crappy home printer to print a physical copy (sorry trees!), so I could physically carry it around and re-read it at home or on the train—whenever I wanted. The three of us met up in March 2022 for coffee, and Vuk and I immediately hit it off. I connected with Vuk's sensitivity, emotional intelligence, and laser-focused vision, qualities that come through wonderfully in the script. Since Vuk had cut his previous work himself, I knew it was a brave step for him to trust me with the material and as a collaborator during the editing process. But he valued my cutting experience and my training under my mentor Anne McCabe, so we gave it a shot! 
Filmmaker: In terms of advancing your film from its earliest assembly to your final cut, what were goals as an editor? What elements of the film did you want to enhance, or preserve, or tease out or totally reshape?
Dicterow: I pride myself on establishing a safe creative space in the cutting room that allows experimentation, trial and error, and what Vuk and I later affectionately called "doing science." But both of us knew that working together with an especially compressed timeline was going to be a challenge. We knew we'd be finishing the shoot towards the end of September, and then we'd be racing towards the Sundance deadline, which was almost immediately after that. 
One important goal I had from the film's early stages to our Sundance cut was to get our viewer as much in the mindset and perspective of our protagonist Feña as possible. We wanted to build the tension driving the film so the audience would identify with Feña's experience as we follow him around the city. At the same time, we wanted to let the film breathe during the scenes where Feña is stuck in his head or unpacking his past.
Filmmaker: How did you achieve these goals? What types of editing techniques, or processes, or feedback screenings allowed this work to occur?
Dicterow: We cut away from some scenes earlier, cut into other scenes later, and examined body movement as a way to convey escalating tension. When we wanted to slow down and let our characters exist in the moment, we stayed on wide shots as long as possible. The feedback screening we did was incredibly helpful, and it motivated us to play around with the beginning of the film. We ended up experimenting with scene order (and losing some scenes altogether), changing the focus from Feña playing games with his ex (and vice-versa), to a more spontaneous exploration of feelings.
Filmmaker: As an editor, how did you come up in the business, and what influences have affected your work?
Dicterow: After going to Tisch for undergrad, I actually first found work as a dubroom assistant at the now-infamous Weinstein Company. I then became a post production assistant and worked my way up to a union apprentice editor. I spent a ton of time around assistant editors, editors, directors, and the post production community at large. Through a combination of furious note-taking, absorbing wisdom from those cutting rooms, and editing shorts on the side, I landed a position working for Nick Houy (on HBO's The Night Of), who then connected me with Anne McCabe, and the rest was history! In addition to the two aforementioned incredible editors, I'm inspired by the work of (in no particular order): Dede Allen, Paul Hirsch, Dylan Tichenor, Verna Fields, Sam Pollard, Yang Jin-mo, the Coen brothers, Jacob Schulsinger, Alan Heim and more! 
Filmmaker: What editing system did you use, and why?
Dicterow: I used Avid Media Composer on MUTT. I've cut in Adobe Premiere, as well, but I find Avid most satisfying. There is something about its interface, which is keyboard heavy, that makes it feel like playing an instrument. Coming from my family background (both my parents are classical musicians), I like to channel musicality into the act of editing!
Filmmaker: What was the most difficult scene to cut and why? And how did you do it?
Dicterow: The argument between Feña and John at the end of the film. It was so delicately written and beautifully acted. There was a large range of material to choose from, so there were a million ways to approach the escalation of tension between the two characters. Vuk and I ended up playing with the points at which John pivots from regressing into his former habits with Feña. He moves from intimacy, to confusion, to anger. Determining where John would lose himself and cry also took a lot of experimentation. With Feña, we devoted a lot of time to deciding how his defensiveness would emotionally inform the ending of the scene. We're really proud of how the scene turned out.
Filmmaker: What role did VFX work, or compositing, or other post-production techniques play in terms of the final edit? 
Dicterow: Visual effects were minimal on this project. We had some split screens and speed effects, but this film had very little VFX compared to others I've worked on.
Filmmaker: Finally, now that the process is over, what new meanings has the film taken on for you? What did you discover in the footage that you might not have seen initially, and how does your final understanding of the film differ from the understanding that you began with?
Dicterow: I'd like to start this response by saying that being part of this team has been, and continues to be, an incredible honor. As a straight/cis/white man, I feel really lucky to have had the opportunity to support such an important project about the many identities of a trans man, and I'm thrilled that this subject matter is getting the platform it deserves. 
I also do feel like the meaning I derived from the film itself evolved over the course of the editing process. One memorable example of this concerned the relationship between Feña and his sister. The first scene shot was the scene where the two of them see each other after a long absence. My initial perception of the scene was that Feña felt anger toward his younger sister because she was a reminder of their mother. But then, as we sat and worked on the scene, Vuk and I realized that the emotion in this interaction would be more nuanced: standoffish, but also remorseful, and also longing for acceptance. We ended up re-shooting that scene and were able to find that complex balance.