Back to selection
"Nothing Is Wasted in the Process of Documentary Editing": Editor Jean Rheem on Bad Press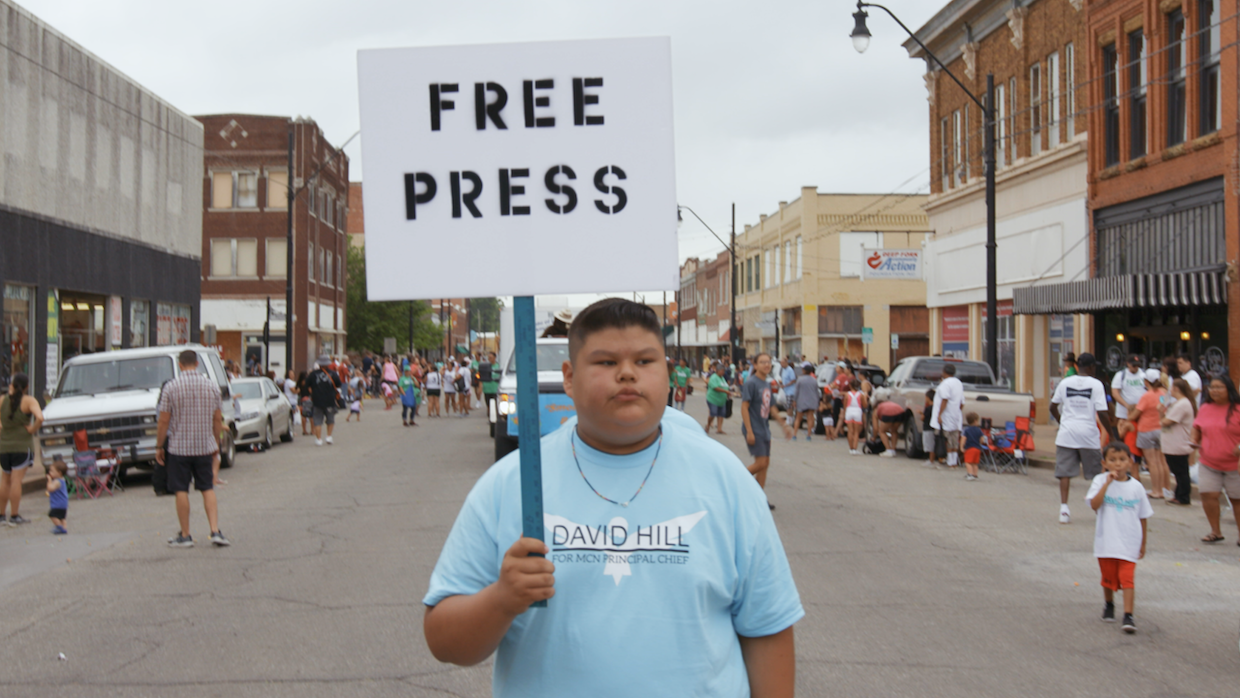 Bad Press, courtesy of Sundance Institute.
When the 2015 Free Press Act is repealed, Angel Ellis and her colleagues at Mvskoke Media in Okmulgee, Oklahoma begin a long battle to offer transparent journalism for Muscogee Nation readers. Bad Press, directed by Rebecca Landsberry-Baker and Joe Peeler, chronicles this quest for government accountability and the right to report honest news.
Editor Jean Rheem discusses cutting the project, including how "incredibly difficult and humbling" documentary editing often is. 
See all responses to our annual Sundance editor interviews here.
Filmmaker: How and why did you wind up being the editor of your film? What were the factors and attributes that led to your being hired for this job?
Rheem: During my first interview with one of the directors, Joe Peeler, two hours flew by as we connected over the types of stories we liked to tell as well as our approach to editing. At that time, I learned that this project is co-directed by a Native journalist, Becca Landsberry-Baker, whose ties to her tribe have inspired her to document their fight for free press. Though I'm not Native, upon learning more about the project, I felt an emotional connection to the journalists and their deep commitment to the people. I had a gut feeling that there was a compelling story—one that's never been told before, unfolding in real time. 
In discussing our preferred editing process, I was particularly taken by the team's thoughtful and supportive approach—with expectations and goals that indicated deep understanding of the collaborative & creative nature of the editing process. This was informed by Joe's experience as an editor himself who would co-edit the film. The team was looking specifically for an editor who could work with verite footage. My experience in and penchant for such style of work, alongside the personal pull I felt toward the material helped me stand out as a potential editor. 
Filmmaker: In terms of advancing your film from its earliest assembly to your final cut, what were goals as an editor? What elements of the film did you want to enhance, or preserve, or tease out or totally reshape?
Rheem: It's been a great challenge to balance and layer the incredible amount of exposition required to support the drama of the story—and to do so in a way that is compelling & palpable. We first addressed clarity & character development as we roughly sketched out the sequence of events leading up to the final moment through our main journalist Angel's perspective. At the time, the final act ended with one important story beat, but in the following months, more legislative steps occurred at the tribe that required an update to our film. Once we acknowledged our new destination of our story (the constitutional amendment), we rerouted to find new ways to connect and motivate each scene. 
There were many subplots that we explored that could aid our main story of free press. As our understanding of Angel's emotional arc developed, so did our understanding of which subplots and information that best served our story of free press. From the initial rough cut that was well over two hours, we've since simplified, distilled and melded the film into a cohesive and dramatic story about free press through Angel's perspective.
Filmmaker:How did you achieve these goals? What types of editing techniques, or processes, or feedback screenings allowed this work to occur?
Rheem: Our film happens to have a story arc of the hero's journey. Once we collected key scenes that might be useful in our film, we studied story maps and screenwriting books to guide how they might be connected in our overall structure. As if a scripted film, we broke our story down into three acts, which were broken down into seven sequences, which were then broken down into scenes represented by color coded note cards on our cork board. Using various storytelling tools, we moved the cards around, exploring various ways they can be connected and motivated, and repeating the process as we came across new story bumps. 
This approach of thinking before editing has also helped us discover deeper layers of our main journalist's emotional journey. After watching all of the material, Joe and I spent a lot of time exploring questions like, "how does she transform by the end of the story?" "What is 'the lie' that she believes in in the beginning of the film?" Pondering these questions ultimately led to an ah-ha moment of realizing the tension between Angel's insecurities as a reporter who feels like an outsider and her deep desire to serve and be connected to her tribe. This was a pivotal moment in our edit. 
Filmmaker: As an editor, how did you come up in the business, and what influences have affected your work?
Rheem: When I was 11 years old, my family moved from Korea to the States without much explanation. As the only kid who didn't speak English in my school in Kansas, I learned to survive in this new world by hiding parts of myself to blend in. 
I discovered documentary film editing towards the end of my time at Duke University. When I first experienced the thrill and magic of scenes coming to life, it was as if a match lit a fire inside of me. I was hooked. At the time, I was studying to apply to dental schools. I was so new to the filmmaking process that I couldn't exactly articulate what I was doing or why, but when my professor acknowledged my keen editing sensibilities, it motivated me to further pursue editing.
Through documentary film editing, the parts of myself that I had grown up hiding have found a new purpose. I rediscovered my voice as an outsider as a way to empathize with different groups of people and amplify their stories. Though the path seemed extremely unclear, after graduating, I gave myself a year to try filmmaking. In that year, I met my future collaborators through a filmmaking bootcamp, and we spent the next 4 years making our first feature documentary together. These were some of the most challenging but also formative times for me as a storyteller and an empowered person. 
Filmmaker: What editing system did you use, and why?
Rheem: I joined the team after the project was set up in Avid. I came to love how stable and reliable Avid is in handling large amounts of footage! 
Filmmaker: What was the most difficult scene to cut and why? And how did you do it?
Rheem: The opening was by far the hardest act to crack. This is usually the case because there are so many elements to establish in a short amount of time before the story can start: setting, point of view (main character), story/tension, tone, genre, to mention a few. Because our story takes place in a Native American tribe whose unique historical context is largely unknown by the general public, we were working with even more exposition to establish the story. This challenge was further complicated by the limited verite footage we could use for the opening. 
We tackled the opening by distilling the exposition down to what was absolutely most essential, and leaned into using title cards, which aided in giving context effectively and quickly. Knowing that we wanted to foreground Angel and the story of journalists at Mvskoke Media, we sought additional footage via pick up shoots and even archival. We also played with the structure of the opening—originally leading with 80s archival footage, to starting in the future and going back in time. We worked on the opening until the very last hour of the editing process, at which point it became clear which scenes and order felt the most right and compelling to us.
Filmmaker: What role did VFX work, or compositing, or other post-production techniques play in terms of the final edit?
Rheem: Some simple VFX for visualizing vote counts during legislative sessions really added drama to the otherwise long and potentially boring scenes. The information provided in the VFX also allowed us to play with the journalistic theme in our film. 
Filmmaker: Finally, now that the process is over, what new meanings has the film taken on for you? What did you discover in the footage that you might not have seen initially, and how does your final understanding of the film differ from the understanding that you began with?
Rheem: In the final cut, I was pleasantly surprised to see many of our initial ideas finally working now that the story issues were addressed up and down the stream. It is a gentle reminder that nothing is wasted in the process of documentary editing, whether an idea works or not in the moment. Every bit of the process has given us an insight to how we might move forward in our story. 
Documentary editing is incredibly difficult and humbling. It takes a lot of trust and faith to continue in the dark, and I am grateful to have been a part of this team that has been so supportive and understanding of this long and transformative process.