Back to selection
"Seeds for the Revolution": Robert Townsend on Hollywood Shuffle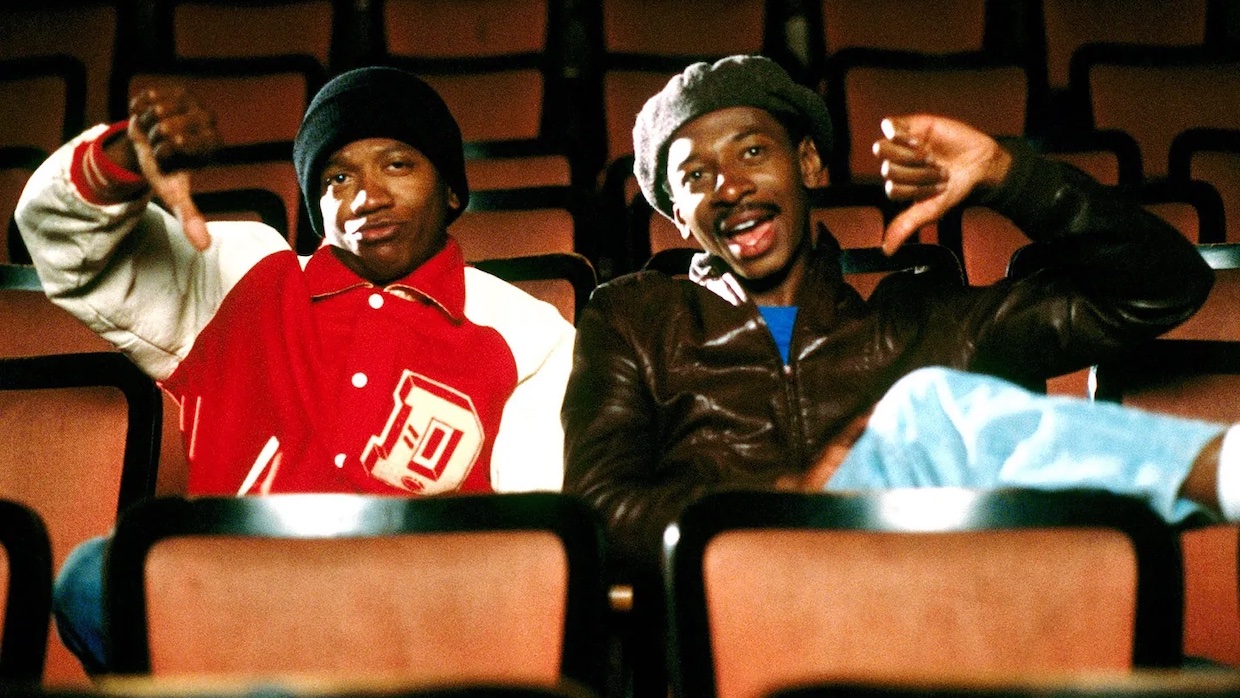 Jimmy Woodard and Robert Townsend in Hollywood Shuffle.
I first became introduced to the work of Robert Townsend unceremoniously when his family sitcom, The Parent 'Hood, premiered on The WB network in 1995. A professorial father figure with a wife and four children, Townsend's character seemed, at least to my adolescent eyes, the ideal American dad. A noble role that fit him like a glove, Townsend must have enjoyed following up his caped-crusader directorial effort, The Meteor Man, with a sitcom that afforded him a more domesticated form of heroism. 
Those types of roles were not often offered to Townsend. Released in 1987, his directorial debut, Hollywood Shuffle, was a hilariously scathing look at the film and television industry's racist hiring practices, something Townsend's many years as a working actor hardened him to. Essentially a series of poignant comedy sketches that highlight the dearth of good parts for Black actors, Hollywood Shuffle features Townsend playing a struggling actor who is just looking for his big break. But will he have to sell out and degrade himself by playing a pimp or a slang-talking drug addict to get it? Co-written by Townsend and his good friend, Keenen Ivory Wayans (himself on the verge of directing his feature debut, I'm Gonna Git You Sucka, the following year), Hollywood Shuffle remains a satirical classic that has only grown in its frankness.
While the film was nominated for Best First Feature at the 1988 Independent Spirit Awards (losing to Emile Ardolino's blockbuster hit, Dirty Dancing), one could argue that Hollywood Shuffle is much more appreciated today than when it was first distributed. This is made abundantly clear by the Criterion Collection releasing the film on home video in a newly restored 4K digital transfer this week. For the occasion, I spoke with Townsend about his personal frustrations with the industry, signing up for countless credit cards to make his movie, screening the film for Eddie Murphy, and more.
Filmmaker: I recently revisited an interview you gave to Alex Haley for his television program, Dialogue with Black Filmmakers.
Townsend: Oh my God [laughs].
Filmmaker: Someone had uploaded it online a few years ago. You were discussing your career and, in speaking on the subject of Black representation on screen, said that it felt as though Black characters couldn't "have a middle class existence in Hollywood movies…it's always got to be lower class." I was curious if that frustration was somewhat of the impetus for making Hollywood Shuffle. I know there were many entry points for getting the film on its feet, but I was curious about your memories of that quote and the type of representation you had seen in American cinema. 
Townsend: It's funny because when you're a little kid, you don't know what you don't know. So, when someone says, "I want to be an actor," they're basing that on seeing the classic movies [of earlier generations] starring Humphrey Bogart, James Cagney and Jimmy Stewart. When I started my journey as an actor in Hollywood, all of a sudden I found that Black actors were typically placed "in a box," which is something I didn't know beforehand. Every now and then, you'll see these surveys of how minorities are doing in Hollywood—how women are doing, Asian performers, Black performers, etc.—and they feature these individual statistical breakdowns. If they would've done a survey like that back in the day, asking [the industry] to list the types of roles available for people of color, the biggest percentage of working actors would've listed "hoods, prostitutes and pimps." That would've been at least 70% [of the work] and there would be another 30% left over. Hollywood Shuffle was about finding a balance between those [percentages], about having a dialogue about that balance. It's always been a problem. While there's nothing wrong with playing a pimp or a drug dealer, you should also get the opportunity to play a doctor, a lawyer or a police captain. There was a time when the bulk of the work [for Black actors] was to play lower-level characters, underworld characters. So yes, Hollywood Shuffle was born out of that. 
Filmmaker: In the early 1980s [before you moved to Los Angeles], I believe you were living in New York City and that's how you met Keenen Ivory Wayans? On an audition line at The Improv in Hell's Kitchen? He convinced you to move to Los Angeles, is that accurate? 
Townsend: Yes, that's correct. I got to New York in 1977 and that's where Keenen and I eventually became friends. When Keenen left for LA in 1980, however, he called me in '81 and said, "Rob, you've got to get out here. I believe in this so much, I'll fly back to get you, we'll put your stuff into a U-Haul and you'll come out here!" And that's what we did. It was 1981 when I left New York for L.A.
Filmmaker: Once you made the move to Los Angeles, you were cast in some very notable films, some even Academy Award-nominated, like Norman Jewison's A Soldier's Story. How did those experiences help shape your pivot into directing?
Townsend: It's interesting, as I recently hosted TCM [Turner Classic Movies] for [an evening] of Black History Month programming and they showed two films I was in, one being Michael Schultz's Cooley High and the other being Norman Jewison's A Soldier's Story. When I did A Soldier's Story in 1983, that film changed my life and I noted at the time that it it had a great cast, was well-directed and was a well-written "real movie." When I had a taste of that, that's when I was like, "Wait a minute, I don't want to go backwards," but my agent was like, "you got lucky, you did one Black movie and [Hollywood] only does one Black movie a year, so be happy and shut up." I was like, "No, I want to do more movies that have substance," and that's when I caught the bug to become a filmmaker myself.
Filmmaker: Did you always envision much of Hollywood Shuffle being comprised of different sketches and vignettes featuring yourself and an ensemble cast? And did the narrative backbone of the film, of your character being an actor attending numerous frustrating auditions, come in the writing process thereafter ?
Townsend: I can't remember exactly how that started, just that Keenen and I had wanted to make a difference. We were like, "Man, we have had so many bad, horrible auditions. We've got to make our own movies!" However, I hadn't directed anything up to that point. Keenen and I would talk through different concepts and ideas and we wanted to do whatever we wanted to do [laughs]. In the early stages [of Hollywood Shuffle], we were like, "Hey man, you know how [critics] review Black movies? We should do a scene featuring film critics—yeah, let's do that!" [This segment, shot at the Baldwin Theatre, would later become titled Sneakin' in the Movies.]" Or, "Hey, we should do something in black and white, similar to a Humphrey Bogart detective film— yeah, let's do that!" The "Black Acting School" vignette came from a standup routine I had been performing, and Keenen recommended, "Rob, we could shoot that routine but this time have different [actors] playing all the parts!" We were just flowing [with ideas]. 
The first dailies we saw of Hollywood Shuffle were viewed in a little 12-seat theater at FotoKem in Burbank. I remember looking over at Keenen and saying, "Hey, this is good!," and Keenen being like, "Rob, you can direct!" The film then began evolving like a living organism, i,e, "You know, my grandmother never believed in me…okay, let's put [that character] in the movie!," or, "Remember those movies we auditioned for recently? All that pimp shit? We should [include a sketch] that's bad like that and we'll call it…Jivetime Jimmy's Revenge!" Keenen loves movies like I love movies and, after we decided on the vignettes, we began figuring out a story based on them and connecting it together.
Filmmaker: You shot the film in 12 days, but those 12 days were spread out over two-and-a-half years, is that correct?
Townsend: Yes.
Filmmaker: Did you know at the outset that production would last that long and take place over several increments? 
Townsend: What happened was that I had saved $60,000 from my recent acting work and put that money right in the bank. I had been in Walter Hill's Streets of Fire and John Badham's American Flyers (starring Kevin Costner) and I had saved the money from my work on those two films. A few of my friends would ask, "Rob, you had a real good couple of years. What are you going to do with that money? You going to get a Porsche? You going to get a Jag?" And I was like, "No man, I want to use it to make a movie!" Everyone thought I was crazy at the time, but I was like, "I'm going to save this $60,000."
As to how we got to [extending production] to two-and-a-half years, I just didn't know what the hell I was doing. I went through the $60,000 like that, but by that point, I was addicted to making the movie and was jonesing, and so I went on the road, made some money doing standup, booked a few TV commercials, and then I had enough money to shoot more of the film. Of course, I then ran out of money again, but this is where the inspiration of God came into me. I had been on the road for two weeks doing standup, really wanting to finish the movie, and when I returned home, there was a stack of mail built up at my apartment. The mail was nothing but applications for credit cards: Visa, Preferred Visa, MasterCard, Preferred MasterCard, Chevron, Shell. I figured that maybe this was a sign that I could finish the movie by [applying for these] credit cards and that's why it ultimately took two-and-a-half years.
Filmmaker: Were members of the cast and crew checking in every few months inquiring about what was up? Or were you keeping transparent communication open throughout?
Townsend: Certain people didn't know [what the status of the production was] and would reach out. The thing is, I had started in theater when I was 14 years old, eventually going through Second City in Chicago and learning different theater games and exercises. On [the Hollywood Shuffle set], we had these actors going through a kind of bootcamp to get into character and find the beats of the story and I don't think anybody had ever done that before. They enjoyed it, [so much so] that when the production [was on hiatus], the cast was like, "Man, we had fun doing whatever that thing was…when are we going to do it again?" Remember, the concept of making a feature-length movie with a filmmaker who hadn't shot anything before was crazy. But yes, certain people would reach out to see [what was up]. I just remember, toward the end of the shoot, waiting on one more Visa credit card to come through so that I could charge the rest of the film and get it finished, and  I really had to stall [laughs]. I was telling people, "Yeah, we're going to shoot again soon. We just have to do another…rewrite." I didn't want anybody to know that the film was cheap, because if you tell someone that you're waiting on a credit card to come through, they'll wonder what kind of rinky-dink movie this is. When the Visa finally came in, that's when I charged the rest of the costs and we finished the film.
Filmmaker: How did you meet your cinematographer, Peter Deming? By that point in time, Deming was still fairly new to the industry, having only shot Evil Dead 2 for Sam Raimi (a film which, ironically, was released one week prior to Hollywood Shuffle in March of 1987). How did you two originally hook up?
Townsend: I can't completely remember, I just know that know our executive producer, Carl Craig (who recently passed away), had put out feelers to a number [of cinematographers] and even checked with some students from AFI [American Film Institute] and a few other film schools. Peter's name somehow eventually came up and he was one talented cat. Let me say this: when you are acting in front of the camera and directing behind it, you need a cinematographer who has your back. When you're on set, you have 20 different things going on in your brain: "Craft services…I've got to pay that," "I've got to drive this truck later," "I have to clean this up—OK, action!" Peter was the unsung hero behind the scenes, always making sure the compositions were right. As I had never directed before, Peter was my eye.
Filmmaker: While most of the film was shot on 35mm, the black-and-white sequence was shot on 16mm. Was that Peter's decision?
Townsend: I think that was his decision, as I didn't know anything about film stock or the differences between cameras. The only thing I ever asked him was, "Can you light us like they light Billy Dee Williams?" [laughs] We wanted to look like Billy Dee Williams.
Filmmaker: And, at times, you were filming on leftover short ends from A Soldier's Story? 
Townsend: Yes, I had reached out to one of the producers on A Soldier's Story, Ronald Schwary, and [unit production manager] Jerry Molen, who went on to become a producer working alongside Steven Spielberg. I told them that I had wanted to be a filmmaker after having worked with Norman [Jewison] on A Soldier's Story and both of them said, "Would you want our short ends? We'll give them to you." Norman also gave his blessing and was like, "Good luck, Bobby." 
Filmmaker: Since you mentioned Steven Spielberg, I love the story of him speaking with you about potentially being cast in The Curious Case of Benjamin Button. [Spielberg had optioned the F. Scott Fitzgerald short story before eventually exiting the project, leading to David Fincher directing the film adaptation over 15 years later].
Townsend: It was beautiful because, yes, he had reached out to me and, I mean, it was…Steven Spielberg. At that point in time, he was going to make Benjamin Button and was going to host a reading with all of these actors at his house. I went to the reading and I think Whoopi [Goldberg] was there, all of these people! He then told me how much he loved Hollywood Shuffle and, specifically, the Chicago Jones and the Temple of Doom vignette. He was really nice about it and later told me how to you use your celebrity the right way. We were having a conversation and he goes, "I don't do a lot of interviews unless it's for something I really believe in and it's something I want to do." When I eventually saw Schindler's List, it blew me away and I sent Steven this big gift basket because I was like, "Wow, this is a real filmmaker." He could make films like E.T., then flip his gears and go very dark, and that's when he started doing more interviews.
Filmmaker: Did you have a similar feeling when you screened Hollywood Shuffle for Eddie Murphy at FotoKem [after successful screenings in Europe, word of the movie reached Murphy, who then requested a private screening with his entourage]? I know there were some nerves about him seeing the film [in one sequence, the film depicts white casting directors who are adamant about casting their movie with an "Eddie Murphy type"] but that experience did eventually lead to you directing his highly successful concert film, Raw, later that year.
Townsend: It's so funny how things work out, as Keenen and I had gotten into a big fight over the inclusion of that scene. I started [brainstorming] some crazy ideas one day and was like, "Keenen, they always want us to be an 'Eddie Murphy type,' so what if we put like 20 dudes [attending an audition] in blackface and leather jackets to look like Eddie Murphy?" Keenen was like, "But Rob, we know Eddie," and I was like, "But Keenen, it's funny, and if we're going to be true to Hollywood, they want 'Eddie Murphy types.'" Keenen eventually said, "Alright, man, if you want to do it, we'll put it in." Back then, Eddie was the biggest star in the world, and I wasn't thinking about Eddie ever seeing the movie. When we had that screening at FotoKem…you talk about being nervous, man [laughs]. I wasn't nervous making a movie, I was nervous screening the movie for Eddie Murphy, a movie that features a sequence that talks about him [laughs]. I just remember Eddie and everyone in the screening room were laughing at everything, then when it got to that scene and the line, "What we're looking for is an 'Eddie Murphy type,'" the entire room got quiet. Keenen's head went down and I was like, "Oh my God," but by the time it to got to the end [of that scene], Eddie laughed really loud and was like, "Oh, that's messed up, Rob! Keenen, why y'all do me like that? Why y'all do me like that?" [laughs] It turned out to be a beautiful moment, and after the screening, Eddie told me, "I'm going to do this standup concert film soon and I'm looking for a director. Do you want to direct it?" Eddie is a man among men, as he could have hired any director in Hollywood to shoot that film and he gave me a shot. I will always hold him dear in my heart for that.
Filmmaker: I'm curious as to how you saw the film influence your contemporaries and younger Black filmmakers. Directors Julie Dash, Matty Rich, Darnell Martin, Ernest Dickerson, Leslie Harris, and Theodore Witcher were all featured in a 2019 New York Times piece on the struggles they faced in the 1990s after a brief Black film boom, but I was curious as to if you noticed any positive ripple effects as a result of the film, even to this day?
Townsend: What I would say is this: Hollywood Shuffle planted a lot of seeds. Keenen and I were two of the first soldiers over that hill, so when you plant those seeds, people go, "Wait a minute. If he can do it, I can do it." Today I think Hollywood Shuffle continues to sprout young filmmakers, both because there's the legend behind the production of the film with my usage of all of the credit cards, and because the film was very funny and had some things to say. 
In terms of the culture, I think Hollywood Shuffle planted seeds for the revolution. I'll just put it like that. If you see someone else doing it, then you'll go, "I could do that too." As [filmmakers] started to hear my story, they were like, "Wow, two friends just figured out how to make a movie." Everybody [before] was like, "We can't do it, it's too hard, it's too rough," but Hollywood Shuffle helped make people go, "I think we can make our own movies and we can tell our own stories. Let's do that." I know there's been a trickle-down effect from the film, even if I don't know how big that effect was. I know people were paying attention.
Filmmaker: Earlier you spoke of getting away from stereotypical portrayals of Black characters on screen, and I must admit that the way you were first introduced to me was via your 1990s television series, The Parent 'Hood. That show was a big part of my childhood and it was very much a show made for families. Ironically, the series debuted on the WB just one week after The Wayans Bros., a sitcom starring Keenen Ivory Wayans's younger brothers, Marlon and Shawn, and your Hollywood Shuffle co-star, John Witherspoon, premiered on the network on January 11th, 1995. What lead you to wanting to be a part of a traditional sitcom?
Townsend: The Parent 'Hood was basically a Trojan horse for me. I grew up on Father Knows Best and those types of shows, but I hadn't seen many programs on television with people of color that were just about regular family life, teaching basic morals and values. There was a time back when I was a kid where you wanted the television to act almost as a babysitter. I learned different life lessons from programs like The Andy Griffith Show and My Three Sons. It was like, "Sit me in front of the TV because, at the end of the day, there's going to be a moral attached [to the episode] and I'm going to learn something that will reinforce what my parents are trying to teach me." If you placed a kid in front of a television, the belief was that their mind could be molded and shaped in different ways. Now you have anti-family shows that are just way off the wall, but when I made The Parent 'Hood, I was trying to make some simple and some complicated morality tales that, at the end of the day, a viewer could [recognize]—"Nicholas [the youngest brother] learned how to share today," or "Zaria [the older sister] can't date the wrong guy because you've got to be careful who you date," etc. The show featured different life lessons and that's what really started the whole journey. I think that it stays on message for who I am as an artist, hopefully uplifting people of color and making statements that reiterate that we are human beings like everybody else.